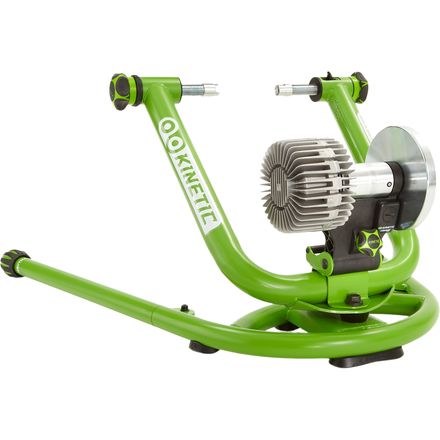 Train smart.
The inevitable is happening. The temperature drops just a bit more each day, leaves begin falling from the trees, and you start having to add extra layers to your kit when you head out to ride. Your bike will soon take up its place in your basement instead of out on the roads, and you'll begin queuing up sitcoms, old race footage, and your most motivating music to prepare for a few months spent on your dusty trainer. You're stuck inside no matter what, so you might as well be riding something that will make you stronger come spring, like the Kurt Kinetic Fluid Trainer Rock 'N Roll Smart with In Ride Sensor.
Kurt Kinetic's a big name in bike trainers, and the brand aimed to provide the most realistic road feel possible when creating the Fluid Trainer. A resistance unit helps simulate climbing, while the bike's frame moves just enough to give you a sense of being out on the roads. Supported by springs, the frame moves vertically and laterally, just as your bike would outside, without requiring you to constantly stay balanced the way rollers do. If you want an even more realistic feel, grab the separately sold Turntable Riser Ring and turn or wiggle your front wheel as you ride.
As you spin the pedals to 80's pop, a beefy steel roller with a larger-than-average diameter helps minimize wear to your tire, while a similarly burly flywheel helps the resistance unit and frame springs in establishing the feeling that you're out on the road. Kurt Kinetic designed the system so that it can't overheat or stop functioning after too long, with silicone fluid acting as a coolant. The fluid actually requires increasing watts from you for the system to hit higher speeds, rather than just allowing momentum to increase speed over time. It's another small detail that helps the Fluid Trainer behave so realistically, giving new meaning to what an indoor workout can do. This version also comes with inRide sensor technology, which syncs the inRide app to provide you with ample ride data and specific workouts if you're lacking inspiration.
An indoor trainer with a focus on a realistic road feel
Frame built with springs to allow it to move slightly
Heavy flywheel simulates forward movement and momentum
Silicone fluid acts as a coolant to prevent overheating
inRide sensors help you track your training progress
Unanswered Question
Which exact product is this to in relation to kurtkinetic.com website?
Brandon Parrish
Pretty cool
Familiarity:

I've used it several times
For the last 2 months, I used the trainer at least 3 times a week, and works very well. Actually, all you can read related to this product it is true.

The inRide feature is pretty cool. I have an iPhone SE and it paired instantly with the trainer via Bluetooth.

Overall I'm very satisfied, but, I can't give it 5 stars, because, Riser Ring isn't included, come on Kinetic, you can do better!
Jose Leiva
Nice trainer
Familiarity:

I've used it once or twice and have initial impressions
First ride was yesterday for 3 hrs. First thing you notice is that it is not as abusive to you sit bones as other trainers. There is up and down compliance as well as side to side. No noticeable bounce at normal rmp (I'm 170 lbs, usually ride 70-100 rpm). I think I could do an indoor century on this. I tried fast pedal (very low resistance, see how fast you can pedal for 3 minutes) it does bounce above about 110 rpm with my sloppy pedal stroke. Out of the saddle ridding takes some getting used to. I do have the turntable riser under the front wheel. The inRide feature is interesting. I have an Android phone running 4.4.2 and it paired instantly with the trainer via Bluetooth. It even makes an estimate of cadence even though there is no cadence sensor. It must be estimating cadence from the rise and fall of rotation rate of the trainer roller because that is the only thing it is measuring. It also estimates power from speed. Only down side is that I don't have a Bluetooth heart rate monitor (HRM), mine is ANT+ which this won't connect with even though my Android phone does work with ANT+. Looks like the Wahoo Tickr HRM is the way to go as it works with both Bluetooth and ANT+. I've read that the Kinetic HRM is just the Wahoo HRM with a Kinetic logo. I don't know if the Kinetic HRM works with both Bluetooth and ANT+.

First impression: I like it.
Richard Grabarits