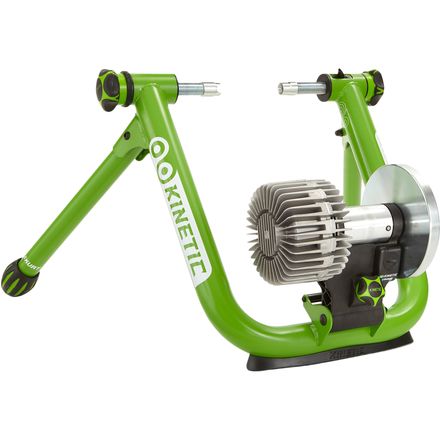 Get smart about training.
Get the most out of your indoor training miles with the Kinetic Fluid Trainer Road Machine Smart with InRide Sensor. With Kinetic's tried and true Road Machine Fluid Trainer and inRide sensor technology, this trainer lets you smoothly tick off the miles with a heap of data tracking and workout planning options.
Kinetic's Road Resistance Unit is a revolutionary piece of engineering. The roller is made of stainless steel and is 2.5in (6.35cm) in diameter, which is a good bit larger than much of the competition. The larger roller means less wear on your tire and a reduction in the temperature of the spinning elements. It's mated to a 6.25lb (2.84kg) flywheel, the heaviest around, which gives the satisfying feeling of momentum when you're spinning up to speed, holding speed, and slowing down. On the left side is a unique two-part resistance unit, which is the heart of their system.
Of course, this system builds heat as your ride—your energy has to go somewhere; in this case, it goes to friction. However, the fluid acts as a coolant and the chamber has 80 cooling fins on the outside that act like radiator fins. It's impossible to overheat the chamber or reach a point where performance is diminished. The silicone fluid retains its physical properties, even up to the normal operating temperature of 325 degrees Fahrenheit when riding 25mph, resulting in a consistent, road-like power curve that increases as your speed increases. To give you an example, it takes 143w to ride at 15mph, 258w at 20mph, and 25mph will take 430 watts.
Kinetic pairs the Road Machine with its inRide sensor technology, which allows the trainer to connect to your favorite device via Bluetooth Smart functionality to track your ride without any additional sensors. The inRide app not only lets you see ride data and metrics, but also features built-in workouts, individualized target zones, and the ability to upload ride data for analysis.
For the Road Machine Fluid Trainer, the Road Resistance Unit is attached to a more traditional triangular base with rubberized feet, providing a solid platform for your ride. The trainer is compatible with wheels ranging from 22 up to 29in in diameter and folds flat for convenient storage. It comes packaged with its own quick-release skewer that ensures a good fit in the trainer's cone-shaped cups. It also has the added benefit of saving your normal skewer the wear and tear of trainer life.
Spend winter suffering indoors for spring results
Tracks, displays, and saves ride data like watts
Fluid resistance resist fluctuation with temperature changes
Cooling fins dissipate heat to keep resistance steady
Heavy flywheel better replicates road feel
Wirelessly syncs with head units, phones, and training apps
Folding body disappears when not in use
Included skewer saves your wheelset's skewer from abuse
Unanswered Question
I'm looking for a smart trainer that I can use this winter and pair with Zwift. Is any additional equipment needed to pair this trainer with Zwift? Speed or cadence sensors?
Jordan Smith
A quiet trainer with style.
The first thing I noticed about my new Kinetic trainer before I even set it up was the lime green color. I love how it stands out and brings color to whatever room I train in. The second thing I noticed and I am very amazed at is how sturdy and rugged this trainer is... For sure this trainer will give me years of service. The third is how quiet it really is. I've put a few miles on the trainer already and I can't believe how quiet it is. I love the fact that it comes with the INRIDE sensor and I can track my progress.
As you would expect with every product theres always cons, the biggest problem I see with this trainer is the fact that even thou it folds for easy storage. it's bulkiness keeps it from fitting nicely tuctaway under the bed or in a corner in the closet. The second, issue I see is the paid subscription. Oh don't get me wrong it's not too expensive but I wish it were free..
Ryan
I picked up one of these late last winter at a very good price from adickinson@backcountry.com. Fantastic piece of equipment to keep all their hard earned a fitness from last year.

The inn ride app is adequate but, these set up works well with Zwift/Strava which I am addicted to. As a previous reviewer mentioned, this trainer provides everything I would want at any price.

Will be back outside soon in the upper Midwest.
jim
Superb Invention
Familiarity:

I've put it through the wringer
I generally ride all summer then go ride the exercise bike in the winter at the gym. I was tired of crappy equipment and always having to go to the gym, so I bit the bullet and bought this trainer. It is incredible. It is so smooth and precise. I feel like I'm on the actual road or mountain. Plus this has blue tooth so I can connect to apps. Honestly, I wouldn't take any other trainer, included the higher priced items.
Grant
Great!
Familiarity:

I've used it several times
This is my first bike trainer. I love it. It was easy to set up. Resistance varies for a road-like feel, yet is nice and quiet. Syncing to my smart phone was easy. This works great for the winter months when the snow keeps me inside!
S Jones
My first bike trainer
Familiarity:

I've used it several times
This is the first bike trainer I have ever used. I have ridden on stationary bikes before, but liked the idea of being able to put the bike I regularly ride into stationary mode. The Kinetic Smart Fluid Trainer was a perfect fit for what I needed. The trainer is stable and provides a good road feel while riding. It definitely feels a lot more like a normal bike ride than a stationary bike does. I have been able to get some great workouts on it, as well as focusing on my form without the distractions of riding on the road.

The Smart function on the trainer I think is pretty critical at least for me. I do find that if I am not paying attention to the stats that the app shows me I will slow down in pace and power output and not get as effective of a workout. The app does occasionally crash which is a mild inconvenience, but I have not had it crash on me during a ride so far so that is good. The app has quite a few workout routines that I really enjoy, and from what I gather so far it has a built in stationary bike program that I think is basically for beginners to get into shape. I haven't been using the program so far though, I've just been picking out the workouts that I want to do.

When it comes to set up and take down it is really pretty quick and easy to use. The Quick release axle that my bike came with just wouldn't lock into the trainer. My bike has a 12 mm thru-axle so the replacement standard axel that the trainer came with was obviously not going to work. If your bike has any sort of a non-standard axel you might want to look into getting one from Kinetic. They are spendy but it will allow your bike to really lock into the trainer and be stable. I also found that having the front wheel raiser made the ride a bit more comfortable.

Overall I would recommend this trainer. It has served me well and has promoted more activity in me for rainy days when I just want to watch netflix inside. It is easy to set up, doesn't take too much space, and is quiet enough that I can easily hear the TV over it. My only concerns are that the App could be more user friendly and the instructions provided aren't all that clear.

Also, a helpful hint- ride the trainer for like ten seconds to activate the sensor on the smart trainer. Once you do that your app will connect to the trainer. If you don't do that then the app will say there are no sensors to lock onto and you will get very frustrated. There is no on button on the sensor on the trainer so it can be a little confusing.

mallorie jorgensen
Indoor training the right way
Familiarity:

I've used it several times
I've been using Kinetic trainers for quite a few years, and now with the added benefit of training the "smart" way is a great addition to one of the best fluid trainers available!
The ability to use the inRide sensor and app on any preferred mobile device takes training to the next level with additions of power, cadence and heart rate measurements.
While power measurements may not be as accurate as a crank based system, it does give a great baseline to train from. I have been using the app on my iOS device and the only issue I have seen is with the cadence. It doesn't hold steady and seems to jump around by up to 5 RPMs.
The build quality of the chassis is exceptional and provides plenty of support when out of the saddle. While it doesn't allow the bike to sway naturally as when out on the road, it does a great job of giving the rider confidence to push larger gears. The fluid inside has a completely different feels as compared to other brands, and is more consistent across the power curve.
All things considered this is a great trainer that will allow all riders of all abilities to train indoors and maximize the time spent on the saddle. I would highly recommend this trainer to anyone in the market.
If you have questions about Kinetic trainers or others, please reach out.
Scott Golsan
Unanswered Question
Does the heart rate monitor come with the inride?
Daniel Y.