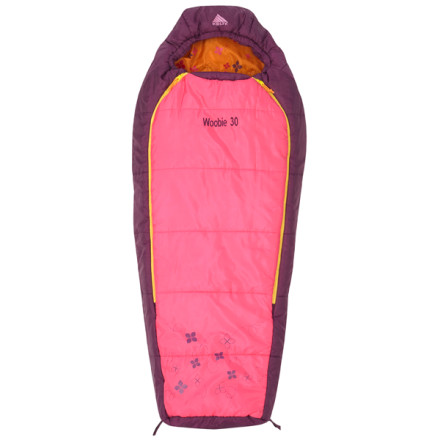 Snug as a bug in a … Woobie?
When the s'mores are all gone and your tot has finally burned off all energy, the Kelty Kids' Woobie 30 Sleeping Bag will be there to make sure he or she has a restful night. Its CloudLoft synthetic insulation is lofty and compressible, and it keeps him or her warm in temps as low as 30-degrees Fahrenheit. With a slightly wider shape than adult mummy bags, this bag accommodates the wiggliest kid without loosing the warmth benefit of the mummy shape. Kelty made this bag with a soft taffeta fabric, and both the draft collar and draft tube across the zipper make sure no chilly breezes get in.
30F temperature rating
CloudLoft synthetic insulation
Kids' mummy shape
Polyester taffeta fabric
Top draft collar
Draft tube at zipper
Stuff sack included
Make any night a camp out night
Familiarity:

I gave it as a gift but have feedback to share
Got a pair of these for my 2 little boys and they were so excited when they saw them - I gave them a pair of flashlights to go with these and suddenly they wanted to sleep on the floor and have a campout. How fun!

More importantly, these things are super soft and really warm. I didn't fit in them, but laid on top of them for a bit and now I'm jealous and need to get one in my size!
Christopher Kautz
Solid first bag
Familiarity:

I've used it several times
We bought this bag for our 8 month old son. His older sisters have similar bags that have been heavily used for many years. So far he has spent about 15 nights in the bag and it has been great. It is of course plenty big for him now, but we just fold the bag underneath him so he doesn't disappear down the rabbit hole, (which also doubles as extra ground insulation) and he does great. The two zipper system works great for getting him in and out and seems to be well built. Our only gripe would be how large it is when packed down, it is almost the biggest stuffed bag in the whole family and considering that it is the smallest bag you'd think it would be compact. We only plan on using this one for car camping and basecamp type scenarios so it isn't that big of deal, but it would be nice if it could be more compressible. Looking forward to years of adventure with this bag and our little guy.
Luke Nelson
Hi, we will be camping with our 10 month old and right now she doesn't use a blanket, only a sleep sack. There is no age in the description and all the reviews I have read, there have been no mention of age so just wondering if it will work.
Denise M.
The Bag is 4ft long, so it will obviously be huge but something she can grow into. It will essentially be a very big blanket for her that you could probably double up around her for extra warmth. It will keep her warm, but like any bag make sure she cannot slip inside it and get trapped and be unable to breathe. This can be a concern with any sleeping bag because they are slippery and tube shaped.
Ember Manfred
Child burrito
Familiarity:

I've used it once or twice and have initial impressions
The sleeping bag was perfect on my daughter's first camping trip. We were camping up in Big Cottonwood Canyon, and temperatures at night were down around 30-35 degrees. The air was a little more humid than typical Utah climate, but still pretty dry. The little girl fell asleep quickly and stayed asleep, and when I woke up in the morning was still snuggled deep in her bag, so it looks like it did a good job of regulating temperature in there; not too hot and not too cold.

The sleeping bag itself is pretty standard looking. It's cute, but I can't really comment on build quality as I don't really know what to look for. From a novice point of view everything look well-stitched and the fabric feels quality.

Overall I'm really happy with the bag. It doesn't weigh anything, it's warm, and my daughter slept through the night. Definitely recommend it.
Peter Tew
Snug as a Bug
Familiarity:

I've used it several times
A very good bag. We opted for this size rather than one of the expandable ones to keep the weight and volume down, and with the idea that it will get used by multiple kids, rather than the same kid over as many years.

We've had it out in summer and fall, down to about 35° (always in a tent and on a short Z-Rest) with no problems of temperature or comfort. We also use it on a cot in cabins and huts with much satisfaction. The double zipper is key for getting in and out or venting on warm evenings, and makes it feel like being tucked in. We really appreciate that the hood is elastic so there are no cords to tangle or choke on but there is a little bit of a seal. The synthetic dries quickly from breathing in the bag or minor spills of water (no accidents so far, knock on wood) and the hang loops work well. Like all synthetic bags, it is a bit bulky/heavy for backpacking, but great for car or canoe camping, which is our focus in this age range. It is a bit warm (but works zipped open) for overnights indoors.

A telling anecdote: Our first weekend out (~45° overnight) our little one was excited to go to bed in this bag and slept through the night without a peep. Meanwhile, our friend's daughter in the next tent was up all night chilly in a larger bag. For Christmas, they got that kid got a Woobie and it has been smiles ever since.
Adabhael
Kelty Kids: The Woobie Sleeping Bag
A good night's sleep is key to a fun camping experience, and the boy's Woobie sleeping bag will help your junior camper stay comfortable from dusk to dawn. Warm and comfortable with a dual zipper and flip-down panel, the Woobie works like a traditional sleeping bag on cool nights or a bed with blanket on warmer nights.
Wayne Christoffersen