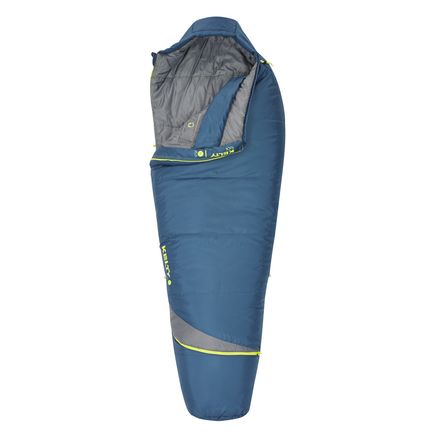 Colors

Detail Images
Bid cold nights adieu.
When cool weather and wet climates rear their ugly heads, stay warm and comfortable in the Tuck 20 Synthetic Sleeping Bag from Kelty. This mummy-shaped bag features ThermaPro synthetic insulation to keep you nice and warm. With the bag's thermal-comfort hood and zipper draft tube, you don't have to worry about stray cold air getting in where it doesn't belong. A media-integrated storage pocket lets you drift off to dreamland with your favorite tunes running through your head.
EN comfort limit 22-degrees Fahrenheit
ThermaPro synthetic insulation
Mummy shape
Polyester taffeta shell fabric
Polyester taffeta lining
Thermal-comfort hood
Zipper draft tube
Media-integrated storage pocket
Included stuff sack
Great bag at a great price!
Familiarity:

I've used it once or twice and have initial impressions
First things first...buy a compression sack. I'm using an ALPS Mountaineering size medium compression sack for this bag. Once in the sack, this bag will fit in my sleeping bag well on my 45L pack.

I'm 6'4" 210lbs with a 33" waist and the long version of this bag fits me perfectly.
I bought this bag for a backpacking trip that went down into the high teens (*F). For this trip, I used a microfiber sleeping bag liner and wore a mid-weight base layer, a pair of gloves, mid-weight wool socks, and a beanie and was perfectly warm all night.

I'll be continuing to use this bag until the temps warm up overnight and am looking forward to many more nights on the trail. I'm considering purchasing the Tuck 35 model as well for the warmer nights. For the price, you can't beat it.
Brian Stewart
Best value sleeping bag ever
Familiarity:

I gave it as a gift but have feedback to share
This bag has to be the best bang for your buck. I bought it as a gift and so far it has gotten great remarks. It's not too expensive, not heavy, not too bulky, and not too slim. There are many bags that beat this one, but not for anywhere near the price. The zipper across the feet is a nice bonus.
chad prudhomme
Great bag for the price!
Familiarity:

I've used it several times
This thing is super cozy down to about the 40s. As you get closer to 20 degrees, you will be alive, but you won't necessarily be comfortable at that temp with this bag, which is how these things go. I run cold so I always wear lots of layers but I needed extra socks in particular once the overnight temp got near freezing. (Specifically referring to a camp trip up near Leadville CO around Labor Day and I was a bit chillier than expected with the bag and the layers I had on to start.)

Design is great, I like the mummy hood that i can scrunch around my head, but condensation does form around the opening from my breath when I do this, not a big deal but just a funny thing to note. The zip does feel like it gets a little stuck at the top sometimes but that might just be because it's still new and hasn't been broken in well yet.

Packs pretty small but would definitely get another compression sack for it.
Overall, for the price and what I use it for, it's great.
jessica
Great bang for the buck
Familiarity:

I've used it once or twice and have initial impressions
For a 20 degree bag under $100? This thing is legit. The zipper at your feet? LIFE SAVER. It's like sleeping at home and kicking one of your feet out from under the blankets at night only you're camping instead. Haven't used this in 20 degree weather yet.. But it was pretty toasty in the mid 30's!
Sonya Brown
great bag for the price
Familiarity:

I've put it through the wringer
For a 20 degree bag under 100 bucks you can't go wrong. I've only been in the mid 30s with it so far but was warm enough I only needed basketball shorts and a tshirt. packs fairly small with the supplied bag, but will get smaller with a compression bag. if your not looking to drop a lot of dough for a higher end bag, then this will work for you. My only complaint is that the zippers do get snagged from time to time, so sometimes a late night pee can be alittle harder to get out of the bag. I do wish it came in a left hand zip, but thats just a preference not a complaint.
Coffeecan
Snug
Familiarity:

I gave it as a gift but have feedback to share
I got this as a gift, for a friend, before a big trip to Utah . Here's what she had to say, " We did mostly desert camping so the foot zipper feature came in handy on not yet cold nights. We had a few chilly mornings and the bags kept us snug! Only down to these guys is they were a little bulky in our packs. Otherwise great buy!"
Kevin R
Great bag for the price
Familiarity:

I've used it once or twice and have initial impressions
We tried this out in our backyard and absolutely loved it. Loved that I could stick my feet out cause I did get hot! We also got a compression sac and can get it way smaller then the bag it came with
Silas A.
Can never go wrong with Kelty. It keeps me warm and I love it. The price is great and i definitley would recommend.
Juan Altuna
Kelty Tuck Sleeping Bag Review
Check out this great video going over the Kelty Tuck sleeping bag. The best value bag in its category!
Adrian Person
Really impressed. Best value hand down.
Familiarity:

I've put it through the wringer
Wow. This bag packs small, is rated for 20 degrees, AND is around $100! Just wow. You can't find a better deal than this. Sizing is accurate, and it is pretty durable. It comes with a stuff sack that measure around 8"x15" but if you buy a compression sack like a 12-15 Liter size it will compress it down a little smaller than that. Really a great buy.
dubayaB
Best bag in this price range
Familiarity:

I've put it through the wringer
This is by far one of my favorite bags. I would give it 5 stars, but the zipper can get caught sometimes, but other than that, I love it!
Wilson Kirkpatrick
Unanswered Question
How would this compare with the tuck 35? Same difference just temp rating? Looking for entry level bag for a women for car camping and backpacking. Thanks!

Lee
In love
Familiarity:

I've used it several times
I absolutely love this bag. I've had it for a few months now and have use it multiple times, both in warm and cold temperatures. The lowest I've tested was around 20 degrees with snow on the ground wearing a pair of fleece tights and a thermal long sleeve. Not only was a snug and comfy, but actually got a little warm by the end of the night. I keep the side open only about an inch or two but it was just enough so I didn't sweat. In warmer temps, being able to unzip the bottom and let my feet hang out made for a more comfy evening. I'm 5'6" 115lbs so packing light and compact is a must for me to fit in my small pack. This compacts down nicely, (about 8x10) but with a compression sack you could definitely make it a bit smaller. I would highly recommend any bag by Kelty but this one is quality, and for the price it's a definite steal.
Kristy H.
Great Bag! Great value!
Familiarity:

I've used it several times
This bag was everything I expected. Took it out into Desolation Wilderness on a backpacking trip. It's light and very compact. I am 5'11" with broad shoulders so I got the long version because I don't like feeling claustrophobic in my sleeping bag. This kept me warm and comfy. With the extra space at the feet, they got a little cold but socks did the trick. Highly recommend this bag for quality and value. Also, I used the stuff sack it comes with as a pillow by stuffing some clothes and soft stuff in there. Super useful.
Nicci
recommended for backpacking?
Its not the lightest, it doesnt have all the bells and whistles but, you could back pack with it. I would call this an entry level sleeping bag, its a great price and will work down to 20 degrees. Its nice to start with something not so expensive that way you know what you want when you are ready to invest some more $$ into a bag.



You can call or email me directly. 801-736-6398, or bporreca@backcountry.com
Bill Porreca
I did a lot of research for purchasing my first backpacking sleeping bag. This one squeezes down to a great small size for putting in a backpack sleeping bag compartment. It beats out other bags because it is light (long version 3.3oz), packs small, good down to 20degrees, and is under $100. You cannot beat this bag for all of those criteria. Bill's right, great starter bag. Can't beat the value for the price.
Nicci