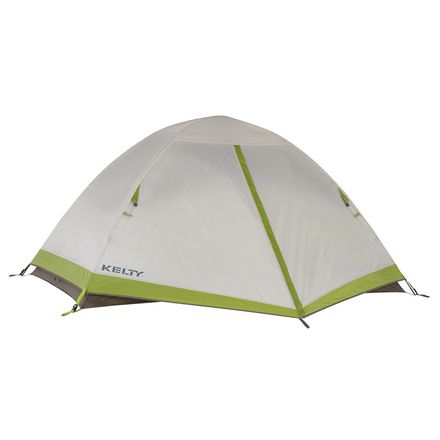 Colors

Detail Images
Your comfy home away from home.
If you've ever lain awake in your tent on a sweltering night, then the Kelty Salida 2-Person 3-Season Tent has your name written all over it. The Salida's mesh walls provide you with plenty of fresh air so you don't baste in your own sweat, while the waterproof fly (which has a roomy vestibule, by the way) is easy enough to put on that you can go to sleep under the stars and throw it on in a hot minute if it starts to drizzle.
Setting the Salida up is simple, too, seeing as it only uses two DAC Pressfit poles and has color-coded clips to prevent confusion. Guyout points provide some easy reinforcement if you're looking for more space, while internal pockets hold your gear, and roof loops hold a gear loft if you pick one up. Even the Tent Cube storage bag is thoughtfully designed, so you'll be able to pack up the Salida, which weighs under 4.5 pounds, quickly and get back on the trail in no time flat.

Polyester walls with mesh panels
Polyester fly with a PU coating
Nylon floor with taped seams and a PU coating
Single door and vestibule
Two DAC Pressfit aluminum poles and color-coded clips
Gear-loft loops and internal pockets
Guyout points
Noiseless zipper pulls
For the money paid, it can't be beat.
Familiarity:

I've used it once or twice and have initial impressions
I started backpacking in the early 70's, and I'm older now and not so enamored with the idea of 55+ # packs anymore. So I'm in the process of upgrading several pieces equipment with enough money left over for some week long 50+ mile trips. If I had been willing to pay another $100 for my tent upgrade I could have shaved another 8 oz. off my pack weight (Clip Flashlight - 3#6oz Vs Salida @ 3# 14oz). But with sleeping bag & pad upgrades still pending, I decided to save the $100. After all, this is replacing a 4-person Kelty V-4 (family size) with a claimed weight of 8# that I think was heavier. Can't make up all the weight savings on one core item.
For me alone, or me and the dog, it's plenty roomy. If you were sharing with a spouse-type, you could make it work. The single side door might cause late night potty call issues, but oh well, she can climb over.
The door-side vestibule is large enough for a pack & boots, but two packs? Maybe, if you stacked them just right. Cooking inside the vestibule? I'm not saying it can't be done, but the cut and taper of the vestibule doors could make this a real challenge. The non-door-side vestibule has no access zipper, but does extend with a pull-out stake by a smaller amount than the primary. By unstaking that tie-out you can make some use of that storage- wet boots, other small items, etc. But not another pack.
As soon as fall colors hit their peak I'll be breaking this in on the North Country Trail of the U.P. But I did have the good fortune of some serious testing in the back yard. The day the tent was delivered, I did my first practice set up just in time for three days of heavy thunderstorms and 20-30mph winds; local weather claimed gusts measured to 40-50mph. Over the three day interval rain was measured between 3.5 to 5 inches. Every day I would go out between downpours to inspect, and the interior of the tent was perfectly dry. And watching the tent guy-outs function during some of the heaviest winds convinced me this is a sturdy piece of gear - exactly what I've come to expect over the years from Kelty.
I never saw this mentioned in any reviews or tent specs, but the head end of this tent is wider than the foot end. Not really that noticeable unless you orient the footprint in the wrong direction... Hmmm, wonder why that one corner webbing is green while all the others are black? Hmmm, wonder why the tent corner webbings also have one green??? Hmmm, wonder why that footprint extends wider than the tent floor on one end??? Let's see, if I unstake the tent & rotate the footprint 180 degrees... perfect fit now!!! And a really well thought out color coding which I completely ignored the first time just because I'm so darned bright to start with!!!
I do think a roof fly vent or three would have improved ventilation at very little extra weight, but the fly does not extend completely to ground level so I'm hoping that will be enough to prevent condensation during extra humid intervals.
So... I hate bugs. And I hate the idea of waking up with a snake beside my bag (happened once!!!). Or a skunk sniffing its way under the tarp (yeah, that happened too). So for me, forget the minimalist tarp idea. I think I'll be perfectly happy carrying the little extra poundage while still reaching a manageable core weight for a stinky ole 'packer.
Michael C.
Packing light
Familiarity:

I gave it as a gift but have feedback to share
Bought this as a gift for my father-in-law to take on a backcountry motorcycle trip. He hasn't used it yet, but we have put it up and it looks like it is going to be perfect!
Jason
Gift for the Husband
Familiarity:

I've put it through the wringer
He loves how this tent packs, setting up and taking down with no problems. First time using this Kelty was in 18 inches of snow! Tent did fantastic!
Nicole Mabry
Perfect for what i needed
Familiarity:

I've used it once or twice and have initial impressions
I needed a lightweight tent, that fit two people, and didn't break the bank. Very happy with this so far, excited for next spring!
2Fast
Not for everyone
Familiarity:

I've put it through the wringer
This would be an excellent fair weather tent.

Pros: I really liked the frame and the poles. This was one of the easiest and fastest tents I've ever put up. The shock corded poles jumped together without any issues and I could get the tent up by myself in minutes - rain fly and all. The clips Kelty used were also great - it took a minute to figure out how to use them best the first time the tent went up, but wow! Great clips for a solid hold and easy put up and tear down. Those two features are the reason for the 2 stars I did give it.

Cons: The tent is very poorly constructed. The seams between the floor and the walls were sewn in such a way that there was an inverted gap where the two materials met, which caught rain water as it rolled down off the rain fly and funneled it directly into the tent. This was especially unfortunate, since the materials themselves are actually quite waterproof, so when this stream started running inside the tent from the seams, it just built up into a little lake under my pillow. Also, the ventilation was the worst I've ever had in a tent. I tried staking out every possible pace on the rain fly to increase the air flow, but there was never a morning without at least some part of the inside of the tent left damp. Most days it was enough to drip down and contribute to whatever lake had been formed by the floor leaking. On hot afternoons, I had to leave the door open in order to get any air movement at all, which of course led to bug issues. Finally, the size. This tent was perfect for me as a single user, but I can't imagine how it could be considered a two person tent. I suppose children are people too, but there's no way two people over 5 feet tall are getting in this thing.

Overall, for a single user in dry climates, this might be a really great tent. Very quick and easy to put up and comfortable for one person plus a flashlight. If there is a chance of rain or a visitor, I think you'd best be looking for another tent.
Michael L.
it has its pros & cons
Familiarity:

I've put it through the wringer
PROS:
Although this is only a 3 season tent, I've slept in this tent while snowing. I was pretty cold but the tent was significantly warmer than the outside temperature.
I'm currently sleeping in this tent every night while working in the desert and it's the perfect size for just me and my backpacks.
The stakes are pretty nice and it comes with extra in case you ever lose one
I've been using it on backpacking trips, it fits into my backpack along with my other stuff but it does take up more room than I would like.

CONS
extremely cramped when 2 people are sleeping in it. There wouldn't be any room for backpacks if I had another person in it with me. I wouldn't want to share this tent with someone I'm not really close with (trust me, it was miserable).
The material is thin, which makes it lightweight, but I already have a hole in the floor of my tent which sucks.

With all things taken into consideration, I do love this tent and I don't regret purchasing it. It was affordable yet lightweight which is exactly what I was looking for. If your not trying to drops hundreds of dollars on a tent but you still want one that's decent and reliable, this is the one for you.
Kylie O.
Great value light weight tent!
This is a great value for a light weight tent. It's quick to setup and doesn't take up to much space in my backpack.
Travis
Unanswered Question
Is a footprint included?

Nicole Z
Great light weight tent
Familiarity:

I've put it through the wringer
Love this tent. Have taken everywhere from the Smokey Mountains to Yellowstone National Park. Holds up great in the rain and set up is a breeze. (takes 5min or less) Pretty light weight and a roomy enough vestibule for a pack and boots. Easily fits two if you are pretty comfortable with your tent mate but better for one person if you prefer a little space.
Emory Mullis
Best Tent!
Familiarity:

I've put it through the wringer
Best tent I've ever purchased!
Katherine R.
Great tent, great price
Familiarity:

I've used it several times
Lightweight, not ultra-light. Weight savings come from one door and no vents. Materials are very durable. Upgraded the stakes to Kelty no-bendums. I carry 8 (4 for tent body, 4 for fly and guy lines). The tent comes with 4 guy lines, I carry 7 (4 for poles stabilization and 3 for tent body). The back of the fly should be guyed out to prevent condensation from dripping into the tent. Tent comes with a rectangular stuff bag, I use it for storage. I carry the fly and tent body in a Kelty medium compression bag (color Chili), and the poles and stakes separately to save space in my pack. Excellent for one person who wants to store their gear in their tent. Great for a couple, will be cramped for two large people. A very good tent for the price.
John M.
Kelty Tents: Salida Tents
Check out our award winning Salida tents
Adrian Person
Easy set up
Familiarity:

I've used it several times
This is a great backpacking tent. Super light weight and with the fly off it allows for some awesome star gazing. This tent is also a great beginner tent for my son to use on scouting trips, or for sleepovers in the backyard. With just a little help he is able to set up the tent. He is 8 years old, which shows just how easy this tent is to assemble. My only complaint is that the stakes bend if the ground is too hard.

With two adults, it's a snug fit. With two adults and a boxer, it was a bit too much. I think my dog needs his own tent.
Camilla Hansen
Comfy for 1
Familiarity:

I've used it once or twice and have initial impressions
I took this tent on my first weekend beach camping trip. It is spacious for one person but it only has one door so I probably won't use it to go camping with another person--it'll make it feel claustrophobic I think. This was my first time setting up a tent, but my friend's tent was slightly easier to set up with only one person. Her Kelty tent had a locking clip that hooked the 2 poles together at the top so the frame was standing up on it's own. Pretty nifty
Courtney F.