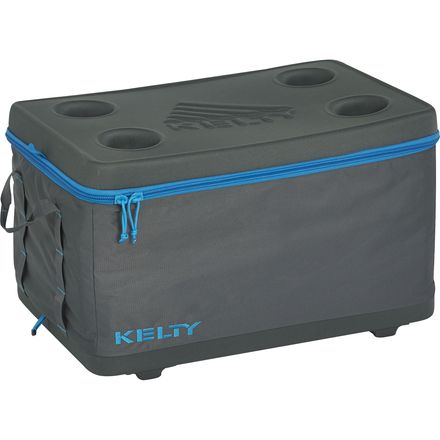 Colors
Warm beer should be illegal.
Hard-shell coolers are nice, but they take up a lot of storage space. With the hybrid Kelty Folding Cooler, you get the insulating performance of a hard shell in a design that folds flat for compact storage. The removable BPA-free PEVA lining provides enough insulation to keep beverages chilled for hours, and, even better, the 55-liter size can hold up to 36 cans with ice.

Polyester ripstop body
Removable and replaceable BPA-free lining
Collapsible design
Reinforced bottom
Dual carry handles
Removable shoulder strap (small only)
Bottle opener zipper pull
This cooler was hit or miss for me, but I didn't really use it for its possible greatest function. I decided to test out the cooler over a 3 day trip up to MT where the cooler would spend most of its time in the trunk of my car ~65-70 degrees at the warmest part of my day.

didnt expect a single bag of ice to last the entire trip through the cooler, but figured maybe 2 bags could get me through since I wouldn't be opening and closing the cooler a bunch. Unfortunately i ended up needing more than 2 bags of ice and I opened the cooler twice a day for 2-3 days.

The good thing about this cooler is that its soft and very compact. It packs away nice and is easily jammed into tight spaces, if you have the extra space on the inside of the cooler.

The bad about the cooler was that it wasn't the greatest insulator. The inside of the cooler resembles that soft, plastic material from the inside of your lunch bag in middle school. It was waterproof inside, ill give them that seeing i had a large puddle after my ice had melted after a day of minimal use.

I am guessing the best use for this cooler would be single day trips out on the boat or maybe in the car for a picnic of sorts. Really any activity where you don't plan to get an excess amount of use from the cooler over a long period of time would work best.

I wanted it to work for me, but it just didn't quite fulfill my needs as well as a hard 45q cooler from igloo would at 50$
Ian Bisantz
Small but mighty!
Familiarity:

I've used it once or twice and have initial impressions
This cooler is great for road trips and collapses down to a super convenient size to store in small spaces. This cooler will leak a bit when the ice melts, that's why I didn't give it four stars. As long as you don't leave ice in it overnight, you shouldn't have any leakage.
Nicky Rosado
Day Packer
Familiarity:

I've put it through the wringer
Works great for day hangs and one night stands.
I've also packed it in my carry on.

Jaden Materi
Great on the go cooler
Familiarity:

I gave it as a gift but have feedback to share
I bought this for my mom as a mother's day gift. She wanted something that was easy for her to lug around that she could keep in her car. Cruisin around with groceries in there or loading it up with food for a weekend out of town. Collapses down fairly small and seems like it is very durable for a collapsible cooler, has good volume, and holds ice & keeps things cold for hours.
Matthew Pizza
Pretty Rad Cooler
Familiarity:

I've used it once or twice and have initial impressions
Used the Small/17L for drinks on a camping trip last weekend and it got the job done nicely. It's by no means in the Yeti/Orion class (or price range) but if you're looking for the equivalent to a Coleman cooler from your local sporting good store but want the versatility of a soft sided one then look no further.
Kyle Scagnelli
Great for Travel
Familiarity:

I've used it once or twice and have initial impressions
I was able to squeeze this in my luggage for a recent trip to Costa Rica and so glad I did! It was great to have it handy for all of our adventures down there. Loaded it up with food and drinks for an overnight fishing excursion and served well for hauling our catch back to the house.
James Griffin
Great Kelty Cooler
Familiarity:

I've used it once or twice and have initial impressions
This cooler is great for camping, pretty easy to set up and saves you a lot of space.
Mario Vargas
Collapsible is the way to go!
Familiarity:

I've used it several times
Granted, going with a soft-shell cooler has its limits on insulation. It still kept chicken breasts frozen over 2 days with just two ice packs. The construction is solid and keeps the temperature down. The best part, when you're done with it, you take down the side walls, store the waterproof lining and forget about it. Doesn't take half your trunk anymore!
Look at the bottom of my review for my contact info. Feel free to email or call if you have any questions about my review or this product.
Devin Peterson
Excellent for Apartment Dwellers
Familiarity:

I've used it once or twice and have initial impressions
I used to have an ancient hard sided Igloo cooler. It was great, till the latch broke. After that, there was no longer a seal, and it didnt work well. To get a cooler with a similar capacity would be to get something I had no room to store in my apartment. I didn't do any traditional camping last year or the year before that, so I was able to mooch communal coolers or was eating backpacking food on backpacking trips. However, I knew that car camping was still in my future. I was wary about the ability of a folding cloth cooler to actually keep things cool.

This weekend I took it to Clarence Fahnestock State Park in New York. It packs easily in my Ford Focus hatchback, as I kept it collapsed till we were ready to fill it. After setting up camp, we went to the market, picked up everything we needed for the night, and returned. Kept all our foodstuffs in this cooler, and the beers in the hard sided cooler (just to avoid the wear and tear on the zippers, though they seem pretty robust).

Had ice left about 24 hours later. The cooler was kept in the shade, but it is dark colored, and it was 85 degrees or so.

Filled it again the second night, and this morning, it was still tremendous amounts of ice in the freezing water in the morning.

Build: Easy to set up, easy to collapse. The liner feels pretty robust, and the padded insulation walls are rigid enough to keep shape, even when not filled. Zippers seem robust, but we used this cooler as our food cooler because the hard sided cooler was easy to open and close every time someone wanted a beer.

Im drying it out right now, which is annoying, but you would have to do that with a hard sided cooler as well, though it takes much more time for a cloth cooler to dry, especially if it's humid (NYC in the summer is typically humid).

Overall, love this purchase, as when its dry, it'll get collapsed, and tucked under the duffel bag where I store all my other camping gear, waiting for the next trip.
Jonathan K.
Kelty Folding Cooler
Familiarity:

I've put it through the wringer
Intro: got this because I have a tiny care and need all the extra space I can get for car camping!

Pros: I love this cooler. It folds down very small, but once it's up, it's quite sturdy. I'm 130 lbs and can sit on mine. I have never had it leak, and it manages to keep ice quite well (got a full day when I was down in Moab, no shade, temps in the 90s).

Would buy again and recommend to friends.
Cheryl K.
The most versatile Cooler.
Familiarity:

I've put it through the wringer
So, I've been using a version of the Kelty Folding Cooler for three years. My go-to is the 20 quart version, but I've also used the 35 and 50 quart sizes as well.

Why do I love it so much? Why don't I use a Yeti like everyone and their brother's cousin?
1. First and foremost, it's the size! Quite simply, these pack down so small I never have to struggle to find a place to store them. Unlike a hard sided cooler which takes up all space, all the time.
2. Weight. These are less than half the weight of most good hard-sided coolers while being more than substantial enough to not just collapse with a heavy load.
3. They actually WORK WELL. I've had numerous cheaper soft-sided coolers leak through the liner. Not Once has this happened with me Kelty, in any size. Plus, they hold ice Very well. While used in TX in September, with little shade (think high 90's to low 100's) it held ice for 10 hours without a problem. In Moab, with a little protection, I had the 50 quart version hold ice for 2 days+ during a bike event.
4. They're the perfect "I don't need a cooler until I get there, cooler.
Adrian Person
Kelty Folding Cooler overview
Check out what makes the Kelty folding cooler super awesome!
Adrian Person