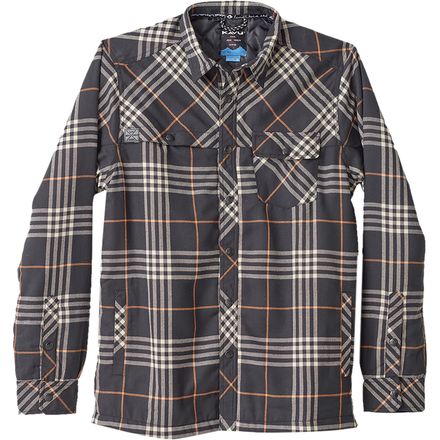 Steward of the Stewart.
No afternoon, much less one spent chopping wood, is complete without a little bit of mulled apple cider and the Kavu Men's Stewart Insulated Shirt. This classically styled button-down features a soft, plaid flannel that offers hard-wearing warmth, while the added lining provides a little extra furnace-like fervor on those chilly afternoons. Not to mention, the two chest pockets and two hand pockets keep necessities like your corn cob pipe or knife close at hand.
A classically styled button-down for chopping wood
Soft flannel fabric features 30+ UPF rating
Lining offers low-profile warmth and coziness
Myriad of pockets keep necessities close
A fun lifestyle collection for men, women, and kids! Our fall 2017 line is full of deep tones, forest vibes, and fun prints that stitch their way into your life and style. It's pretty much magical! Whether your chasing your kids down trails, camping next to alpine lakes, or taking that Land Cruiser down the highway. There is always one common thread every day you wear KAVU...you know you are making the most of it!
Keith Reis
Xmas Gift For 101-Year-Old
My Grandpa is 101-years-old, and so I always buy him button downs that are easy on and off. This shirt is no exception! It's warm, comfortable, and doesn't restrict his movement. Great shirt!!
Mackenzie Martin
Casual fit, long sleeve button up insulated shirt jacket, stand collar with interior KAVU logo jacquard tape, two chest pockets (one with flap, one covered welt), lower welt pockets, curved hem. Fabric: 5oz 100% polyester flannel twill, wicking, +30 UV rated - multi colored plaid. Lining Fabric: 100% polyester – quilted filled taffeta.
Keith Reis