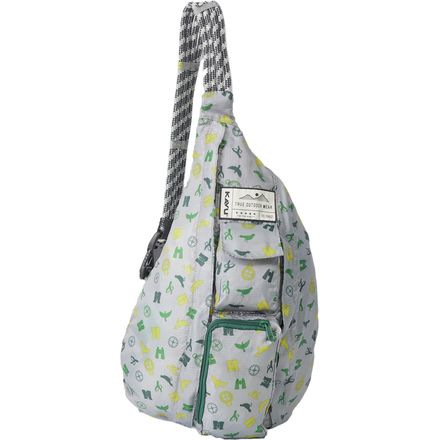 Colors

Detail Images
Free Yourself But Not Your Stuff.
Purses just aren't for everyone, but carrying around your things is still a must. Free your hands with Kavu's Rope Pack. With its styling, outdoorsy feel, you'll be able to stash your essentials and not have to feel unlike yourself. The rope shoulder strap is adjustable, so wear it loose in the summer, tighten it for a bike ride, or lengthen it when your winter coat is just too puffy. Since this Rope Pack lays on your back while you carry it, the Rope Pack keeps your hands accessible so you can move, shop, hug, or dance as much as you want without having it in the way.
A versatile, easy-to-carry pack for holding all your essentials
Two external keys and phone pockets for quick grabbing
Rope shoulder strap is comfortable and cute
Two vertical zippered compartments for holding larger necessities
Keith Reis
This is the official product review for the KAVU Rope bag and the KAVU Rope Sling. Take a journey with Crazy Eyes through the nooks and crannies of two of our most popular styles.
Keith Reis
A fun lifestyle collection for men, women, and kids! Our fall 2017 line is full of deep tones, forest vibes, and fun prints that stitch their way into your life and style. It's pretty much magical! Whether your chasing your kids down trails, camping next to alpine lakes, or taking that Land Cruiser down the highway. There is always one common thread every day you wear KAVU...you know you are making the most of it
Keith Reis