KAVU

Lene Dress - Women's
Item #KAV00EP
Kavu
Women's Apparel
XXS
XS
S
M
L
XL
Bust

30 - 31in

(76.2 - 78.7cm)

32 - 33in

(81.3 - 83.8cm)

34 - 35in

(86.4 - 88.9cm)

36 - 37in

(91.5 - 94cm)

38 - 39in

(96.5 - 99cm)

40 - 41in

(101.6 - 104.1cm)

Sleeve

31.5in

(80cm)

32in

(81cm)

32.5in

(82.5cm)

33in

(84cm)

33.5in

(85cm)

34in

(86.4cm)

Natural Waist

23 - 24in

(58.4 - 61cm)

24 - 25in

(61 - 63.5cm)

26 - 27in

(66 - 68.5cm)

28 - 29in

(71.1 - 73.7cm)

30.5 - 32in

(77.5 - 81.3cm)

34in

(86.4cm)

Hip

33 - 34in

(83.8 - 86.4cm)

35 - 36in

(88.9 - 91.4cm)

37 - 38in

(94 - 96.5cm)

39 - 40in

(99 - 101.5cm)

41 - 42in

(104 - 107cm)

43 - 44in

(109.2 - 111.8cm)

Pant Inseam

31in

(79cm)

31.5in

(80cm)

32in

(81cm)

32.5in

(82.5cm)

33in

(84cm)

33.5in

(85.1cm)

Legging Inseam

29 - 30in

(73.7 - 76.2cm)

29.5 - 30.5in

(74.9 - 77.5cm)

30 - 31in

(76.2 - 78.7cm)

30.5 - 31.5in

(77.5 - 80cm)

31 - 32in

(78.7 - 81.3cm)

31.5 - 32.5in

(80 - 82.5cm)

Jogger Inseam

24 - 25in

(61 - 63.5cm)

25 - 26in

(63.5 - 66cm)

26 - 27in

(66 - 68.6cm)

27 - 28in

(68.6 - 71.1cm)

28 - 29in

(71.1 - 73.7cm)

29 - 30in

(73.7 - 76.2cm)

US Size
2
4
6
8
10
12
14
Low Waist

29in

(73.7cm)

30in

(76.2cm)

31in

(78.7cm)

32in

(81.3cm)

33.5in

(85.1cm)

35in

(88.9cm)

36.5in

(92.7cm)

Hip

35.5in

(90.2cm)

36.5in

(92.7cm)

37.5in

(95.2cm)

38.5in

(97.8cm)

40in

(101.6cm)

41.5in

(105.4cm)

43in

(109.2cm)

Pant Inseam

31in

(78.7cm)

31.5in

(80cm)

32in

(81.3cm)

32.5in

(82.5cm)

33in

(83.8cm)

33.5in

(85.1cm)
How to Measure:

For best results, take measurements over your underwear.

Bust:

Measure under your arms, around the fullest part of your chest.

Sleeve:

Have a friend measure from your center back to your wrist.

Natural Waist:

Measure around your natural waistline, keeping the tape a bit loose.

Hip:

Measure around the fullest part of your body at the top of your legs.

Inseam:

Using pants that fit well, measure the crotch seam to the bottom of the leg.
Select style & size:
Select options
Select options

Wine, S

Sale:$38.97

Wine, M

Sale:$38.97

Wine, L

Sale:$38.97

Wine, XL

Sale:$38.97
Tech Specs
Length:
[front] 40in, [back] 43in
Manufacturer Warranty:
lifetime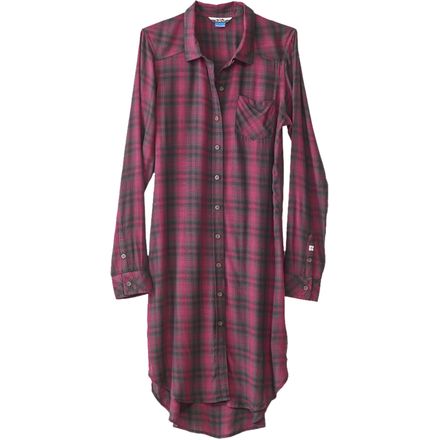 Colors

Detail Images
If you love flannels, you need this dress.
The Kavu Lene dress screams holiday season. It's deep curved hem adds a nice touch to a traditional look. And a semi-fitted trim complements your figure.
A dress perfect for the holidays
Curved hem adds a touch of style
Semi-fit makes a flannel look flattering
Frequently purchased together