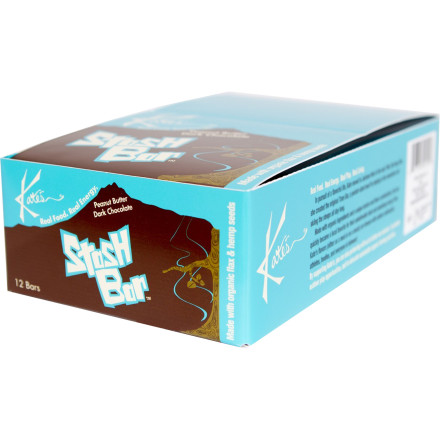 Colors

Detail Images
Stash your hunger.
Given that Kate's Real Food's Stash Bar is the perfect treat to keep in a jersey pocket or hydration pack, we find that it's quite aptly named. And, even better, it's comprised of organic, real foods in order to limit GI distress and to supply you with the energy that your ride calls for.
Kate Schade didn't set out in the energy bar business to make a quick buck. She started out by making bars for her to enjoy, and lucky for the rest of us, her standards are high. What she created were on-the-go bars made from real, organic food. And, with one hand in farming, she was able to guarantee where those ingredients actually came from. Friends and family tried them, and not surprisingly, they demanded more and more.
That brings us to today's Stash bar. It's a product that's born to fuel those who care about what they eat and where their ingredients come from. The Stash bar features a short list of only eight organic ingredients like flax seed, hemp seed, oats, honey, peanut butter, sweetened dried cherries, dark chocolate, and almonds. Even better, these delectable tastes have been offset by organic dark chocolate, rice nuggets, and sea salt in order to give it a nice balance of salty and sweet. So, the resulting bar hits on all points -- calorie richness, taste, and health. What more could you ask for?
The Kate's Real Food Stash Bars are available as a box of 12 individually wrapped bars. Please note that these bars contain nuts and soy, but no dairy. However, given their honey content, they're technically not vegan.
Easy to Eat Bar.
Familiarity:

I've used it several times
The Kate's Real Food bars are all very good. They are an easy to eat bar that does not dry out your mouth like most sports bars do. They have all natural ingredients with no nasty additives. They are a great bar to take on a ride or hike. I would recommend the bites if you want something a little easier to pack.
Joshua Stark
Fantastic Snack
Familiarity:

I've used it several times
These bars are a great snack for anytime. Whether you've been out on your bike for hours or grinding at your desk at work, Kate's Stash Bars will fill you up and give you the energy to keep going. Also, they taste great.
Grant Johannes
recommended
Familiarity:

I've used it once or twice and have initial impressions
The bar tastes good, is easy to digest, and is filling but not overly so. I really like the lightness brought on by the rice. The flavor is relatively light and eating the bar did not dry out my mouth as is the case with lots of other bars.
Zach B
A Better Bar!
Familiarity:

I've used it several times
All of the flavor Bars I have fried from Kate's has been absolutely amazing. Flavor is great, moist, and easy to chew. These are great for long rides or right before a short ride to hold you over.
Greg Celentano
Great bar to have on the trail! Not full of chocolate to give you the sticky fingers, this is one of my favorites with a peanut butter flavor.
Robert Jensen
Great flavor. You can't go wrong with these. Filling and tasty. Easy on the stomach. No terrible after taste and not to dry. You won't be disappointed trying these out.
Clayton Otto
Love these!
Familiarity:

I've put it through the wringer
I absolutely love Kate's Bars. They are all good, but the Stash Bar is my favorite. Peanut butter and dark chocolate - what's not to love? These are my go-to on the trail, at work, traveling, etc. They are much more filling than your average bar, and they don't contain any sketchy ingredients you have to wonder about.
Leah S
These are awesome!
Familiarity:

I've put it through the wringer
I bought these for a road trip to MN. I can honestly say that these saved me big time. I didn't have to stop as much because of how filling they were and how great they were as a whole.
Eric Plath
This is just my preference I didn't like the taste, it was dry and unflavorful..
April F.
Tasty
Familiarity:

I've put it through the wringer
I've always had a problem when packing snacks for an excursion or even my day to day routine. Many packable snacks are often too filling, chewy, or chalky. However, Kate's Real Foods has resolved this issue and provided an organic, tasty, and light hearted affair that won't leave you running for your pocket trowel.
Sunn Kim
Stash for your stash!
Familiarity:

I've put it through the wringer
This bar is pocket sized goodness! SO filling and the crunch of the rice nuggets paired with the peanut butter and dark chocolate makes them such a treat to eat. They keep you full and they have protein from hemp seeds and peanut butter! @kates_real_food
Kathryn B.
Meal Bar of Choice
Familiarity:

I've put it through the wringer
I tried my first Kate's bar a couple of weeks ago and I have been hooked ever since. These are way tastier than Clif bars, and cheaper than the ProBar equivalent, while still being made with quality, healthy, organic ingredients. Try one! They're delicious. I have had every flavor and they are all great. I especially like the bars that feature dark chocolate, but you really can't go wrong.
Pat Guinn
Great find!
Familiarity:

I've used it once or twice and have initial impressions
I'm a bar girl....and I'm always looking for a new grab-and-go snack. I found Kate's Real Food and immediately hit the BUY button when I read the ingredient list. Every single item is exactly what Kate promises, REAL food--all simple ingredients with no extra junk.


Just a note to add the description above, there are no cherries or almonds in this bar--the ingredients are: oats, honey, peanut butter, rice nuggets, organic flax seeds, dark chocolate, hemp seeds, sea salt (all organic by the way)


These are a little on the sweet side for me, and they do get a bit melty if they're in your pack all day in the sun, but they are still a great bar. They are the perfect balance of protein, carbs, and fat, and keep hunger away without feeling like you have a rock in your stomach like some of the heavier bars do.


I'm anxious to try some of Kate's other flavors to fuel my next adventures.
Sheena
Another fantastic flavor from Kate's. I'm a huge fan of the peanut butter and dark chocolate combo for a boost of energy. These all natural products don't have that fake over processed taste, are calorie dense, but wont leave your stomach upset. They are expensive but worth it!
Ryan Gibbs
real good
Familiarity:

I've put it through the wringer
This bar has a peanut butter, chocolate, flaxseed, hempseed theme going on and I love it. There are no cherries in here, like the description suggests. Its absolutely delicious and I can't get tired of this one. Kates bars don't freeze like other bars, I like that too.
Ian Provo