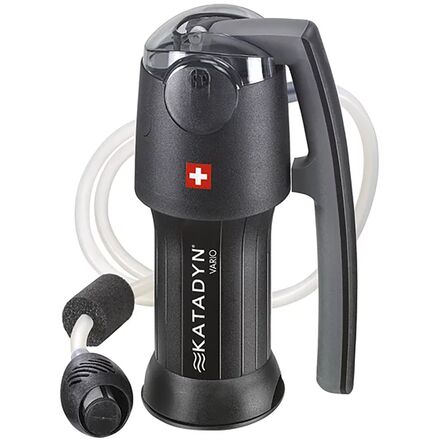 Colors
Pack Katadyn's lightweight Vario Dual Technology MicroFilter and drink clean water whether you're camping near muddy water or clean mountain streams.
Katadyn's lightweight Vario Dual Technology MicroFilter adjusts for dirty water or normal water conditions, so you get the cleanest, freshest water possible no matter where you're backpacking. A simple turn engages the ceramic prefilter when you're pumping out of a muddy lake so the pleated glass-fiber filter inside doesn't get destroyed. After a long, hard hike, this Katadyn water filter's dual piston pump works smoothly and easily—pumping out up to 2-liters per minute. The Vario Dual Technology Filter removes waterborne bacteria so you can drink safely on your camping trips, and uses a replaceable carbon core and cleanable ceramic disc. Attach Katadyn's adaptor base directly to your standard Nalgene water bottle opening, or use the output hose for larger water containers.
Includes refilter, carrying bag, and cleaning pad
Great but big
Familiarity:

I've used it several times
I really really like this water filter I feel like it pumps tons of water but the size is quite big and it might not be the best for long trips as we recently found out while hiking in the Uintas.
Silas A.
Adequate at best
Familiarity:

I've used it several times
I've owned this filter for 3 years. Used it 4 times and really don't like it. It doesn't pump very quickly. Feels like it builds up pressure (like a clog) very quickly, even on very clear water. The pressure makes it leak at the seals. Not vert happy.
Jason Wanlass
Unanswered Question
Does this filter come with an attachment that directly screws onto the Nalgene water bottles?
Randall Morgan
The Best!
Familiarity:

I've used it several times
This is the best filter I've owned. Its super easy to set up and use, packs down nicely and is on the lighter side. Also, this thing pumps fast. It didn't take longer than a 30 seconds to pump up a Nalgene and less than 2 minutes or so to fill up a hydration bladder. I've used in rivers and lakes in the PNW with great success and ultra clear, clean water every time. Highly recommend.

Feel free to reach out to me with any questions you have about this filter.
Justin Rychlicki
Well designed pump
Familiarity:

I've used it several times
I find that the estimation of pumping 2 liters a minute is a little high, I can get a liter and a half in about that time. It has a cool feature of being able to screw on to the top of a nalgene, which is awesome. My only gripe is that the pump can be quite squeaky.
Jake
Katadyn water filter performance
Familiarity:

I've used it once or twice and have initial impressions
I recently purchased a Katadyn water filter from you because I was impressed with it's reviews and the fact that it could pump 2 liters of water in a minute. I have been backpacking for 30 plus years and have owned a few water pumps. This is by far the worst pump I have owned. I got the pump this last spring and used it in the Teton mountains in Wyoming for an overnight trip of about 25 miles. It performed OK (not 2 liters per minute - but OK). I then went on a 6 day trip in the Wind River range. On the first day the pump was slow, 10-15 minutes a liter. After that it got even slower, a minimum of 20 minutes per liter. Needless to say we quit using it and opted for boiling and treating water with chemicals. every night in camp I disassembled the pump completely to try and alleviate the problem with no success. We concluded the filter was completely clogged even though it looked brand new. Also, all the water I was pumping was very clear with no glacial silt or particulate. I would like to understand what happened, but I'm probably going to purchase a different pump very soon.
Keith P.
Yea, it's ok.
Familiarity:

I've used it once or twice and have initial impressions
This is a quick pumping filter and the water tastes clean. My only gripe is the size, it's quite bulky. It's lumpy Nalgene sized. As long as you are using clear-ish water the filter is designed to last some 1,800+- liters. If the water is on the dirtier side and you have to use the ceramic (second) filter it only lasts 190. That's enough for a summer of serious backpacking but for the money, there are others that last longer.
Zach Allen
Simple to Use
Familiarity:

I've used it several times
Purchased this filter after hiking with a friend that had one. Just completed multiple days on the Teton Crest trail and it worked like a charm. Filters water quickly, easy to use, no funny after-taste. A little heavier than some of the others but worth it. PS Keep the in-take off the bottom of lake or stream so filter doesn't get dirty as fast.
Paul B.
Water for days!
Familiarity:

I've used it several times
I feel so powerful with all the water I can now drink. This is the first water filter I've ever used and I'm pretty sure I'll never stray from the Vario. The filter is incredibly easy to use and I didn't have any trouble with never having used one before. Definitely flush some water through it the first time like recommended. The carbon core needs to be flushed out. The pouch that comes with it makes it nice and easy to carry and through in your bag without taking up too much space. Love it!
Emily Noll
Worth the weight
Familiarity:

I've used it several times
Took this out with a couple friends for a 3 day trek through the backcountry and after the first day, i became "the water guy." Its a bit like being "the molly guy" at a rave - cool at first, burdensome eventually, but someone has to do it, right? Anyway my two buddies had a Hiker Pro and what looked like a MiniWorks from MSR. Both the other filters held up well and were doing the job, the MSR was particularly impressive being 10 years old(or so buddy 1 claimed) but the Vario was filtering at close to twice the speed. Admittedly I had the synthetic filter selected and this thing sticks to a Nalgene like Secret Service agents stick to Colombian prostitutes, but I think the real MVP in the speedy filtration is the double pump action. The Vario sucks water on both the up and down pulls of the handle, which means the Zika factory you found in the forest is being converted to life-sustaining, bacteria-free liquid oxygen at twice the rate. For solo missions when you're really concerned with maximizing the value of each and every gram I think the Hiker Pro is still the best out there. But if you can afford another 4 ounces the Vario is bomb.com, especially for groups.
Ian Saukerson
kept me alive
Familiarity:

I've used it several times
that's really all i ask. easy to use, easy to clean. light weight.
Nate w
Its da bomb!
Familiarity:

I've put it through the wringer
It is simply great! It is a must have. The instructions are very very easy to follow but I definitely recommend testing this thing out before you are knee deep in the brush somewhere. I take this with me every time I hit the outdoors because it is small and lightweight, and definitely durable. The water that the pump pushed out is better than any sort of water you can buy in a bottle. If you take care of this it will definitely take care of you for a long time!!
Jack Hall
This is it.
Familiarity:

I've used it several times
I'm telling you now, this is your filter.

I've tried multiple Katadyn filters and this is the most affordable, efficient filter of theirs. It eliminates finicking with an inlet hose, instead you just fit it to the top of your water bottle and pump.

It gets you clean water quick, which I appreciate because when I'm thirsty, I'm hangry, if that makes sense.

Speaking from experience and mistakes, if you are debating getting a handheld filter or gravity filter, I would recommend purchasing a handheld first then a gravity feed filter. Handhelds make filling up bottles while hiking more realistic and less of a hassle while gravity filters are better for base camp use.
Sierra Durland
Great filter-light weight and dependable. Highly recommended!
WesB
excellent piece of gear
Familiarity:

I've put it through the wringer
I have used this filter for almost four years now, and it has yet to fail me. It pumps quickly, while still doing its primary job very well. I do have an issue with leaking at the head before the ceramic filter, but as long as I'm careful not to let any of the leaked water into the bottle or along the edges of the bottle's mouth then its not a problem.A minor nuisance really.

Easy to clean, quickest pump I've ever used, and does it's job well. what more could you want?

I would highly recommend this filter.
Tim Cheneval
Great Filter ---Hands Down!
I have owned this model since 2008 & it has been great. I did go some time without using it and did not properly inspect it before setting out on a trip & the gasket at the base by the outflow spout failed. I had to dip into my survival kit for "Plan B" water treatment. This did happen at night. The next morning I was able to easily take it apart and make a quick field repair & then it worked great. It has a fast flow & filtering the water on the Longer Life setting I am still amazed how great the ceramic disc filter works. You can obtain water from a fast flowing stream by Rapids and/or waterfalls where the water is well oxygenated and after your trip you open it up to clean it & BOOM... Dirt, grit & grime loaded on the ceramic disc. It is a bit big & bulky but well worth it.
Auskydiver
fast filtering
Familiarity:

I've used it several times
Not the lightest out there but filters water fast. My wife and son were using the MSR MiniWorks and both complained that it was slow. I filtered and filled two Nalgene bottles in the time they did one bottle. This filter is easy to take apart and clean. It has been on about 6 trips so far and I have not had any maintenance or other problems with the filter. We sold both of the MiniWorks and purchased two more of the Varios.
WAYNE G.
Best Filter To Date!
Familiarity:

I've put it through the wringer
We really love this filter, super easy to use, clean and maintain. The dual pumping action fills a water bladder in no time. We just pull the mouth piece from our bladder hose and insert that into the bottom of the filter and pump water directly into bladder. It's so easy a 5 year old can do it!
Dean Whitehead
Very useful.
Familiarity:

I've used it several times
My husband spent 5 weeks in the Utah backwoods as part of his profession and this came in handy. He was able to filter his water rather than carry it around without getting sick. Plus, the water was nice and cool.
Amber