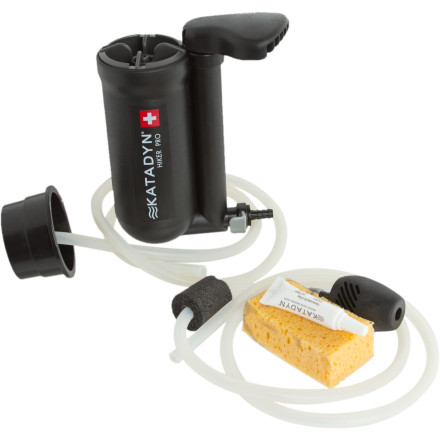 Colors
An easy, reliable, and durable filtration system that only costs you 11 ounces.
A quick stop at a river or stream with the pump-action Katadyn Hiker Pro Water Microfilter lets you continue on your long trek with hydration packs and water bottles full of clean, clear drinking water. Carrying gallons of water isn't necessary when you have reliable water sources and are carrying this durable 11-ounce water microfilter in your backpack. Since it connects directly to your hydration pack and water bottles, you spend more time on the trail and less time fiddling with your water supply.
Quickly converts suspect water to safe drinking water at rate of one liter per minute, or around 48 pump strokes
Filters all sediment, particles, and microorganisms like giardia and cryptosporidia that are commonly found in 'fresh' backcountry water sources
Filter protector keeps the pleated 0.3 micron glassfiber cartridge (129 square inches) from being damaged, and it's easy to clean in the field
Active carbon core reduces bad taste and odor
Cartridge can clean up to 1150 liters of water, depending on the condition of the water
Quick Connect hose fittings allow quick setup and storage
Hydration connector painlessly attaches to 1/4-inch hydration pack connections (Camelbak, Platypus, etc)
Universal Bottle Adaptor screws onto most water bottles and included carry bag keeps the whole system clean and organized in your pack
Perfect for week-long trips!
Familiarity:

I've put it through the wringer
Taken this pump on several week-long backpacking trips. It pumps super fast, very portable, and very easy to use. Highly recommended- the standard in filters.
Jack Fullmer
So nice I bought it twice!
Familiarity:

I've put it through the wringer
I love my Katadyn Hiker Pro filter, it is easy to use, relatively lightweight, and makes your water taste great. I had my first Hiker Pro for several years and the only reason that I bought another one is because I somehow lost mine (maybe lent it to a friend, or misplaced it while moving, who knows), so when I was gearing up for a 4-day backpacking trip to the Wind River Range In Wyoming this past summer it was a no-brainer which filter I was going to buy. You can't go wrong with the Hiker Pro!
Pat Guinn
OK for Casual/Short Trips
Familiarity:

I've put it through the wringer
During my AT thru-hike I used the Katadyn as my sole water filter from Springer Mtn thru the end of the Smokies at Hot Springs. It served its purpose at the beginning but I noticed 2 big drawbacks that led to me replacing it.

1. It was easy to pump and had a good flow rate at first. Unless you are filtering from a fairly deep water source, however, the suction ball will sit on the bottom of the water source and suck in any dirt/debris. The filter does its job and keeps that from ending up in your bottle, but all that dirt/debris builds up. As time goes on it gets extremely hard to pump the handle and is noticeably slower and more of a workout to get your water. I tried cleaning the filter in sinks when I got the chance but never noticed any improvements. At Hot Springs I went to buy a replacement filter and was shocked to see they're $40ish each. I'm sure you could get them slightly cheaper online, but you don't always have that luxury on the trail. I ended up buying a $40 Sawyer filter starter kit that gave me a filter, cleaning syringe, and 2 bags. That one purchase, with regular, free, and effective cleanings (backwashes) lasted me the rest of the AT.

2.. My second complaint about the Katadyn is that you need pooled water to filter. A lot of the sources on the AT, especially as you go north, are running water sources with little to no pooling. The Sawyer, in conjunction with a jerry-rigged water bottle scoop works perfectly in shallow flowing water.

3. (I know I said 2 complaints...I probably wouldn't have replaced it if it was only this complaint) It's relatively heavy and bulky.

So the Katadyn works. And for casual or short trips, it probably works just fine. But if you're counting ounces, cubic inches, dollars (over the long run), or expect to use shallow flowing water sources, it's just not something I'd recommend.
Tricia T
Super Nice
Familiarity:

I've used it several times
This filter is awesome. I got it for a 40 mile backpacking trick and it worked wonders. It pumps super easy and it's extremely lightweight. I did notice it got harder to pumper as we used it more, so just be sure to keep it clean. The water tasted great. I highly recommend this.
Kate Sandy
Easy to pump, tastes great
Easier to pump than other's I"ve used. Tastes way better than tablets.
Brendan Rielly
I got this for backpacking and haven't used it yet. It serves another purpose right now at home as an emergency prep filter.
Kyle
Solid
Familiarity:

I gave it as a gift but have feedback to share
We needed to get one of our friends a gift for their wedding that was camping inspired, so we went with this filter. Everyone needs a solid filter, and this one is definitely a great go-to. Our friends are not ultralight backpackers and tend to only go in the backcountry a short ways to find their perfect camping spot, so that's why we went with this model. It is durable and extremely reliable.
JB Graham
Great Filter
Familiarity:

I gave it as a gift but have feedback to share
This filter is fantastic and super light. I used it over a three day backpacking trip with 5 others through Hells Canyon in Idaho. Of the six of us; 4 used this filter through the entire trip and it pumped incredibly quickly and the water honestly tasted great. BEST FILTER I'VE EVER HAD. HANDS DOWN.

Shortly after I got my brother (review above) this filter, I realized it was time to grab my own. Clearly, the bro was a fan so I went with his suggestion of grabbing the same one... and i'm so happy I did! I don't have much to compare it to since this was my first filter, but my goodness is it simple to use, pumps water fast straight into my bladder and most importantly the water was fresh and tasty!
Mackensie Baer
Unanswered Question
Will this work against salt water in the ocean? I visited the actual product site and it does say it filters salt, but the description says this is for streams and lakes which makes me think it really isn't meant for that? Any know for sure?
Thomas H.
Not much to say about this other than it does it's job. My dad has the cheaper version without the quick release and I would recommend spending the extra money to get one with the quick release since his wound up cracking while pulling the hose off the little nozzle.
Andrew S.
Hard to beat at this price.
Familiarity:

I've used it once or twice and have initial impressions
This is a great little filter. It goes head to head with the MSR miniworks but is 1/3rd, sometimes 1/4th the price. While the miniworks has a better pumping action the way the filter and how well they filter are the same. This also has better range of use. It can be connected directly to a water bladder or a Nalgene or into any other sort of bottle.
Andrew Brook
Hiker Pro vs. MSR Miniworks
Familiarity:

I've used it several times
I just purchased a Katadyn Hiker Pro and I've been using a MSR Miniworks for years. While I believe that the Miniworks is ergonomically easier to use, the Hiker Pro is much more adaptable for different uses. I don't think the difference in filtration is much of a difference, but it seems like I was always cleaning the MSR. I like the Hiker Pro much better, except for ease of pumping (MSR is much easier and less tiring) and I tend to filter from a Sea to Summit bucket rather than directly from the water source.
David Cann
Works great and packs well.
Water doesn't taste bad with it and I've used it multiple days. Easy to use and clean. Will have forever.
Jonathan G.
Great!
Familiarity:

I've used it several times
I got this filter for a backpacking trip in the Grand Canyon. We a long trail in a short amount of time, so we camped in some places that didn't have a great water source. This filter work like a champ! We had 4 people using it that trip. We even used it to filter water out of a puddle on the trail. Let's just say I'm nothing less than impressed.



Here's a picture my friend took of us gathered around a pothole, using the pump to fill up our water bottles.
Benjamin Knight
Super-duper!
Familiarity:

I've used it several times
I never go hiking without this now. Such a great piece of potentially life saving equipment! It's nice and light and doesn't take up too much room in your pack! Drinking straight from a ice cold mountain stream is SO refreshing!
Andy Greaves
Tried and True
Familiarity:

I've put it through the wringer
I have used this filter for many years.(over 20, but of course gone through a few) It is a simple, design, easy to use, reliable and provides great, safe water. Long lasting you will get many years out of this one.
Lisa Edlund
Works great. Easy use. Necessary to own.
Must own item. this one does the job great!
Will Africano
Almost zero design changes in nearly 30 years. It works, it works well. It has virtually nothing in it to break. If it clogs because you are filtering heavy sediment or mud you can open it up, rinse and your good to go again. If the gaskets get dry smear some chapstick on it and your good. Its bomb proof. I've had mine for literally 25 years... I've replaced the filter twice. Not ultra light but does not suffer from vapor lock or other BS that the smaller MSR filters suffer from. Unless you are fast packing and counting ounces this is your filter. Look no further.
AgingDirtBag
Reliable Clean Tasty Water
Familiarity:

I've put it through the wringer
My worry heading into any trip, especially if I am off the trails is always, where am I going to find water? The last thing I want to worry about while I am out there, is how I am going to purify it or whether or not what I have, will get the job done. That's why I love the Hiker Pro Microfilter. It works, and it works every time. I've pulled water from stinky mud holes in the Cache Creek Wilderness, to pristine lakes in the Sierra Nevadas, to high alpine mountain springs (and thank God the mountains can provide) in Idaho and Oregon. Perfect for Nalgene bottles or hydro bladders with a quick disconnect, and it's design is rugged enough to handle years of use, as my Dad has proved with his which is one of the early models. If I had one gripe, I'd want it a little lighter, but I could say that about most gear. All in all, great product and easy to use.
OMordha
Gets it done
Familiarity:

I've used it several times
Used this filter on a trip around Utah and have ventured up into Idaho and Montana with it so far as well. Used it in a variety of conditions and am still not sick yet so seems to be working.

I usually always pump into a Nalgene bottle since the adapter is really easy to use and fills a Nalgene relatively quickly. The kit is really awesome as well though since it comes with different adapters for hydration packs and just the tubes to pump into any container that may please you.

If you are looking for a water filter that packs down into the size of about a hair razor pouch, and you are not trying to break the bank, this is a good call.
Ian Bisantz