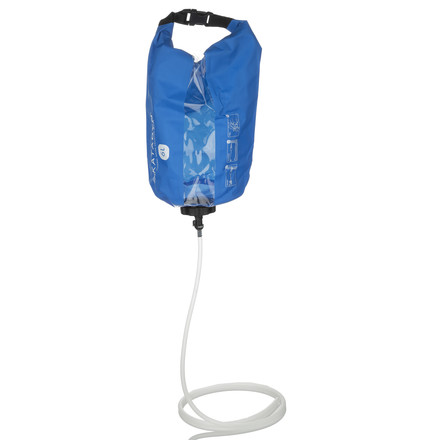 Colors

Detail Images

Community Images
Because you can't carry beer everywhere.
Katadyn's Gravity Camp 6L Water Filter is definitely the lazy man's filter, but that's only because the lazy man has figured out what the rough-and-tough pump fanatic is still learning: you can get crisp, clear, and clean water without actually having to pump until your arm falls off.
The Gravity Camp uses a—wait for it—gravity-driven filter system that removes bacteria, cysts, and sediment from up to two liters of water every minute, so you can have a full six liters ready to go in the time it takes you to set up a camp chair in the shade. If you keep the filter protector clean, the Ultra Flow glass-fiber filter can clean up to 1,500L of H2O before it needs to be replaced. The tube also comes off easily via a quick-release valve to prevent contamination, and it has an automatic shutoff to keep your fresh agua from spilling onto the ground.

Ultra Flow glass-fiber filter
Gravity filtering action
Removes bacteria, cysts, and sediment
Cleanable filter protector
Quick-release valve with auto shutoff
Rollable buckle top
This is not a backcountry water filter
I bought this from Backcountry.com for a 4-day family trip through the Boundary Waters Canoe Area Wilderness, thinking it would be much easier than hand-pumping several liters of water several times a day.

It worked great when I tested it with tap water at home, and it worked nearly as well on the first load of lake water. But by the second day the flow had slowed to a slow drip, and it took over an hour to fill a 1L Nalgene bottle. I tried all the field performance tips, but no luck. It was faster and easier to fire up the camp stove and boil water.

I think this would be fine if you just want to filter tap water, but I wouldn't bother if you want to filter water in the backcountry.
Sam G.
Next level
Familiarity:

I've used it several times
Past experience, for reference: I've spent a good amount of time filtering water in the past 10 years, using katadyn tabs, msr aquatabs, steri pen, aquamira, and an msr pump filter.

I've used this product to filter 25-50 liters so far and haven't gotten sick.

The ease and speed of use, and taste of the filtered water, make this product life changing for me. Steripens are a good idea but I don't like relying on batteries. I use this thing all the time and plan to use it for every adventure except for ultralight trips, in which case I'll use the msr tabs.
c70smith2349089
Great product
Familiarity:

I've used it several times
I purchased this after a weekend get away with friends who had it. It was so easy to use, loved that didn't have to go down to the lake all the time to pump water and made cooking a breeze.
Anthony Webster
Katadyn Gravity Camp Water Filter Review
Familiarity:

I've put it through the wringer
I love this water filter.

After going on a weekend trip with a friend who had a clogged pump filter, I knew I wanted a gravity filter. This one delivered. I can get 6L of water ready to go in seconds, where as with a clogged pump filter, I spent a couple hours pumping enough water for our summit push the next morning.

When you're in the backcountry, you're working hard enough already, and the last thing you want to do after setting up camp is pump water. With the Katadyn Gravity Camp filter, you dont have to.

It weighs about the same as most pump filters on the market and is similar in size, so for me it was a no brainer.

Any questions on this filer, hit me up!
NaSimpson@backcountry.com
801-619-7468
Nate Simpson
A camp favorite!
Familiarity:

I've used it once or twice and have initial impressions
We used this with a group of 5 for a 2 night backpacking trip. Water was from a low stream at both camps. We actually used a pump filter to transfer into this large 6Liter base camp filter. This allowed us to not disturb the water source creating a muddy mess. We benefited by making less trips to filter water and it was nice to have a large amount of "community water" for us to use in camp. Along the trail we had better water sources which allowed for a relaxing break as we loaded up on clean water.

I would definitely recommend this, especially for groups of 3 or more. You may still want a pump filter in your group if it's smaller water sources.
Rick W.
Gravity Filters for the win
This makes filtering water absurdly easy. No more pumping just sit and watch bottles fill
Scott Hemming
Game changer
Familiarity:

I've used it several times
I've had hand pump filters forever but just tried this out. It is unbelievably convenient. So nice to hang 6L at the tent and have water for all your needs at night. It probably pumps out faster than I could with a hand pump and is a lot easier to use solo. the on/off clip works well. It's really nice to just walk up to the water and get 6L in one swoop and then filter it back on dry, even land. Lighter than my old filter. Bag seems solid. When you have a full bag it's kind of hard to get the seal totally watertight so I sort of rush to pump the first bottle - the only improvement I would make would be to have a better sealing system at the top and somehow make it easier to attach to a backpack when full - for those times when you grab water before heading to a water-less site for the night.
James Bleuer
My preferred choice of water filtration is gravity filters. They are fast and easy. You clamp off the cord and fill them into what you need. If you buy another 6L katadyn bag you can carry up to 12Liters of water- 6 filters, 6 ready to be filters. You just clamp off the hose when not in use. Love it!
Becks Robison
I'll never pump water again.
Ryan Kiel
Effortless!
Familiarity:

I've put it through the wringer
This is op lightweight and packable (when empty). I love mine. The clamp makes it easy to disperse fresh filtered water into any container you see fit. Good Job Katadyn!



Email me at :gadams@backcountry.com if you would like to talk about this product.
Greg Adams
Didn't get giardia, so I guess it works
Easy to use, good flow and fast filtering. Used this to top off our hydration packs before heading out from camp. Does the job.
Brad Jacobsen
Works as expected
Familiarity:

I've used it once or twice and have initial impressions
I used this today on a day hike to test it out and it worked like a charm. I filled it up on a river bed and used some paracord to tie it to a tree. I wish the bag it came with was a little more waterproof. I will just pack it in a ziplock next time. Also, doesn't come with paracord. The fill line is a little long, so after my hike I chopped mine in half. I didn't want the nozzle to scrape the ground. I can say it took some dark river water and filtered the sand out and gave me some quality H2O!
Tyler Rudolph
Is there anyway to leave this out in the sun for a certain amount of time and use it like a solar shower? Maybe put something reflective behind it and heat it with contact?
Tyler Rudolph
If you leave the reservoir bag out in the sun it will heat up over time, enough to take a lukewarm shower. You will want to get the Katadyn Shower Adaptor (Item # EXT000C) to control the flow. You could try using a reflective solar blanket to heat up the water faster.



Feel free to shoot me any questions about Water Filters:

klivingston@backcountry.com

801-736-4337
Kyle Livingston
Effortless Filtering
Familiarity:

I've put it through the wringer
Normally I am on the fringe about filters, sometimes I filter sometimes I don't (this isn't a popular stance by many but I've done it to shave weight). But I've used this on two backpacking trips and can't say enough good things about it (and normally I can find the problem areas of any piece of gear). I've used the 10L (EXT000B) version of this and not the 6L but they're the same product just a different sized bag.



Storage:

This has a nice little bag that it stores in and doesn't take up a whole bunch of space and it's not an awkward shape.



Assembling:

For easy storage you remove the filter and then when you need to use it you just screw the filter back into the bag. Don't forget the black foam ring! That helps create a nice seal so it does not leak. Once the filter is in and the water bag is filled, you just clip on the outlet house and you're ready to go.



Filling Bag:

It's a bag...and you fill it. Super easy. The filter is still in the bag and you load it up with how ever much water you'd like to filter at camp and then roll the top, snap the buckles and hang it from a tree or something.



Filtering:

Once the bag is in hung up and the outlet hose is snapped on, pop open the house clamp and let the water flow.



Flow Rate:

The flow rate on this is awesome. Waiting is not an issue because your water bottle or pot fills up pretty quickly. Far faster than any pump I've used and less messy.



Cleaning Up:

Dump out any extra water. Undo the outlet hose. Unscrew the filter. Fold it all up and put in its storage bag.



Overall I'm a big fan of this filter because of how effortless it is to use. Fill the bag, hang it and drain it. No pumping. No making a mess by trying to keep an intake hose in the water but not drawing water from the bottom or air from the top. No crushing your fingers by pumping or hurting your hands.



***Photo is the 10L version



Shoot me an email anytime you have questions about this filter or any other gear!



Jared D.

Expert Gearhead

801.736.4336

jdowns@backcountry.com


Jared Downs
Filters a lot of water with NO PUMPING!
Cheryl K.
Owen Dennehy
Trail tested
Familiarity:

I've put it through the wringer
I've used the Katadyn gravity water filters for several years now on group expeditions with few complaints.



The group expeditions range in time from 4-7 week trips and we usually had between 12-20 individuals which meant a lot of water was passed through those filters.

With proper maintenance and making sure that you're not trying to filter mud the system was great during spring and summer expeditions. The only time that we had difficulties was if the water wasn't clean going in and during the winter if the temperatures dropped well below freezing. Both situations were easily solved.



They were really ran through the wringer considering our clients were adolescents and were often mistreated(the gear not the clients). They were exposed to some hard wear and tear and did excellently!
Extreme Alaska