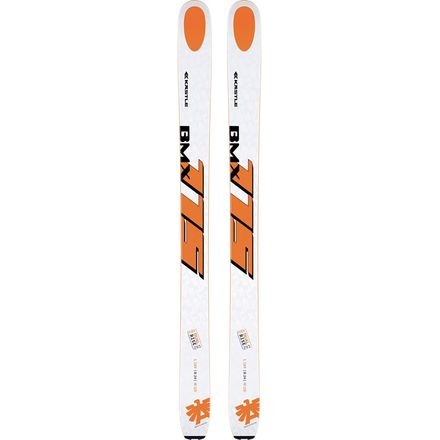 Colors
The big boy in the BMX line.
The most conservative estimates are calling for over a foot of fresh pow, and coverage is good enough to center punch just about any line on the mountain. On days like these, you'll be glad your Kastle BMX 115 Skis are tuned and ready to go. The dimensions of the BMX 115 Ski make these boards ready to do one thing: send steep and technical lines. With a 115 mm waist width, 141mm in the shovel, and a heavily rockered tip, the BMX 115 will float pow like a dream, slarve turns, and scrub speed with ease, but with camber underfoot and a solid sandwich construction, you won't have to change your drawers when decide to straightline them down tight chutes and arc big turns down wind-buffed faces.
Anyone familiar with Kastle's legendary ski construction won't find anything new here, and that's a good thing. A full wood core, ABS sidewalls, and a fiberglass laminate make the BMX 115s stiff and stable, but they're forgiving enough to get into more technical terrain. To help eliminate chatter, the skis feature Kastle's proprietary Hollowtech shovel, which consists of a cutout that helps to reduce vibration through the ski by as much as 15%—not only does this result in a vibration dampening feel smooth, but it also reduces swing weight in case you decide to throw some threes out there. Kastle also added a thin layer of rubber just above the edges to cut chatter and produce a solid platform that will charge down variable conditions just as effectively as it will float pow.
It's not hard to build a ski that will make powder skiing fun, but it is difficult to make a ski that will ski pow and tackle variable conditions with that same level of fun. The adequately sized 115 waist will easily handle most powder days, but it won't make you feel like you have a couple of bananas tied to your feet when all that spring pow turns to a slick melt-freeze crust. Further increasing the ski's versatility is the elliptical radius sidecut, which blends a narrower turning radius in the tip and tail with a wide radius through the rest of the skis, allowing them to easily adapt turn shapes to the ever-changing conditions you'll find on the mountain.
Rocker tip and tail, camber underfoot
Sandwich construction (ABS sidewalls)
Silver fir wood core
115 mm waist width
Elliptical sidecut
Best Ski Ever!
Familiarity:

I've put it through the wringer
The Kaestle BMX 115 is hands down the best ski I have ever skied on. It performs at an incredibly high level in any condition. The width and "Dual Rise" rocker profile allow it to float through the deepest pow, but the sidecut and the Hollow Tip technology allow the ski to rip groomers and hardback conditions. This ski can charge big lines at high speeds and stomp big airs thanks to the stiff tail, but it can also maneuver though the tightest trees and is great for tricks due to the low swing weigh. I use this ski ever day of the year, from big mountain competitions to backcountry jumps the BMX 115 does it all.
Theo Rolfs
A Leap ahead for Kästle Skis
Familiarity:

I've put it through the wringer
Over the past two months I've had the pleasure of skiing the Kästle BMX115 185cm all over the mountains surrounding Aspen and I'm thoroughly impressed. The 24m turning radius shows, not only in new snow of various depths, but also on groomers where this ski keeps and holds an edge through aggressive carving and also smeers quickly helping you to avoid obstacles and indecisive skiers. Although this ski holds its own around the groomed terrain and gets you seamlessly from pow stash to pow stash, the powder is where this ski truly shines. Having a significant/generous amount of rocker in the tip, and early rise in the tail, known as "Dual Rise" by Kästle, you can really feel the difference, the float when skiing untracked terrain. This Kästle definitely has a traditional Kästle feel, with a stiffer tail that provides nice stability at speeds, but when coupled with the new "Dual Rise" technology, this ski has no speed limit. The user can place his or her turns where she likes and at a moments notice. This is a game changer from its predecessor the BMX108, which had a much longer turning radius, and almost no early rise in the tail or no taper in the tip. Kästle has come up with something special here. A ski that rips the groomed terrain, turns as fast as lighting in all conditions, and remains one of the best powder skis I've ever used. I must also note I mounted this ski +1 and if this was an everyday resort weapon I'd probably go up to +2 however In the powder +1 works nicely. The new taper in the tip/tail really lower the points of contact along the sidecut of this ski, making it hug the mountain in both hard snow conditions and in powder. The taper aiding in your lighting quick turns in deep snow because the tips don't hook. Demo this ski and try it for yourself, you'll be impressed as well.
TJ David