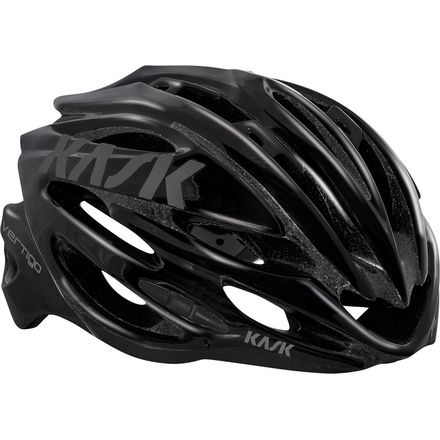 Colors

Detail Images
A cranium encaser you can trust.
Kask's Vertigo 2.0 helmet is a looker — we'll get that out of the way first, because, everything else being equal, we want the helmet that looks great. But there's a lot more to the Vertigo 2.0 than its pretty face. Buried within the EPS foam that makes up the bulk of the helmet's protective properties is an internal skeleton that not only gives the helmet a structure, but also keeps it from shattering into pieces on impact. This means that you'll remain at least somewhat protected through each stage of a crash.
To go along with the finish and technology buried within the helmet are some genuinely nice rider-oriented features. The first is Kask's Up & Down adjustment, which comfortably secures the helmet at the base of the cranium, rather than sitting atop it. Attached to that is an Eco-Leather strap, which is hypoallergenic and non-abrasive, and inside the helmet are removable and washable Coolmax pads.
Internal skeleton for better impact performance
Up & Down adjustment keeps the helmet comfortably secure on your head
Coolmax pads with antibacterial treatment
FORGET THAT IT IS ON MY HEAD
Fit:

True to size

Size Bought:

Large
So I am old school and never wore a helmet as a kid riding all over the somewhat big city I lived in. I also drank out of the garden hose. Anyway I bought a mountain bike a few years ago and started riding some trails and some street. I bought a cheap helmet that I just hated wearing. Too hot, fit terrible, constantly pushing the helmet back up onto my forehead. So I do not wear a helmet, that is until now. A friend said I should try Kask. After a lot of research I ended up here on competitive cyclist and I really like the Kask colors and the straps in the back. I ordered one with free shipping and I pulled it out of the box made some minor adjustments. I did measure my head as they suggest to get your order size. I have had it for four days and ridden each day for a minimum of 40 minutes to and hour and a half. The helmet does not slip and I really do forget it is there due to how light the helmet is. It snaps on tight and I feel like the helmet will stay on with a crash. With their money back guarantee why would I buy anywhere else. All the bike stores have very limited in helmet colors. Here they had just the color I wanted. Now I do not ride without the helmet. Just a 10 mile an hour fall can cause permanent brain damage. Ive been lucky and now I ride smart with protection for my head. Thanks to my KASK helmet.
Bradford M.
Height:
5'10"
Weight:
245lbs
Comfort & custom fit
Familiarity:

I've put it through the wringer

Fit:

True to size

Size Bought:

Large
Was looking for a replacement for my Giro helmet because the internal harness was starting to show heavy signs of wear. I picked up this Kask helmet and the combination of weight, fit, and look is outstanding. I glad I made the change from Giro helmets.
Ricardo D.
Height:
6'6"
Weight:
214lbs
Best Helmet
Fit:

True to size

Size Bought:

Large
Love how they sit on your head. Great helmets! Most helmets make you look like a mushroom. This one doesn't!
Nathaniel K.
Great helmet!
Familiarity:

I've used it several times
Very happy with this Vertigo helmet. Fits great and is very comfortable for longer rides. Feels solid, adjusts easily, and has a great profile.
Ken K.
Good, but ...
Familiarity:

I've put it through the wringer

Fit:

True to size

Size Bought:

Medium
This is a good, somewhat comfortable helmet but with some issues.
1. Sunglasses problem. Though not as bad as with POC helmets, my Oakley glasses simply did not fit with the helmet adjustment webbing. Instead the adjustment pads in the rear sit too far forward for the arms to sit flat creating discomfort and forcing the glasses forward.
2. Probably unique to those of us with shaved heads but the pads dig into my head in the rear.

Those two issues aside, the helmet is light, well ventilated, and good looking. The fit adjustment mechanism (with problems mentioned) is solid and substantial - far better than Giro's roc loc 5 system.
Joe M.
Height:
5'9"
Weight:
140lbs
I didn't like it, but maybe you will
I returned this helmet promptly upon receipt. After futzing around with the retention system for a minute I got it to fit reasonably well. Then I decided to see if my sunglasses fit since a lot of reviews mentioned having issues with the retention system getting in the way of sunglasses. Yup, it turned out I had that same issue with (my) sunglasses not working with this helmet.

The sunglasses issue was really the deal breaker, for me. There were a couple of other minor issues I probably could have gotten over had it not been the sunglasses incompatibility-thing. One of the other minor things was the retention system itself. It just felt really cumbersome to me and I couldn't seem to dial in the perfect fit, no matter how long I messed around with it. Either the fit was just a little too tight or a little too loose. The final thing was the chin strap. For me, it just wouldn't get as snug as I like my chin strap to be.

However, many other reviewers say they love this helmet. I guess it just comes down to the size and shape of your head, and whether or not your sunglasses of choice happen to play nice with this helmet.
Chad S.
crash tested
Familiarity:

I've put it through the wringer
Fits great, looks great and saved me from serious injury yesterday...ordering another.
Todd K.
Calidad y comodidad
Fit:

Runs large

Size Bought:

Medium
Es un casco de muy buena calidad, es muy cómodo y estéticamente se ve muy bien.
Juan Sebastián Granda Guzmán
High quality helmet
Familiarity:

I've used it once or twice and have initial impressions

Fit:

True to size

Size Bought:

Large
Fits my (more oval than round) head great, love the finish and the full shell wrap around the bottom. The retention system worked well; I managed to work around the sunglass / retention system interference issue with the right combination of adjustments to the up-down rear retention system. In the end, however, the ventilation in this helmet was just insufficient for me (I sweat a lot and have yet to solve the sweat in the eyes problem fully), and I think it's down to the lack of internal channels between the vents. Testing in various positions in front of a fan, I could definitely feel the ventilation difference between the Vertigo, Specialized S3, and the Giro Synthe. The S3 is tops, followed by the Synthe (behind enough to notice, but not too much), and then the Vertigo (quite a ways behind in this controlled but unscientific test. When I dip my head so that my face was closer to horizontal, the Vertigo felt cool as well but I don't spend a large amount of time in that position.

Shout out to Competitive Cyclist; with a lack of LBS stocking anything other than basic Giros, Bells, and Bontrager lids, CC provides a valuable service, and I'm happy to have them as my store of choice.
Raymond L.
Height:
5'7"
Weight:
141lbs
Kask Vertigo 2.0 Helmet
Familiarity:

I've used it several times

Fit:

True to size

Size Bought:

Large
Very nice Helmet
Fernando
Height:
5'7"
Weight:
181lbs
bad design
Familiarity:

I've used it once or twice and have initial impressions
Bad price....terrible design...look at the retention strap and decide if you can wear sunglasses....the you tube review cyclist is not even wearing sunglasses with this helmet....joke!
Allen
No room for sunglasses? Wtf?
Familiarity:

I returned this product before using it

Fit:

True to size
Really really wanted to like this helemt. Tried it on, felt great, looked good on my head. Then I tried it on with my Smith sunglasses (I forget the name but they are cycling specific) and the rails kept smashing up against the rear retention mechanism. I could wear my glasses with this helmet, but I could tell it would hurt after a while because I had to jam the rails underneath the retention mechanism so it pressed into my head. How the heck does a $250 helemt have this as an issue? My $100 Giro helmet doesn't...back to the drawing board. Another issue, there is a LOT of padding in this helemet, which probably doesn't do much for crashes since its the shell that absorbs the impact. I can see this getting really hot and nasty in the summer.
PDXDUDE
Profuse forehead sweat maker
Familiarity:

I've put it through the wringer

Fit:

True to size

Size Bought:

Large
I have been using this helmet for several months now and deal with so much sweating from the forehead area that my glasses become useless due to blocked viability. Not what i expected from an expensive helmet. I have a Smith helmet with the honeycomb protection which has been my go to helmet for long distance warm rides. Its much more comfortable and there is ZERO problems with sweat. I average about 240 miles a week on my bike, so comfort is really important. Ask could do better. I'm not pleased!
Rivak H.
Height:
5'8"
Weight:
168lbs
Kevin K
comfortable & great fit
Fit:

True to size

Size Bought:

medium
best fitting and most comfortable helmet I've owned.
Ted M.
Height:
6'0"
Weight:
150lbs
Aside from style, each plus has a minus
Familiarity:

I've used it once or twice and have initial impressions

Fit:

True to size
Plus:

Fits very snug - probably the most out of any helmet I've owned. It doesn't move around and the rear clip feels 'secure' below the head where most helmet clips lie.

Minus:

My forehead hurt after the ride. I think it has to do with that thick padding on the front of the helmet. I took the front padding from my Giro and put it on there to try out on the next ride. From a crash standpoint, I get the thicker padding but not from a comfort standpoint.

Plus:

Hideaway up/down rear clips. Great idea when you're storing the helmet.

Minus:

Kind of a pain when you go to put the helmet on since you have to loosen it first to get it on your head.



Also, this weighs about 295g vs. 270g (but maybe the listed weight is based off a smaller size).
JC
Good but...
Familiarity:

I've used it several times
While I like the helmet, I found out the hard way there is a plain steel pin in the strap that has began to rust severely which has stained the white on the strap. I contacted KASK customer service and they said I caused the rusting by sweating too much and that I would have to pay to have them fix it. I would only recommend purchasing this helmet if a) you don't sweat, b) you never rinse sweat off your helmet with water or c) you never allow your helmet to come in contact with oxygen.
Scott W.
Hands down my favorite helmet
Familiarity:

I've used it several times
I have a few rides in with the Kask Vertigo 2.0 and I must say that it exceeds my expectations. I have worn Giro for many years and the do make a great helmet. The Vetigo 2.0 is just better in every way. Kask gets all of the little details right. I would definitely recommend purchasing this helmet.
Also, Justin Morgan and the rest of the customer service crew at Backcountry are amazing to work with.
So buy the helmet. Yes it's expensive, but it's your brain your protecting. When you do, buy it from Backcountry for the best price and best customer service!
Todd W.
Unanswered Question
What is the actual weight on the Large Vertigo 2.0? Thanks! I am trying to make an informed decision between this and another. My neck needs real numbers :-)

Michael D.
Unanswered Question
I saw on YouTube that you have the Kask Vertigo XC mtb helmet, but when I try to find it on your site, I can't.

Can you help?

http://www.kask.it/product.php?cat=14&product=158
Thank you, Jose
Jose Isaza