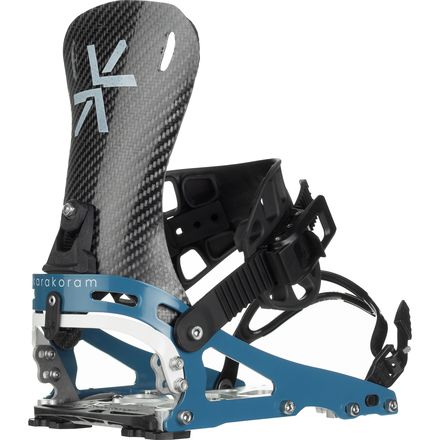 Colors

Detail Images
For chicks who shred the steepest and deepest.
Understanding that ladies can shred just as hard as the dudes, Karakoram made sure not to make the Women's Prime Carbon Splitboard Binding any softer or less powerful than the men's version. They simply tweaked the highback to make it better suited to the anatomy of a woman's leg to ensure comfort and performance. It stills has the support, response, and ultralight feel desired by riders conquering the world's gnarliest mountains, regardless of gender.
Lending an incredibly supportive and powerful and featherweight feel to this binding is a carbon fiber composite highback. Adding to its ultra-responsive feel is Karakoram's Prime Interface, which ensures a completely solid feel underfoot without unnerving seam slop or chatter at high speeds. Its Solid Ride four-point attachment gives you increased stance options (-30 to 30 degrees) and improved ergonomics. Four wide, pre-loaded contact points direct energy to the edges for unmatched response and control when you're riding steep, high-consequence terrain.
Its Ride-Stride forward lean quickly toggles between Ride and Walk modes with a 1/4-turn of the forward lean adjuster. In Walk mode, the -8 degree forward lean elongates your stride to conserve energy on the long uphill skin. Ride mode delivers 0 to 22 degrees of forward lean (in two-degree increments) for quick-turning response when you're charging steeps.
Ditching traditional climbing wires for a two-height riser that deploys with the quick flick of your pole basket, the Flip-Speed Riser conquers mellow approaches and more demanding ascents alike. Engage the shorter riser on long, flatter approaches or flip up the taller riser during intimidating, steeper climbs. Additionally, there's a heel lock-down feature that's ideal for skating across long flats and side-stepping small hills. This lock-down has a load equivalent to DIN 6.
Specializing in efficiency, the Prime Interface uses the tried-and-true Tour Mode used on the original Split 30 interface. A quick-release touring bracket and Power-Link activation lever allow for quick-and-easy transitions from touring to riding without taking your foot out of the binding. Total changeover time is roughly two minutes, and that includes taking off your skins and stashing everything in your pack. Best of all, the Prime Interface has no moving parts, so you never have to worry about losing parts in the snow.
The lightest splitboard binding available
Carbon fiber highback is insanely light and responsive
Prime interface for superior up and down performance
Quick and easy switch from tour to ride mode
Open Binding chassis allows board to flex torsionally
Solid Ride design eliminates slop in the seam
Negative forward lean option for walking comfort
Karakoram is at the forefront of splitboard binding innovation