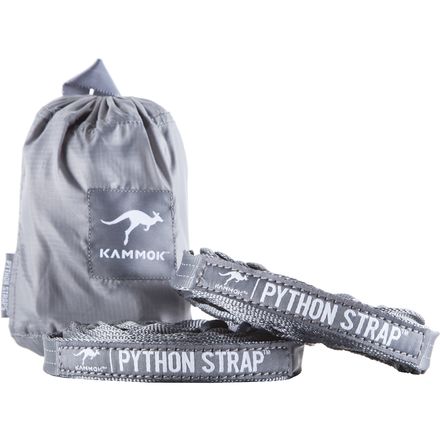 Colors

Detail Images
Save your breath.
You could find some vines and weave yourself some rope, or you could just throw the Kammok Python Straps in your pack and know you'll be able to hang your hammock once you get to camp. Made from a tree-friendly polyester tubular webbing, each length of webbing is capable of supporting up to 250lb, meaning you'll be able to get 500lb of human, hound, and snacks into your hammock. Each strap has 18 daisy chain loops and is reflective, so you won't get caught up in them when you swing out to take a leak.
Polyester tubular webbing
18 daisy chain attachment points
4in diameter
10ft length
Reflective
Great if you can't tie knots and stronger than most rope.
Kelin Phillips
Go find some trees and take a nap.
Familiarity:

I've used it several times
These straps are great. Plenty of length for bigger trees and larger tree gaps. The stitching looks great and seem to be pretty solid. Definitely recommend these straps.
Monique Lundstedt
Best Hammock Straps on the Market
Familiarity:

I've put it through the wringer
with 18 daisy chain attachment points you can not go wrong with these! Got multiple hammocks from different brands and use these straps on all of them! 10/10 would recommend!!
Michael
Got a Roo, Get the Python
Familiarity:

I've used it once or twice and have initial impressions
If you have a Kammok Roo hammock already, I'd definitely get these straps. Kammok is the best in hammocks now a days and these ultra durable polyester straps will keep you up all night.
Samuel Nichols
These straps are made with nice materials and the seams are very strong. I was not sure at first just by looking at the photo but my friends got them and they are very thick in person. I believe they are going to last me a long while before I would get enough wear and tear.
Teresa Nguyen
Best hammock straps on the planet!
Familiarity:

I've used it several times
I was expecting the bag to be bulkier than the standard strap bag since these babies are 10' long.. BUT IT ISN'T! They pack down just as small as traditional straps.. Maybe even smaller. I. LOVE. These.
Sold!
Sonya Brown
Nap with Confidence
Familiarity:

I've used it several times
I had been using climbing webbing/old slings to hang my hammock before and these are SOOO AWESOOMMEEEE and easy and fast and simple and wonderful.
Patrick
So easy to use and have amazing adjustability. These are a wide, looped webbing so damage to trees is minimized.
Lisa Edlund
A must have for any Hammock
Takes the worry out of napping! These have been great! Strong and supportive for my double hammock. I always use them and recommend everyone purchase straps with their hammock. It just makes you worry less and relax more!
Amy Browning
Great Addition to Hammock setup
Familiarity:

I've used it several times
Multiple loops makes these straps an ease to setup up and balance your hammock. Adjustable, durable and lightweight make these a great piece of equipment to have
P Roland
These straps work wonders if you need to set up your hammock quick with all of the loops you can hook your carabiner to. Worth the purchase
Bryce Galloway
does the job
Familiarity:

I've used it several times
These straps are a ease to put up and take down, as well as strong and durable. I like how they are a light color so they are easy to see.
Miranda Howell
Gotta have them!
Familiarity:

I've used it several times
Got the Python straps to work with my Roo and Kammok really made the process of setting up a hammock effortless. Multiple clip points allow you to perfectly balance the hammock quickly. A must have in my book!
Matt F
These straps are amazing they do really well they are strong and the craftsmanship is amazing on them. Really nice straps
Bryce Galloway
Perfect for all hammocks
Familiarity:

I've used it several times
These are super high quality straps that you can use with (I'm pretty sure) any camping hammock.

Reach out to me if you have questions or want to know if these straps will work for your hammock.

801-523-4078
ersmith@backcountry.com
Eric Smith
Stay Steady Strapped
Familiarity:

I've used it several times
These do the job of keeping you strapped up, whether it be the usual hammock set up, or impromptu furniture hauling. When setting up your hammock, the daisy chain design lets you dial your tension, secure a rainfly, or attach other hanging items. such as a lantern. Best part, when used with the Roo Hammock with included carabiners, no more knots!
Connor Paulson
The best
Familiarity:

I've put it through the wringer
I have several brands of straps and hammocks in our family and I really like these because they are super strong and easy to use with our Roo. Reflective and long so you can hang just about anywhere with confidence.
Jennifer Pashley
Straps are Awesome
Familiarity:

I've used it several times
These are really strong straps that make setting up your hammock anywhere a breeze.
Austin N
These straps are strong yet simple. I had some old Byer straps that I thought were easy, but these blow them out of the water. They are lightning fast to setup, easy to slide up/down the trunk of a tree, and give me the confidence to get as high off the ground as possible. They also make it easy to get ideal hammock orientation no matter the anchor situation thanks to the daisy loop setup, which is important for transitioning from chill mode to nap mode.
Joe Coughlan
Hammock Assistant
Familiarity:

I've put it through the wringer
These straps are pretty much an essential for those of us that are not the best at rigging up a hammock, or just want to feel secure while hammocking; because having a hammock fall out from under you is not a good time. When you use these straps they secure your hammock to the tree in such a way that it can not fail. There are about 18 attachment points on it to adjust the hang of your hammock, and they are able to wrap around most medium sized trees and even some large trees. The main thing I like about these straps is the compact nature of them; packing down to be about the size of a baseball; meaning you are able to easily carry your hammock and set it up in the most beautiful spots in nature.
Patrick Boner