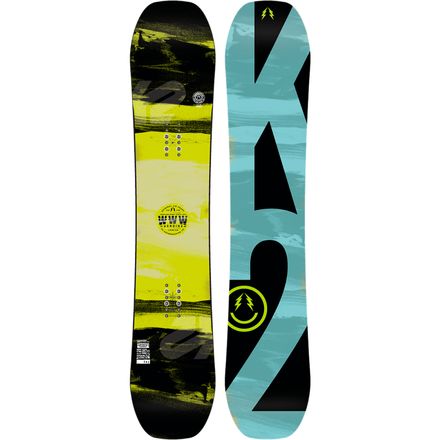 Destroying rails, from coast to coast.
From the urban handrails of Salt Lake to the icy terrain parks of New Hampshire, the K2 World Wide Weapon Snowboard is the premiere choice of rail slayers seeking a locked-in feel and buttery flex for destroying kinked handrails and dominating park jibs. One of the softest boards in K2's line, the World Wide Weapon is purposely designed for hitting urban rails and dropping into terrain parks. The twin shape benefits from K2's JibTip design, which elongates the board's effective edge and shortens the tips. Because its effective edge is longer, you can downsize by four to five centimeters while maintaining the same control as a normal size board. And since the tips are shorter, the swing weight is reduced for perfecting those 270 boardslides and backside 540s in the park.

New for this season, the World Wide Weapon is now rocking camber underfoot, which gives you a locked-in feel on rails and better control while tracking into freestyle features. It still retains the rocker tip and tail, which frees up the tips from catching and infuses a bit more playfulness for buttering and jibbing. Since it's made primarily for jibbing, the aspen wood core and biax fiberglass maintains a buttery-soft flex, as well as ensuring durability needed for regular thrashings. It's equipped with an extruded base, which is both easy to repair and low-maintenance, should you forget to wax it throughout the season.
K2's premiere rail destroyer and jib board
JibTip design allows you to downsize by 5cm
Twin Camber keeps you locked into rails
Rocker at tips for catch-free playfulness
True twin shape for park and freestyle dominance
Softer flex pattern is perfect for jibbing and park
Durable aspen core with biax fiberglass for buttery feel
Extruded base is both low-maintenance and easy to repair