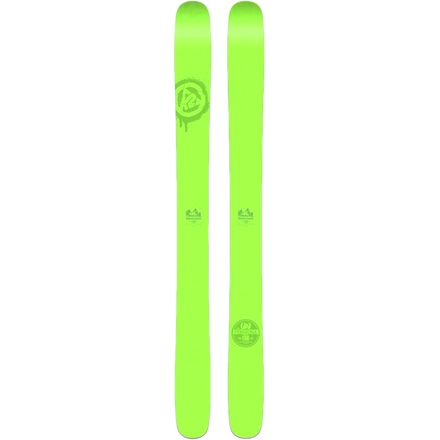 Colors
Anything wider and you'd be snowboarding.
The K2 Men's Powabunga 136 Ski is perfect for those powder days you dream of all summer long. A beefy 136mm waist makes this the widest K2 ski, and anything wider than that would put it in K2's collection of snowboards. Its Powder Rocker shape explains itself; the tip rises higher and longer so you can keep your tips up in the dreamy deeps, and there's a bit of camber underfoot to help you pop in and out of every turn. Given its width, the Powabunga's turn radius is naturally wide for gaining enough speed to maximize your face shot potential.
K2 made the Powabunga's wood core out of a unique combination of strong aspen and light, poppy paulownia with stiff bamboo stringers. Triaxial braids enhance the ski's stiffness for speedy cruising through soft snow, and the braided design maintains the wood core's natural flex for a smooth ride. K2 also hooked up the Powabunga with durable sidewalls underfoot for durability that's easy to tune overtime, and the tip and tail is capped to stay lighter for that whole "keeping your tips up" thing.
K2's fattest powder ski might get mistaken for a snowboard
136mm waist has a penchant for powder and all things soft
Power Rocker lives up to the mantra "keep your tips up"
Half cap with durable sidewalls underfoot
Wood core made of stiff bamboo, strong aspen, and poppy paulownia
Triaxial braid stiffens torsional strength and maintains ski's natural flex