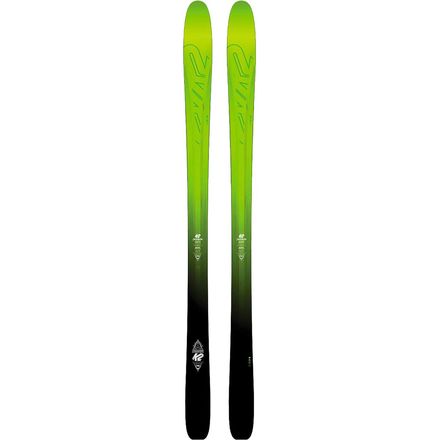 Colors
A class-act no-brainer.
An arsenal of skis is terrific, but when you've had zero coffee and you're trying to navigate your gear closet at dawn'o'clock, you're bound to either bring too much or grab the wrong skis entirely. Having experienced this scenario far too many times, the folks over at K2 crafted up the chameleon-like, no-brainer Pinnacle 95 Ski. Made for sailing smoother than silk on variegated terrain, the Pinnacle 95 is a jack-of-all-trades—so whether you're surfing on sunshine in Steamboat Springs, Colorado or dipping into hidden powder stashes in Stowe, Vermont, the Pinnacle offers unparalleled performance. Equipped with a universal waist width, the Pinnacle 95 is crafted with the super responsive Konic technology and Nanolite core that ultimately redistributes weight to the perimeter of the ski while simultaneously reducing swing-weight for additional ease and control. Additionally, the Triaxial Braid and metal laminate ensure lively flexibility and unshakable performance with its terrific torsional strength and alternating layers. The all-terrain rocker provides you with just enough camber and is built with a tapered and elevated tip and tail for maximum performance, power, and energy.
All-terrain rocker
Konic and Nanolite core
Trixial Braid
Metal laminate
Tapered tip and tail
Great all mountain ski. Super easy to turn in the trees. Love them!
Peter Daniel C.
Connor Johnson
The Pinnacle 95 in action
This is a great video that shows what Bill is talking about in his review. You can see the quick edge to edge transitions, the dampness/stability that you get off jumps and in rough snow, and an up close look at the graphics.
Nicholas Dey
Just Plain Fun!
Familiarity:

I've used it once or twice and have initial impressions
I have not skied on K2 Skis since 07-08ish (maybe earlier?) when I bought the Seth Morrison Pro Model. Loved that ski but, out grew it after moving to Utah. Bought K2's new Spyne LV 130 Ski Boot and was beyond impressed so I had to give K2's entire line a shot. Please dont hesitate to contact me with specific questions regarding K2's line, I would be happy to help!

I was able to try out the new Pinnacle from K2 at the Outdoor Retailer show and like the boot was really impressed.

I am 5'8" 200 lbs and in the 184cm length It was one of the quickest skis edge to edge I tried out around that length. It felt like a slalom ski, when I brought them back I guessed the turn radius to be like 15-16 m, surprised to find out it was 19 m. I felt like the ski could turn a lot shorter using only the edges.

The ski isnt super stiff. I prefer a stiffer ski to get the edge hold and stability through the crud. I felt the ski deflect a little in the crud but, I am heavy and I was moving very fast. What impressed me was the edge hold.

Usually my brain shuts down when people start talking about specific technologies in a ski. I need to feel it to believe it. The Konic technology though is legit. You can definitely feel the increased edge hold due to the construction of the ski. The engineers came up with a way to drive the force from the boot to the edges and it was definitely noticeable.

The ski's weight does not put it into the super light category but, its pretty dang light. I would totally put a Marker King Pin on this and use this ski 50/50 in bounds out of bounds.

Again, if you have any questions like:
-What Binding Would go Well with this?
-Is this a good back country ski?
-What length should I get?

Please contact me via email or my direct phone line which you can find right above this review.
William P.