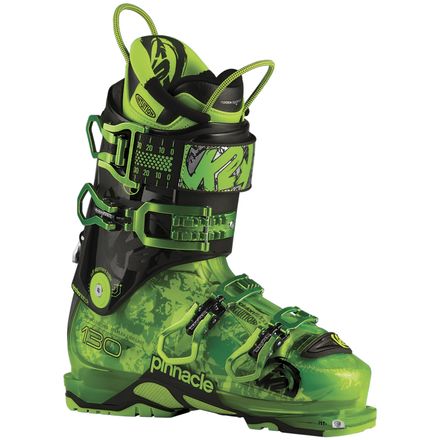 Colors

Detail Images
One boot to crush it all.
Your days of squeezing into a skin suit and cramming your feet into a pair of plugged race boots may be long gone, but that doesn't mean you want to ski a couple of rando noodles when you venture into the backcountry. K2 understands your plight, so it built the Men's Pinnacle 130 LV Alpine Touring Boots with a stiff 130 flex, a tech- and alpine-compatible sole, and a walk mode that becomes completely rigid once you're ready to ski your line. This low volume version of the Pinnacle 130 has a narrow 97mm last, but maintains all the uphill capabilities as its 100mm last cousin.
The Pinnacle 130 is unique in its ability to switch between alpine, tech, and alpine touring bindings in a single day, without having to ever switch out the soles. Integrated tech fittings let you step into your lightweight touring bindings when you're headed out on a long tour, while the included DIN-compatible soles offer consistent and reliable release values with your go-to alpine bindings when you plan on spending your day shredding the resort. The Pinnacle also stands apart from traditional touring boots thanks to its Synchro Interlock ski/walk mode, which utilizes an interlocking design instead of a bolt or hinge, reducing play between the shell and cuff once the boot is locked into ski mode. Once in walk mode, the Synchro Interlock system offers plenty of cuff rotation to access those more hard-to-access backcountry lines and long bootpacks inbounds. The Pinnacles comes with a thermo-moldable Intuition liner and are fitted with DIN compatible TPR soles; lugged Vibram soles are sold separately, and can be attached if you're planning on hiking wind-hammered ridge lines where the extra traction would be more than nice.
130 flex
97mm last
Intuition Precision Fit Tour liner
Thermo-moldable liner
Synchro Interlock ski/walk mode
Powerfuse Spyne
Integrated tech fittings
Interchangeable DIN soles (Vibram sole sold separately)
Not bad
Familiarity:

I've used it several times
Took about 10 or 12 sessions to break in and feel comfortable. After that not much problem. Good fit all around. Good control and adjustability. I'm happy & going into a 2nd season with them.
John J.
Almost great.
Familiarity:

I've put it through the wringer
I put about 40 days on these last year.

This boot is maybe a 90 or 100 in terms of stiffness. I can buckle them up tight and when driving my knees forward, they almost bottom out... I can watch the shell deform so much it's crazy. The top power strap velcro buckle contraption is a complete PITA. Also, I bought the 98mm last, and it seems much bigger, the liners are thick and have packed out quickly. As for touring, the range of motion is good enough.

I'm comparing this boot to my Head Raptor 130, 98mm which is so stiff that I barely ever tighten the top buckle much, and my foot fits snug with only the thin leather inner boot liner.
Maybe AT and Alpine boots aren't measured on the same stiffness or width scale?

On the plus side, I can wear one boot for slack country and resort, switching between regular alpine bindings and tech bindings - which is amazing.
Alpine MacDaddy
Great do everything boot!
Familiarity:

I've put it through the wringer
I have used this boot for backcountry and in the bounds skiing and find it to be one of the best skiing boots I have used. I ran into most backcountry boots having too much forward lean for my height. The Pinnacle puts you in a solid neutral stance and is incredibly powerful. From man-made linoleum to powering my Black Diamond Megawatts through bottomless snow, this boot does it all.
Thomas B.
Terrible boot even worse customer servic
Familiarity:

I've put it through the wringer
The boot had a manufacturer defect making the fit between the toe piece and a tech binding have too much play. It was so bad the store made me send the boot back and they had to show k2 video of the issue. The warranty process has taken over two months because they are too backed up do to all the boots they have received back. They admitted to how bad of a product it is by blaming it for the two month backlog of warranty orders. DO NOT BUY THIS BOOT!
bradley G.