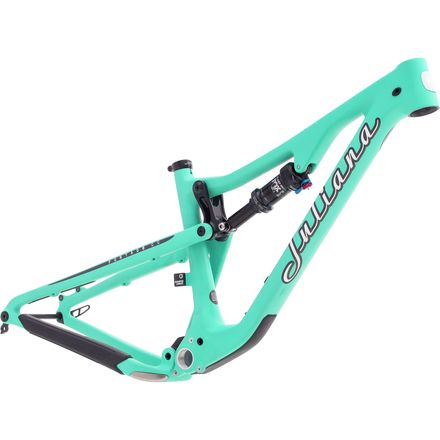 Colors

Detail Images
The new gnarly.
Few names are as synonymous with '90s gnarliness as Juliana Furtado, and the latest model to bear her name blends her pioneering spirit with the latest and greatest tech from the joint development labs of Juliana Bicycles and Santa Cruz. The Furtado 2.0 Carbon CC Mountain Bike Frame is the most advanced trail bike to result from that collaboration, and it's about as similar to the previous model as that older model is to the bikes Furtado herself rode last century. The Furtado 2.0 is longer, lower, slacker and features some tweaks to the design and travel of the VPP suspension that bring it that much closer to bridging the trail/enduro divide.
The Furtado 2.0's radical redesign is so pervasive that it touches on virtually every important aspect of frame geometry, but the biggest change is to the head tube, which drops one degree from 68 to 67 degrees. That's the same as the previous Roubion model (Juliana's Bronson equivalent), and it situates the Furtado 2.0 just this side of slacked-out enduro monster. The frame's reach and bottom bracket follow suit, with the former tacking on an additional 20-25mm, depending on size, and the latter dropping slightly. The combined result of these apparently minor tweaks is a longer, lower, more stable frame that eagerly attacks lines that the previous 5010 has to think twice about.
If the Furtado 2.0's front end and bottom bracket are about slack excess, then the changes out back are about tightening things up for more pedaling efficiency and cockpit versatility. The seat tube is steeper, longer, and wider, which benefits both the ups and downs of all-mountain riding. While grunting over the crux of a climb or grinding speed on singletrack, the steeper angle puts the rider in a more efficient pedaling posture, making it easier to stay on top of the pedal stroke. While descending or cleaning lines through rock gardens, the shorter, fatter seat tube allows for more dropper travel, which nets increased stability when increasing speed is the last thing on your mind.
The Furtado 2.0's chainstays are stubbier, reduced from the previous 5010's already impressive 17.12in to an even stiffer, more agile 16.8in. Better power transfer while we're putting the pain into the trail and more nimble dexterity when gnarly terrain turns the tables? Yes, please. The frame's rear triangle terminates in a gigantic 148 x 12mm rear axle, making for more rear clearance which in turn allows for those abbreviated chainstays. In one final burst of engineering inspiration, Santa Cruz tacked on side-swing compatibility, which makes for clean routing and sharp shifting for those of us who prefer the knee-saving grace of a double over the low weight of a one-by.
Like the frame itself, Juliana's VPP suspension also gets a makeover on the 2.0 models. The most obvious, external changes to the Furtado 2.0's suspension are an additional 5mm of travel and a relocation of the system's counter-rotating links. These changes make for a better standover height, increased ground clearance, and a stiffer rear end; however, the new VPP's real proof is in its revised tuning. The altered suspension curve keeps it riding even higher than the previous VPP, increasing small bump compliance and keeping the tires glued to the trail for more efficient traction across the successive impacts of lumpy courses and rooty climbs. The initial stroke's reliance on the upper link activating for a vertical wheel path remains unchanged, maintaining the firm feel during accelerations while jockeying for position in a mass start or a finishing sprint.
As the suspension compresses deeper, the lower link takes over, letting the rear wheel back out of big hits. The overall curve across travel is less dramatic with the new VPP. Where the old design's suspension curve describes a deep "U," the Furtado 2.0's curve resembles a flattened check mark—an appropriate shape considering that the design checks off many of the points on our pedal-platform wish list. This makes for a ramp-up arc that's more sensitive off the top but doesn't jarringly alter as the shock compresses, so the pedaling platform stays consistent across travel, with less wallowing, bob, and bottom-outs.
All of these changes are included in a frame that's still built with Juliana's top-end Carbon CC construction method and materials, which allow the engineers to use less carbon in order to hit stiffness targets. The frame is every bit as responsive as the less expensive Carbon C version, but its claimed weight is almost 300g less. Both triangles are constructed as whole, monocoque pieces, which also contributes to keeping weight low because the carbon can be wrapped through junctures and around joints. This eliminates the artificial weak points of bonded frames and actually requires less material in the process. While it's being cured, the frame is compacted from inside and out. This final step eliminates excess material and resin pooling, resulting in more structural integrity and, of course, additional weight savings.
Despite that extensive list of changes, most of the obsessive details that we've come to associate with the clean lines and understated aesthetics of Juliana frames carry over. In ascending order of importance, these include down tube and chainstay protectors, stealth routing, easily serviceable lower links, and the glorious 73mm threaded bottom bracket shell. It's impossible for us to overstate how much we love threaded bottom brackets. As advanced as Juliana's Carbon CC construction has become, even it can't produce molded bottom bracket PressFit cups that rival the precision of CNC-machined threads. A threaded bottom bracket adds a touch of weight and the extra labor is reflected in the price, but we think the reduced creaking and greater durability are worth it.
A superlative trail bike imbued with the spirit of Juliana herself
Powered by five inches of reworked VPP travel
Longer, slacker geometry than the previous model
Carbon CC construction method leads the industry in bling factor
Repositioned links increase ground and shock clearance
Easily serviced lower link allows for at-home maintenance
Boost rear axle further stiffens the race-worthy pedaling platform
Stealth routing for drivetrain components and dropper post
Lady shredder!
Familiarity:

I've put it through the wringer
I currently own the CC with XO1 Furtado in a small. I am 5'4" and have plenty of standover on this bike in those situations when bailing quick is required. I rode it for the whole 2016 season in Colorado before getting some miles on the Utah trails in the fall as well.

I rode quite a few days of lift access bike park, but also can pedal efficiently uphill. After getting the suspension dialed for my preferences and riding weight, I found that I preferred riding with the fork and shock open all the time. This is due to Santa Cruz's VPP design. It allows for small bump compliance and traction control but keeps pedal bob to a minimum while climbing hard. I did have the collets come loose after my first 50 miles or so. This was unexpected but after re-tightening them, I haven't had any problems since. I really love the threaded bottom bracket and easy cable routing to make maintenance smooth.

One of my favorite moments on my Furtado this summer was riding the Monarch Crest near Buena Vista, Colorado. We thought 38 miles of riding above 11,000 feet wasn't enough so we added on an additional 12 miles. A long day in the saddle with a lot of climbing but even more descending, 50 miles later I was still in love with this bike. It also served perfectly for the Whole Enchilada in Moab. Adventure machine!

I'm riding the bike mostly as it comes stock but plan on upgrading to Industry 9 Trail 245's this winter. I did have to cut the bars down to 720 from 780 after experiencing some neck pain on the first few rides. Quick fix that allowed for days of pain free riding. The reach was a bit longer than I expected, so I switched to a shorter stem to allow me to get behind the bike more on descents.

The 140 Pike allows for a lot of adjust-ability and is stiff enough for most bike park riding that I plan on doing. When I planned on big drops in places like Moab, I would just add about 10 more psi to the fork and slow the rebound down to help with the increased demand.

While Rockshox has gotten a lot of grief for their dropper posts, I am running the newest version (B1) with zero problems. I do run a "right" lever so I can run the lever under the bar on the left side.

It is not the lightest bike in the "trail" market, but I appreciate the added durability Santa Cruz offers. And their lifetime warranty! And their lifetime suspension bearing replacements!

Juliana does a lot to advocate for women's mountain biking, an area of the industry that is growing quickly. They hold many events around the country designed to increase women's' confidence in a oft male dominated sport. I love riding a brand that really is invested in its customers and wants to see womens cycling flourish. This is essentially the same bike as the Santa Cruz 5010, just a slightly lighter suspension tune.

This is going to be a tough bike to get rid of if I ever decide to try something else. If that day comes, I feel confident that I will just find myself on the current Furtado.

My Furtado at the top of Monarch Pass.
Katie Harker