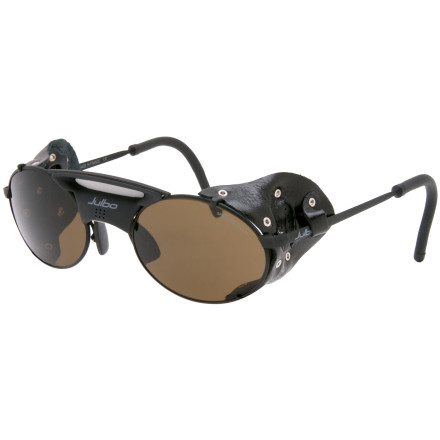 Colors

Detail Images
Julbo Micropore are serious eye protection for glacier and snow travelers that resist fogging.
Julbo Micropore Sunglasses offer a durable design and quality craftsmanship that add up to the ultimate in eye protection. These glacier glasses offer top-shelf bright-light protection for skiers, mountaineers, and snowmobilers. They feature a bi-gradient polycarbonate lens with anti-glare protection, removable and vented leather side shields, moldable temples, and—the feature they're named for—a micropore self-venting nose bridge that delivers fog-free performance. Julbo also throws in a lightweight strap, so you don't drop these glasses from ten pitches up. Awesome protection and superior ventilation make the Micropores THE choice of serious mountaineers worldwide.
Proposition 65 Warning for California Consumers: This product contains chemicals known to the State of California to cause cancer and/or birth defects or other reproductive harm.
Im a fork lift tech, in the field all day everyday. I'm not at spring chicken, these glasses are a high advantage over the young bucks. No glare, no sun blindness, and even though I'm using them incorrectly they work for cutting steel. Love them you need a set. Tools are my trade if you don't have the right stuff you fail. These are the right stuff, if MAC find out you won't be able to afford them that's how good they are brother.
william F.
Great for high elevation/icefield runnin
Familiarity:

I've put it through the wringer

Fit:

True to size
These super dark sunglasses are just what you need for being in the Juneau Ice Field. Before having these sunglasses I was getting temporary eye damage with the amount of exposure experienced on glaciers, but they solved the problem. With these glasses eye fatigue is a thing of the past. Note, although these would be fantastic for driving through the desert, they are illegal to drive with them on because they are too dark for regulations. Enjoy!
Riley Moser
Unanswered Question
Can the plastic piece above the nose bridge be removed?
zs_105679748
Hey so I am a mountain runner from Juneau, AK and I usually spend anywhere from 2-10hrs at a time running in our icefields and surrounding mountains. The sun is very intense in the summer here because we are further north. Do these shades vent fast enough for mountain running in the backcountry?
Riley Moser
Nicholas Dey
Still the One, 20 Years Later
Familiarity:

I've put it through the wringer
Finally decided to replace my circa late 1980's Micropores. Shopped around for best resolution to my needs, including trying on numerous brands and models including the Julbo Explorer. My target activities are alpine hiking, peakbagging, nordic ski touring ,rock climbing, desert hiking and eye protection when bushwhacking. Light conditions may vary during the day so an all-round, versatile lens is required. The Spectron 3 is a suitable lens for sunny to cloudy light conditions. Other Julbo models address this need but...the fit wasn't it. The Micropore can be adjusted for a super snug fit, it will stay in place exactly where you fit them..... no matter what. For resort skiing I use the Julbo Race with Zebra lens. The design is classic and won't be out of style ten years from now. Do recommend an after-market case.
Bob Weston
I have had theses glasses for about a year now and they have treated me very well on numerous backcountry expeditions. The rubber nose piece wore out after quite a bit of use and they are sending me a replacement free of charge. The guys who run this company really know how to treat their customers. I would highly recommend these glasses and this company over the big names. They aren't the best glasses in the world, but are indeed pretty high quality and most importantly get the job done.
Ryan
Is it possible to get these with a...
Is it possible to get these with a prescription lens, or get the frames only so I can have my optician make lenses for them?
Brian G. Shacklett
Best Answer
Prescription Julbo can be had from this company.
http://www.opticus.com/
Ryan Hamilton
If you are looking for glasses which you can wear entire day without pain - these are your ticket. Temples can be molded exactly to the shape you want them to be. I am literally forgetting that I am wearing sunglasses!

With temples going around your ears they also will firmly stay on when you move.

I am very happy with them.
Stokka
Great glasses for outdoor adventures!
I was lucky to get this glasses b/c I got them on final sale/clearence. I only paid $5.99! It's crazy...
Anyway, these are pretty cool looking glasses and they work great on snowy days. I live upstate NY and winters are very long up here, and boy am I glad that I have these julbos! I wish the would have come with cloth.
A.Garzon
Wishing I had not forgotten my sunglasses
Proper eye wear is key and on day 13 of a 21 day traverse I was not happy with my glasses. Don't wake up snow blind.
Jaime Myers
I have been looking for the spec on these...
I have been looking for the spec on these glasses do they meet ansi z87 standards.
brad
NO! These aren't safety glasses. The glass lens could really make hamburger out of your eyes.
Edward G.
Can I buy the side sheild only for the...
Can I buy the side sheild only for the Julbo Micropore Sunglasses?
Curtis Rivers
Yes, go to Julbo's site and look up Replacement Parts under the Services tab. It's like 7 bucks for a pair.
J. Hilton
I would like to know when your next...
I would like to know when your next availability for your julbo spectrum x4 glasses will be in .thnx al
allen gammond
We don't have a time frame for arrival, the best advice I have is to keep checking back.
Backcountry.comGearGuruSteveH
I always seem to have a big head for normal fit glasses. This one size for all, didn't fit me. But they were pretty cool looking glasses I gave to a friend.
Robert F. G.
Julbo Micropore Sunglasses Spectron X4 Lens
Very nice glasses that fit comfortably. I would prefer a little darker, but they work fine. Glasses should have included a microfiber cloth for cleaning but did not.
Dwight P.