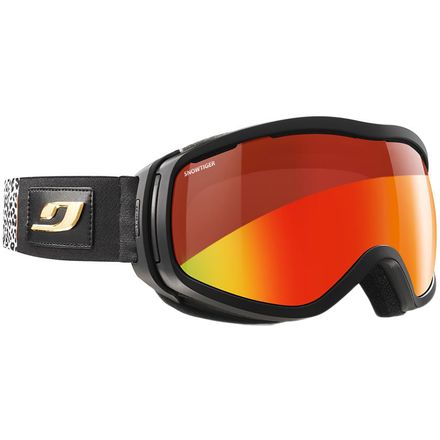 Colors
Rapidly adapts to changes in lighting.
Alpine conditions are notoriously fickle, with blinding sunshine one moment giving way to cloud-shrouded skies the very next. Addressing this issue, the Julbo Women's Elara Snow Tiger Goggles automatically adjusts its lens tint to suit the lighting outside with its photochromatic technology. This means you'll be able to ski or ride always knowing you have the right tint for the conditions, and you won't have to worry about stopping to swap lenses.
The Snow Tiger lens gets darkest under bright sunshine by allowing only 15% visible light, so you're not blinded by sunshine and reflective snow. Under stormy conditions, it gets much lighter in tint, allowing up to 30% visible light for better visualization of terrain surfaces and oncoming objects. Its orange tint improves contrast in flat lighting, while an anti-glare treatment reduces eye strain in bright conditions and reflective alpine landscapes.
The Elara Goggles are suited for female skiers and riders with medium-sized faces, thanks to a spherical design that increases peripheral vision without being overly aggressive. Extended outriggers on each end allow for helmet compatibility, all without stretching or distorting the goggle's shape over time. There's also a silicone-backed strap for a secure fit over your helmet. And to ensure clarity on stormy days, integrated airflow vents keep condensation and fog build-up to a minimum.
Proposition 65 Warning for California Consumers: This product contains chemicals known to the State of California to cause cancer and/or birth defects or other reproductive harm.
Photochromatic goggles adapt to changing conditions
Snow Tiger lens adapts to blinding sun and stormy skies
Anti-glare treatment reduces eye strain in bright light
Orange tint increases contrast in flat light
Spherical lens increases field of view
Integrated vents reduce fog build-up
Outriggers for helmet-compatibility
Lookin' Good
Familiarity:

I've used it several times
After my boyfriend and several colleagues raved about Julbo's Snowtiger lenses, I decided to bite the bullet and dish out the cash. I had purchased and returned several cheaper ski goggles previous to this and just did not like any of them -- whether is was the frame, the size, the lens, the construction, etc.



I had high hopes for these and Julbo delivered! The Snowtiger lens is awesome, very high quality and adjusts well even in overcast/darker light. It makes the features in the snow stand out more as well. The frame is a good size for people who have a small/medium face. I also love the Panther print on the strap as well as the spot shaped grips on the inside of the strap, I found that to be a really creative and clever touch.



(Photo coming soon)
Ana Stamenkovic