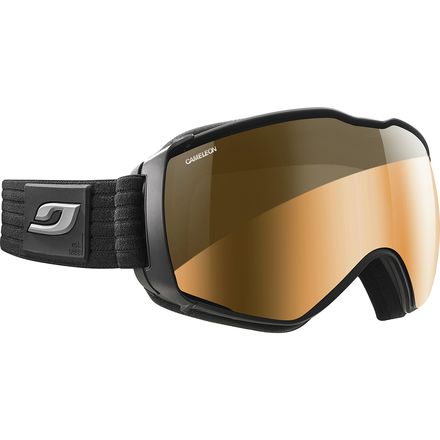 Colors
A goggle you will never have to take off.
Taking your goggles off and on leads to one thing: fogging. Instead of constantly switching between foggy goggles and sweaty sunglasses, simplify your transitions with the Julbo Aerospace Vertical Goggles. New this season, the Aerospace Goggles feature Julbo's innovative Superflow system, which gives you the ability to wear them on both the up and the down. When climbing, pull the lens away from the frame to allow for more airflow and reduced fogging. Once you're ready to ski your line, press the lens back into the frame for the same protection you'd get from a standard pair of goggles.
While these goggles may offer the same protection as a standard pair of goggles, their optics are anything but standard. Carrying with them all the high-end optics that can be found on other high-end Julbo goggles, the Aerospace Verticals come with Julbo's Camel photochromic and polarized lenses. Photochromic technology gives the lens the ability to adapt to changing light conditions within a matter of minutes. And if that wasn't enough, the lenses are also spherical and polarized, resulting in an undistorted field of vision that will dramatically reduce glare and offer a clear and true view of the terrain you're skiing.
Proposition 65 Warning for California Consumers: This product contains chemicals known to the State of California to cause cancer and/or birth defects or other reproductive harm.
Camel photochromic and polarized lens
NXT spherical optics
Anti-fog coating
Superflow ventilation system
Anatomic frame
Protective peak
Please see size chart for information on lens options
On The Verge of Greatness
Familiarity:

I've used it several times
Got these in the mail right before heading out for a few days in a northwest dump at or just barely below freezing. I guess I have a sweaty face because I have huge issues with fogging ruining my day so it was worth giving these a shot. The good news is, popping the lense out seems to eliminate the fog quickly and efficiently. I used these 3 days straight at a ski area doing hot laps building up plenty of perspiration that would normally require wiping or swapping. At the bottom of every run, I'd open them up as they started fogging and they would clear up. I'd leave them open on the ride up then pop them in for the ride down. The not as good news is that the mechanism for opening and closing the lense doesn't work very well. It's nearly impossible to get them to snap closed properly as evidenced by a pesky little sliver of light at the bottom. Worse yet is the process of opening them up which I found nearly impossible with my thick mits. Not sure if gloves would make it easier. The nubs you pull on to open the lense are minuscule, almost unusable without bare fingers. With all the pushing and pulling I have to do on these things to open and close them as often as I need, I'll be impressed if all the foam, hinges and plastic holds up over time. All that said... I could see where I was going all week and you can't put a price on vision. I can deal with them not closing properly even though it drives me nuts but they do close well enough to keep flakes and wind out at speed. I'm going to try to rig up some pull tabs or something to help me grab the lense to pop it out easier with thick gloves.
Dan W.
The venting technology is the obvious advantage. I love that the lens stays attached while disengaged for venting. The photochromic technology is pretty rad too.
Andy Curtis
Subpar: scratch easily, poor contrast
Familiarity:

I've used it several times
Straight to the chase: Julbo's lenses are simply inferior in quality & performance to Smith & Oakley. They scratch too easily, and can't define the fine contours of bright, convoluted snowfields, much less the depth, shadows, & layers of an evergreen forest like Smith's better rose-copper mirrored tints, or Oakley's Irridium lenses.
I bought the Aerospace goggles w/ the Zebra photochromic lenses (7-42% VLT) as a replacement for a broken set of Smith Phenoms w/ Ignitor Mirror (35% VLT) lens. This proved to be a very poor, and costly decision. In a word, it's irrelevant that the Julbos are photochromic, the contrast is so poor that I simply don't want to wear them, regardless of how broad their nominal range is. The "reaction time" claimed by Julbo is also irrelevant: contrast and light transmission is so poor in shaded areas that even stopping & waiting for the goggles to adjust is pointless. What is more, after a single day of use & careful handling, these Julbos already have more small surface scratches than any of my Smith or Oakley goggles that are several seasons old.
Using the Zebra photochromic lenses in the open on a bright bluebird day in Lake Tahoe, they produced a tolerable, albeit muddy view of the convoluted & rocky terrain I was navigating. As soon as I dropped into a familiar, wooded zone, however, I realized that these goggles had no place in my pack: I could make out the trunks of trees, but due to Julbo's poorly-blended, flat, gray-gold tint, I could discern next to nothing of their layered branches, or the rocks, deadfall, and critically sparse snow coverage below.
I had hoped to benefit from Julbo's novel vented frame design on warm spring days at the resort & in the backcountry, but even if I knew I were spending an entire day above the treeline, I would still opt for something (i.e. anything) else with better contrast. Julbo's Zebra tint reminds me of the mediocre green-gold Uvex lenses I used in the 80s, prior to discovering Smith's game-changing RC36 tint.
Forget the frame, the lenses just don't measure up.
BergMann
The aerospace is outta sight
Familiarity:

I've put it through the wringer
Looking to upgrade my goggles I came across the review for these on Wild Snow. Immediately the fact they were designed specifically for uphill travel grabbed my attention. I like my glacier glasses as much as the next alpine animal but a little ventilation would be nice, especially on the skintrack. I got the Verticals because I love the facebook feed of Vivian Bruchez (https://www.facebook.com/VivianBruchezSkiMontagne/?fref=ts) who skis and climbs in Chamonix regularly with Kilian Jornet. Also, having spent a bit of time in Cham myself I was partial from the start. The gray color is pretty neutral which I appreciate. The camel lens is amazing. Photochromatic, its wide aperture gives a huge field of vision that is crystal clear. I have used it on numerous dawn patrol and midday ski trips as I stoke up the early season. It is clear enough to wear in the dark with a bright headlamp (usually a BD Spot) and it transitions nice with the sun. It handles spraying powder, the kind you get from skinning at resorts early in the morning, and the rooster tails of your telefriends. The lens itself pops out with an easy snap motion and vents very well. I like skiing down with open too just to get some wind on my face. Like everything with Julbo the optics are top notch and great in the sun above treeline. There are cheaper goggles currently on the market but these mark a departure from the old. Even through it is first generation technology I couldn't be happier for the money spent.
Hoyawolf
Fight the fog - yay!
Familiarity:

I've used it several times
The fog struggle is real, but not with the Aerospace! I'd like to meet the guy who made these and shake his hand., seriously. What a cool and simple idea, just pop open the goggles and you've got some airflow. It was a little tricky getting the hang of popping the lens out and securing it back in, but you'll hear/feel a click when they are secure, just takes a little practice. Will post some photos of them in later in the season!
Anthony Spatarro