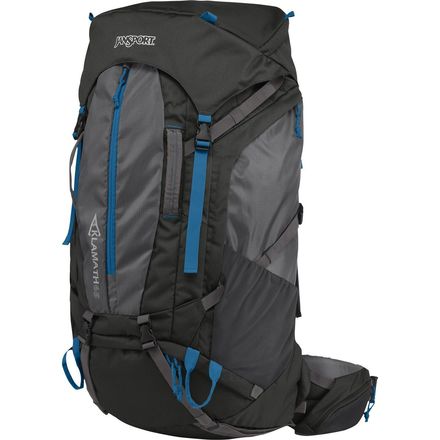 Stay comfortable and organized while hauling your stuff through the backcountry.
Whether you're spending a weekend or a full week working your way through backcountry trails, head out with the JanSport Klamath 65 Backpack. This 67-liter capacity backpack combines a supportive suspension system, torso and shoulder fit adjustability, and an array of functional pockets to keep you comfortable and organized out on the trail. The backpack's GridFit system allows you to adjust the length of the torso from 15 to 19 inches, as well as set your preferred shoulder strap width. Once you have that dialed, fine-tune the fit of the padded shoulder straps, hip-belt, and sternum straps for optimal load balance. Make final load-balancing and load-securing adjustments with the bottom and multiple side compression straps.
Once you're moving on the trail, a plastic sheet and aluminum stays running along your back support your load as well as keep items inside the backpack from rubbing up against you. The back panel is fully padded, and includes a ventilating channel for enhanced comfort. The large main compartment with a drawstring closure provides plenty of room for your tent and bear canister, and keep your sleeping bag in a separate zippered compartment with an internal shelf (for holding whatever else you want to separate out with your sleeping bag). Store smaller items you'd like quick access to in the easy-access pockets on the hip-belt, sides, front, and hood. A dedicated internal compartment holds up to a 3-liter hydration reservoir (not included), and includes a port for the tube. The shoulder straps are outfitted to hold the reservoir tube securely in place so it stays out of your way. If you're taking the backpack on a plane trip to your ultimate destination, large carry and haul handles make it easier to manage during your travels.
Foam-padded shoulder straps and dual-density foam-padded hip-belt
Sternum straps and adjustable load-lifter straps
Multiple side compression straps and bottom load-securing straps
Fits a range of torso lengths from 15 to 19 inches
GridFit system allows torso-length and shoulder-width adjustments
Support provided by PE (polyethylene plastic) sheet with aluminum stays
Fully padded back panel with ventilation channel
Load capacity for weekend to weeklong backpacking trips
Large main compartment with drawstring closure, top and zippered side access
3-liter capacity hydration sleeve with clip/tube port (reservoir not included)
Dedicated zippered sleeping bag compartment with internal shelf
Zippered front pocket, hip-belt pocket, large top hood pocket
Stretch mesh side pockets
Large carry and haul handles
What happened to my Klamath 68??
I didn't get this big guy from backcountry.com, but it's the replacement that Jansport sent me after I sent my Klamath 68 in for repairs.

It weighs 1lb more than the Klamath 68 (why?!?!), the brain is no longer detachable, the padding on the waist belt feels bigger, and the overall waist belt is much larger ( I have it cranked almost all the way down, and I'm not a tiny girl!).

Overall looks well made, like all Jansport bags. There is a zipper mesh pocket on the waist belt that should come in handy. If you're a petite person this is not your bag. I've loved my Jansport Klamath's in the past more than anything, I've had Osprey's and the big names but these have held up better than those. I haven't trail tested it yet because I'm waiting to see if Jansport will let me switch this for something else.


Shayna "P.C."
Klamath Series is great value!
The Jansport Klamath backpack is a great pack that I have come to enjoy. With the Jansport Klamath backpack you will get a great suspension which is the high point on this pack. It holds weight very well and keeps your pack stable over long hauls in the woods. The Jansport Klamath backpack is 4lbs 13ozs which is middle of the pack in terms of weight. I do believe that weight could be brought down by replacing the body and top part of the pack with lighter weight materials and leaving the heavier materials on the bottom of the pack. This would leave heavy material to combat being set on the ground, but realistically there is no reason to have the same weight fabric on the top of the pack as the bottom. Could probably shave off a pound by doing just that. The Jansport Klamath backpack uses middle of the pack hardware like zipper and buckles. Nothing to complain about or rave about, they just get the job done. Being it is almost half the price of most Gregory packs I think you could get this Jansport Klamath backpack and be happier than spending twice as much for a Gregory or any other foreign made $300+ pack. Berz Rating: 83/100



http://www.captainberz.com

https://twitter.com/CaptainBerz

www.facebook.com/CaptainBerzFanPage

http://web.stagram.com/n/captainberz
CaptainBerz