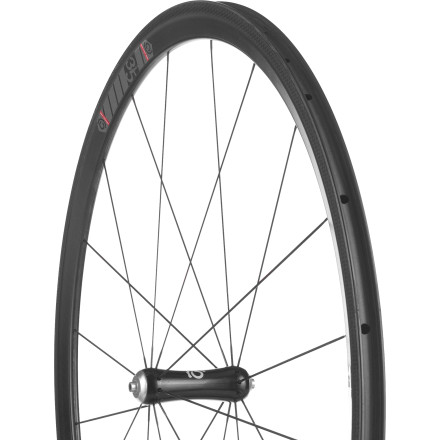 Colors
North Cackalacky's finest.
We love the smooth, fast ride of carbon rims, but let's face it, we also want a wheelset that has character. And whether it's the stunning anodized finish, or the fact that the hubs are built in North Carolina by fanatical cyclists, there's no denying that the Industry Nine i35 Carbon Clincher Wheelset has character in spades. Running the all-new Torch road hub, which mates mile-crushing efficiency to a perfectly sealed, low-drag engagement mechanism, the i35's are race ready. But if you decide you want to use them for training rides, we wouldn't blame you. They're more than tough enough. The fact that they're so darn pretty is just the cherry on top.
The heart of the I-series road wheels lies the redesigned Torch road hub, and as always, the artfully machined hubset is built in North Carolina by people who ride hard. And while the exquisite anodized finish is eye catching, it's what's inside that really counts. Namely, the new Torch three pawl driver. It's the same driver used in the Torch mountain hubset, and like their mountain brethren, the I-series road hub is rated to withstand 700 ft/lbs of torque. In other words, unless you're powering your bike via a built diesel engine, there is zero chance of slippage under power as long as the hub is well maintained. Speaking of which, Industry Nine manufactures its own Teflon contact seals at the endcaps, which effectively seals the hub against the most tenacious mud in 'cross racing, and they run drag-free, for logging those road miles.
Unlike I9's mountain wheelsets, the I-series wheelset makes use of Sapim's trusted CX-Ray stainless steel spokes to maintain their perfect roundness. These forged, bladed spokes have a reputation as the planet's strongest, stiffest option for securing a hub to a rim, which will quell any fears of failure, no matter how many potholes you manage to ride through. Enhancing the strength is a 2:1 lacing pattern on the 24 spoke rear wheel, with eight of those spokes on the non-drive side, and 16 on the drive side. The result is reduced wind-up of the wheels under power for phenomenal power transfer, but with the lightness that comes with reduced spoke counts.
Industry Nine's core competency is in working with metal, so the master machinists from North Carolina paired up with the carbon gurus at Reynolds to supply a carbon fiber rim worthy of the Torch road hub. What they settled on was Reynolds' 32mm deep SLG rim, for its strength, width, and aerodynamic properties. You see, SLG stands for Swirl Lip Generator, which is a fancy way of saying that they're designed to create a small-scale aerodynamic swirl that enables the wheelset to cut through the air with maximum efficiency from a variety of yaw angles.
The generous 25mm external width provides a wider tire footprint than a traditional rim shape, allowing you to run lower air pressure, with enhanced grip and rolling speed. And while some carbon rims have issues with heat management, the SLG rim gets Reynolds' CTg braking system, which works in conjunction with Reynolds Cryo Blue brake pads to provide sharp braking through a variety of weather conditions, without dangerous heat buildup. In other words, it's the final piece of a trustworthy wheel puzzle.
The Industry Nine i35 Carbon Clincher Wheelset is available with either a Shimano/SRAM 11-speed, or Campagnolo 11-speed-compatible freehub, and in one color.
Clincher Perfection..
Familiarity:

I've put it through the wringer
I love Tubular wheels, I have 11 sets of wheels all Tubular and most will think that I'm mental but I have been rolling them for so many years that I even like gluing them, one of the biggest positives is that I never get flats, 2 ounces of Stans in each and I don't even think about it.. now my point.. When a Tubular does blow your done, game over, your walking bike on your shoulder thumb out, I needed a set of wheels so I could rescue myself even if it would be super rare. So I started shopping hard for a set of Clinchers that came as close to my favorite set of do it all wheels Zipp 202s and to match 1180 gram set with a clincher would be about 200 grams impossible without finding these wheels, then I stumbled across these Industry 9 35s and bought them immediately. First thing they are not 25mm wide they are 23mm which is identical to the 202 Tubulars which is fine with me but the claimed 1250 gram set weight might be overstating it a bit, with Vittoria latex tubes and Conti 4000s2 tires the set weight for both is almost identical and I cannot tell the difference riding the bike. The best for last is the Hubs, I took the free hub off to make sure it was lubed with DuMont tech hub oil and these hubs are absolutely a thing of hand built beauty, its a 3 pawl hub like a Zipp hub but I think the pawls are even CNC machined with coil springs it is crazy cool.
I have about 500 miles on them (Maui Hawaii) and they are everything I could have wanted if the perfect set of Clinchers would have popped out of my head.. to say that I'm very very happy I bought these wheels is about as big of an understatement as saying the guys at CC are helpful and a real pleasure to do business with..
brt
Unanswered Question
Is there a rider weight limit on these?
Robert C.