Immersion Research

Microwave Handwarmers
Item #IMR000Z
Immersion Research
Men's
Dry Tops & Jackets
XS
S
M
L
XL
XXL
3XL
Height

5ft - 5ft 3in

(152.4 - 160cm)

5ft 4in - 5ft 7in

(162.6 - 170.2cm)

5ft 8in - 5ft 10in

(172.7 - 177.8cm)

5ft 11in - 6ft 1in

(180.3 - 185.4cm)

6ft - 6ft 4in

(182.9 - 193cm)

6ft 2in - 6ft 4in

(188 - 193cm)

Weight

100 - 125lb

(45.3 - 56.6kg)

125 - 145lb

(56.6 - 65.7kg)

145 - 165lb

(65.7 - 74.7kg)

165 - 180lb

(74.7 - 81.5kg)

180 - 210lb

(81.5 - 95.1kg)

210 - 230lb

(95.1 - 104.2kg)

230 - 250lb

(104.2 - 113.2kg)

Chest

33 - 35in

(83.8 - 88.9cm)

36 - 38in

(91.4 - 96.5cm)

39 - 41in

(99.1 - 104.1cm)

42 - 44in

(106.7 - 111.8cm)

45 - 48in

(114.3 - 121.9cm)

49 - 53in

(124.5 - 134.6cm)

53 - 57in

(134.6 - 144.8cm)

Dry Suit
S
M
L
XL
XXL
3XL
Height

5ft 4in - 5ft 7in

(162.6 - 170.2cm)

5ft 6in - 5ft 10in

(167.6 - 177.8cm)

5ft 11in - 6ft 1in

(180.3 - 185.4cm)

6ft - 6ft 4in

(182.9 - 193cm)

6ft 2in - 6ft 4in

(188 - 193cm)

Weight

125 - 145lb

(56.6 - 65.7kg)

145 - 165lb

(65.7 - 74.7kg)

165 - 180lb

(74.7 - 81.5kg)

180 - 210lb

(81.5 - 95.1kg)

210 - 230lb

(95.1 - 104.2kg)

230 - 250lb

(104.2 - 113.2kg)

Chest

36 - 38in

(91.4 - 96.5cm)

39 - 41in

(99.1 - 104.1cm)

42 - 44in

(106.7 - 111.8cm)

45 - 48in

(114.3 - 121.9cm)

49 - 53in

(124.5 - 134.6cm)

53 - 57in

(134.6 - 144.8cm)

Inseam

31 - 32in

(78.7 - 81.3cm)

32 - 34in

(81.3 - 86.4cm)

Shoe Size

7 - 8

9 - 10

11 - 12

12 - 13

12 - 13

13 - 14

Paddle Pants
S
M
L
XL
XXL
Inseam

30 - 32in

(76.2 - 81.3cm)

31 - 33in

(78.7 - 83.8cm)

32 - 34in

(81.3 - 86.4cm)

Waist

28 - 31in

(71.1 - 78.7cm)

31 - 33in

(78.7 - 83.8cm)

33 - 36in

(83.8 - 91.4cm)

36 - 40in

(91.4 - 101.6cm)

40 - 44in

(101.6 - 111.8cm)

Apparel & Layering
S
M
L
XL
XXL
Height

5ft 4in - 5ft 7in

(162.6 - 170.2cm)

5ft 8in - 5ft 10in

(172.7 - 177.8cm)

5ft 11in - 6ft 1in

(180.3 - 185.4cm)

6ft - 6ft 3in

(182.9 - 190.5cm)

6ft 2in - 6ft 4in

(188 - 193cm)

Weight

125 - 150lb

(56.6 - 67.9kg)

150 - 165lb

(67.9 - 74.7kg)

165 - 180lb

(74.7 - 81.5kg)

180 - 210lb

(81.5 - 95.1kg)

210 - 230lb

(95.1 - 104.2kg)

Chest

36 - 38in

(91.4 - 96.5cm)

39 - 41in

(99.1 - 104.1cm)

42 - 44in

(106.7 - 111.8cm)

45 - 48in

(114.3 - 121.9cm)

49 - 53in

(124.5 - 134.6cm)

Inseam

28 - 30in

(71.1 - 76.2cm)

30 - 32in

(76.2 - 81.3cm)

32 - 34in

(81.3 - 86.4cm)

33 - 34in

(83.8 - 86.4cm)

Waist

28 - 30in

(71.1 - 76.2cm)

30 - 33in

(76.2 - 81.3cm)

33 - 35in

(83.8 - 88.9cm)

35 - 39in

(88.9 - 99.1cm)

39 - 43in

(99.1 - 109.2cm)
How to Measure:

For best results, take measurements over your underwear.

Chest:

Measure under your arms, around the fullest part of your chest.

Natural Waist:

Measure around your natural waistline, keeping the tape a bit loose.

Inseam:

Using pants that fit well, measure the crotch seam to the bottom of the leg.
Select style & size:
Select options
Select options

Black, One Size

Sale:$35.96
Tech Specs
Material:
100% Supertex neoprene
Manufacturer Warranty:
lifetime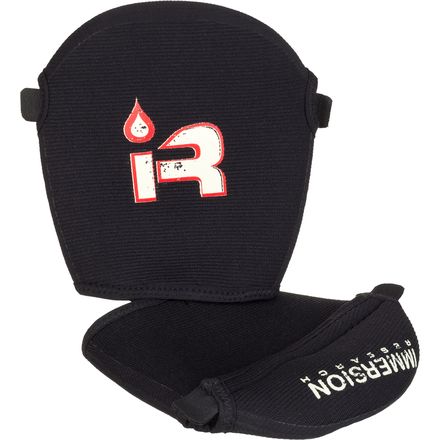 Colors
Place hands in Microwave for two minutes and enjoy.
The Immersion Research Microwave Handwarmers get your mitts nice and toasty on cold-weather kayaking trips. Heavy-duty abrasion-resistant Supratex neoprene protects the exterior while the fuzzy lining feels soft to the touch for extra comfort. Hook-and-loop closures make it easy to get these on and off your paddle.

Supratex neoprene
4-way stretch
Soft lining
Hook-and-loop closure
Frequently purchased together