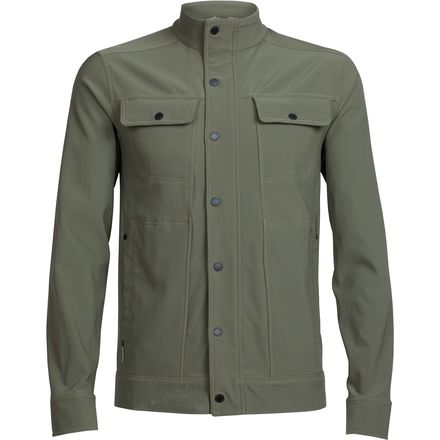 Colors
Let the Utility Softshell pick up where your childhood left off.
When you were a kid you'd beg mom to take you to the Army-Navy surplus for jackets that looked like the fatigues you saw in movies, and while they definitely fulfilled the role as you climbed trees with cap-guns and staged little green men across the living room, they weren't all that practical for you. Now that you've grown up, you don't have to let go of your love for classic jackets, pick up the Icebreaker Utility Softshell jacket for the same tough and vintage style you have always been fond of, with new tech fabrics that are more practical for your life.
This merino wool jacket is styled with snap closure cuffs and pockets to give off that vintage vibe, but carry the performance properties of merino wool and nylon. Merino wool's natural fibers wick away sweat to keep you dry, fight odor, and breathe well, so you can regulate your temperature comfortably, and when merino threads are wrapped around a nylon core you'll experience a fabric that isn't only soft and wicking, but incredibly durable too. The Utility blends Lycra in with the classic merino-nylon pair to add a stretch to the fabric for full range of motion that moves with you throughout the day.
Outdoorsy durability paired with vintage styles
Made from a merino blend for exceptional durability
Natural fibers wick away sweat and fight odor
Quick drying and machine washable for ease of use
Snap closure windflap, cuffs, and chest pockets add style
Very disappointed - Very thin jacket
I really liked the classic look of this jacket. I was very excited to order and receive the Icebreaker Utility Soft Shell Jacket , but that excitement quickly turned to disappointment when the jacket arrived. For the price, the jacket is very thin with little or no warmth. I had expected the merino wool to provide a nice soft (warm) feel inside the jacket. Instead, I received a very thin soft shell jacket with no warmth or merino wool feel at all. This jacket is certainly not worth the $250 retail price tag.
James W.