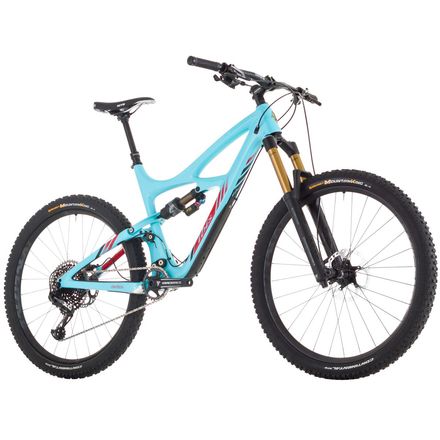 Detail Images
All up, all down, all in.
When bikes in the 6in range fall flat, it's usually because they sacrifice pedal-ability in order to drop-in like a mini gravity bike. The Ibis Mojo HD3 X01 Eagle Complete Mountain Bike makes no such concessions, and that's not just marketing speak—we've confirmed it ourselves. In fact, we like the Mojo HD3's surprising capability on the ups and the downs so much that we built up our own in-house take on an ideal all-mountain machine.
Our decision to use SRAM's X01 Eagle drivetrain for this build is also based on personal experience; there's nothing like being able to throw the chain up onto that 50t bailout gear when your legs and options are exhausted on long, steep climbs. And the Mojo loves long, steep climbs almost as much as it loves coming back down. For the brakes, we opted for Shimano XT, because they've long been the benchmark for stopping success and we certainly don't want to take any risks there.
That climbing prowess owes itself to the Mojo HD3's DW-Link suspension platform, which isolates rear wheel movement from pedaling and braking forces. It produces a plush and linear suspension motion that feels like an even bigger bike, yet pedals on flats and climbs with the attitude of an XC machine. The 66.6-degree angle of the tapered head tube takes advantage of DW-Link's solidity and the chassis' stability to hit a steeper angle than most six-inch bikes. That means the Mojo HD3 digs into climbs with an aggressive front end that doesn't leave you hanging when you're dropping in for the descent.
The bike's spine is built on stout, 16.9in chainstays and a low, 13.5in-high bottom bracket, which team with the aforementioned geometry for an uncommonly agile enduro sled that gets up and goes when the trail turns skyward or drops in fast when things point down, defying the categorizations that limit so many other bikes. As an added bonus, the shock tune and suspension keep the bottom bracket height at the sag point the same, no matter what size tire you choose to run.
The frame boasts clean internal cable routing and stealth routing for a dropper post of your choice. Ibis stands by threaded bottom brackets with the Mojo, a move that mercifully dismisses any proprietary press-fit systems in favor of a rock-solid standard that will last for ages. Dual-row angular contact bearings on the drive-side of the linkage require zero preload adjustment and dramatically reduce play compared to standard, sealed bearings, further bolstering the bike's lateral solidity and your own sense of control.
An enduro sled that climbs as well as it drops in
6-inches of responsive DW-Link suspension
Long, slack geometry tackles bigger lines
Carbon construction reduces weight and increases stiffness
Removable derailleur mouint lets you choose gearing
Boost rear hub stiffens wheelsets
Compatible with tires ranging up to 2.8in
CC-curated mix of SRAM and Shimano components
What's the tooth size of the front ring, on the large bike? How much does it weigh in large?
Gene de la cruz
Hey Gene!



Tooth count is a 30t, although we can swap that to whatever else you want. Weight is around 28.5lbs in a large. Feel free to shoot me an email at ldordai@backcountry.com if you are interested, I'd be happy to set that up for you!
Luke Dordai
ramon lafuente jr
Hey Ramon!



Unfortunately we are out of mediums. That being said, these bikes do fit small in the top tube, so some riders who would normally take a medium are comfortable on a large. Please shoot me an email at ldordai@backcountry.com if you would like further sizing clarification.
Luke Dordai
I found a playful enduro bike!
Familiarity:

I've used it several times
Like the title says, this bike is amazingly playful and fun for how much travel it has and how capable it is on the downhills. I had a chance to demo this bike a couple times and while I didn't end up owning it, I came away with several impressions I wanted to leave here.

Back to what I was saying about the playfulness. Enduro bikes are getting longer, slacker, raked out, lower bottom brackets, etc. This bike is still slack (66.6 degree head angle) but the short 16.9 inch chainstay combined with the shorter wheelbase (46 inches in a large) gives the bike a surprisingly playful character that makes it feel like a shorter travel, more nimble bike. Steer it into a rock garden, and you need to be a bit more choosy about the line you pick, but if you do, it rewards you with knife edge precision and maneuverability.

It also climbs surprisingly well for how capable it is downhill. The DW link suspension uses chain tension to hold the suspension in place and keep it from moving while climbing, and I can say I never felt like I needed to switch the rear shock over into climb mode, it just works great in the middle trail mode.

Overall, this is a fantastic bike I would recommend to anyone looking for a playful bike that rocks the downhills. Our custom build here is great because we can change out any parts you would like, so if you want a different wheelset, or you have tires you really like, I would be happy to help! Reach out to me directly at ldordai@backcountry.com or 801.736.6396 x2344.
Luke Dordai