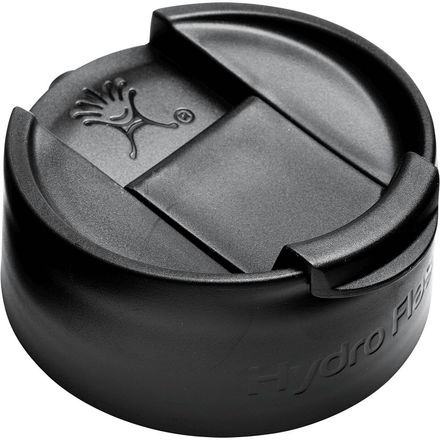 Colors

Detail Images
Instantly convert your wide-mouth Hydro Flask into a mobile coffee or tea flask with the Hydro Flip Lid to maximize convenience and minimize spillage.
BPA-free recyclable PP5 material
Fits Hydro Flask wide-mouth flasks
Keeps my coffee from leaking....
Familiarity:

I've put it through the wringer
Usually, anyway. This is a great lid, and a nice price, but the reason I had to buy it in the first place is because the pesky o-ring ran away. I think it happened when I put my last lid in the dishwasher, but either way I had to buy an entire new lid because without the o-ring, the coffee leaks.
Glynis Jehle
Really not much to say aside from makes have a hydroflask like 10x better, just be careful dropping it since my lid chipped from a pretty hard drop
Taylor Gutierrez
flippin great
Familiarity:

I've put it through the wringer
Great lids. I have them on my 20 oz coffee flasks and love them. Makes it really easy to drink out of while driving. I got my mom one as a gift for her 40oz wide mouth since she didnt like having to take the lid off every time she wanted a drink. She raves about this lid for that bottle as well and loved that she could get it in a fun color.

Solid closure, you do have to make sure it snaps into place though. I havent had any issues with them leaking, and I have used them quite a bit and test them every time by turning the bottle upside down and shaking to make sure its not going to leak on me and it never has.

Fits on all their wide mouth bottles.
Drew R
my 10 dollar contigo cup from walmart has a better lid than this.
Russell Bangert
Almost
Familiarity:

I've used it several times
This lid comes in some different color variations to keep it interesting and exciting. The mouth opening is so deep down within the lid that every time you drink, you can't prevent coffee from spilling on your nose and onto the lid. It is hard to clean the lid after use and the rubber piece inside that keeps it from spilling and leaking sometimes falls out without any notice, until it's too late and you have to replace the entire lid again. The colors though are great.
Zachary Lambert
Use this lid with your hot drinks in your flask .
angela snow
Gotta have for coffee versatility
Familiarity:

I've put it through the wringer
Hydroflask for hot drinks--perfect. That wide mouth lid for potentially sloshing beverage in your car or worse, burning your leg--not so much. Enter the hydro flip lid. Turns the hydroflask into a functional caffeine dispensing device. Get one.
Josh R
Kat Dickinson
Exact replacement for the lid I lost, but was able to get a different color. Now I always know which Hydro Flask is mine!
Spencer Marr
These are pretty good, but Hydroflask needs to make it harder for the seal on the cap to come out. I keep losing them and only find out after the bottle has leaked all over the car.
Andrew Meehan
There are better lids..
Familiarity:

I've put it through the wringer
But none for hydro flasks. Its not a great lid for coffee drinking. There are better mugs for that.. Stanley and Avex are way better with the push button. Every time you flip the lid up coffee spills out.
RAWstin
Bought as a replacement to prevent leaks
Familiarity:

I've used it once or twice and have initial impressions
The original cap that came with my Hydro Flask leaked all over the place. Eventually after talking with someone else that had one they showed me an 'updated' cap with a better seal so I bought this as a replacement to see if it helps. Seems to be so far, but lame that the original leaked all over.
Kevin K
What you need
Familiarity:

I've put it through the wringer
Stock cap that keeps liquid in very well. My only complaint is that it is breakable. I have 2 mugs and had to get replacements for them very quick. If you drop these on to a hard surface the snap top will most likely break.
Joe
Keeps your dress shirt clean
Familiarity:

I've put it through the wringer
Why does the front of your shirt suddenly have a coffee stain? Probably because you lost the seal the last time you washed your lid. You do wash your lid, don't you? Okay, buy this and you'll be good to go. 3 stars because the seal still falls out.
Keenan Hoar
Keeps the liquid in its home.
Familiarity:

I've put it through the wringer
Things fall. Sometimes when things fall they break. My lid broke so i ordered a new one and it keeps the hot bean water safely inside the bottle until i flip the lid and get my caffeine fix.

Matt Weinberg
A must have for your coffee
Chad Maurer
This is my favorite mug so of course I needed different colored lids. These are great lids that don't leak, and the colors are super fun too!
Chelsea McGowan
These spare lids are a necessity
Familiarity:

I've used it several times
Running late for work and running out of the house. Make sure you have a spare lit so you don't have to use that dirty one you forgot to clean! At this price it is very worth the extra few dollars.
Seth Barnes
Least leaky coffee lid on the market
Familiarity:

I've put it through the wringer
These lids are great, and don't leak at all. They are prone to breaking if dropped though, hence why i purchased a replacement. It is nice that the parts are available and you don't have to buy a whole new waterbottle. Thanks Hydroflask!
Elliot Gorr
Always great to have another lid
Familiarity:

I've put it through the wringer
The seal came out of my last lid. It's great that Backcountry has even the little things I need!
Jonathan Jones