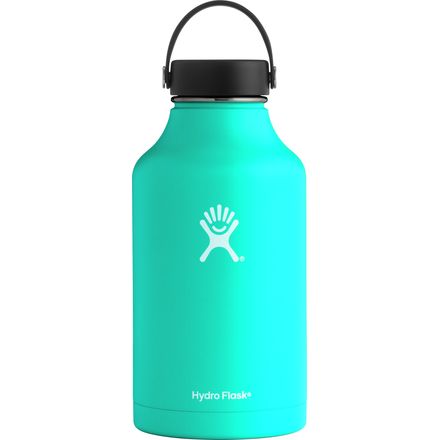 Colors
64oz Wide Mouth Growler
Instead of crushing cans of cheap swill all weekend during your camping trip, load up a fresh pour of your favorite local IPA into the HydroFlask 64oz Wide Mouth Growler. TempShield insulation keeps your brew cold and carbonated for up to 24 hours, so it's still crisp when you get to the campsite, and durable 18/8 stainless steel construction ensures your precious beer won't be lost when you accidentally knock it over during a rousing game of bocce.
TempShield insulated
18/8 stainless steel construction
Sweat-free powder coat finish
Keep cold up to 24 hours, hot up to 6 hours
Includes Flex Cap
Also compatible with Wide Flat Cap, Hydro Flip Lid, Wide Straw Lid, and True Pint
Unanswered Question
Is this labeled to be filled at a brewery? Is it a screw on cap?
Rikki Evans
Does its job
Familiarity:

I've put it through the wringer
Keeps warm drinks warm and cold one cold. Would buy again
Tyrannosaurus Dex
Good color and size for every people
America V.
a este thermo le pongo hielo y agua y me dura bastante tiempo el agua fria
oly
Awesome Bottle
Familiarity:

I've put it through the wringer
Great size for having cold water all day.
Chad Cordell
this bottle is awesome, it holds just the right amount of water in it.
Bryce Galloway
Amazing
Familiarity:

I've put it through the wringer
I have a couple of these now and I love them. Obviously the size would make it difficult to bring this along on a trip, but it works fantastic for daily use at home or at work. I usually fill one of these up in the morning and use it all day while working. I'd recommend a Hydroflask straw lid, as it makes it easier to drink out of the 64 ounce.
Must Have!!!
Familiarity:

I've used it several times
This is the perfect vessel for any liquid, from water to coffee to especially beer. I use this growler mostly for beer while I'm on road trips and it keeps the brew cold even day(s) after it was poured from the tap. Highly recommend.
Sophie Shinsky
Love it!
Familiarity:

I've put it through the wringer
I absolutely LOVE this hydroflask. I keep it in my car at all times when empty to anticipate my next beer or kombucha growler fill.
Sara VanderWaal
Solid
Familiarity:

I've used it several times
Exactly as expected. Fits a bunch of water and keeps it cold. We use this to refill our smaller water bottles, and its been a great system!
Jacqueline B.
I got this for one of my kids for sports and stuff over the summer and he loves it.
Colten Davis
Use it for Liquids of Any Kind
Familiarity:

I've put it through the wringer
Same great quality as I've come to expect from Hydroflask. It works great and keeps my water or beer cold for hours on end. Especially great for car camping.
Nick Chan
I have a 64 oz Hydro Flask that is 6 or 7 years old and I love it because it keeps my water cold all day if I fill it half way with ice in the morning. I bought a new one so that I can have two for yoga. If I fill the new one with the same amount of ice in the morning the ice doesn't last half as long as it does in my old one and the water is warm by the end of the day. The manufacturer must have changed the insulation. My old one says "Vacuum Insulated" on the side. The new one says "Temp Shield Insulation" on the bottom. Oh well... life goes on.
Matthew B.
Great for keeping hydrated all day, and liquids in all night.
Anthony Webster
This water bottle has been a game changer! I love being out all day and always having water on hand. Would be great for hiking, sports, etc. the black has been great too!
Awesome Water Jug
Familiarity:

I've used it several times
I love this water bottle. It is durable and keeps what ever liquid I put in it cold for a long time. very useful for the long hot summer days when your working on your yard or any other outdoor activity.
Eric Nakamura
You can never have too much water
Familiarity:

I've put it through the wringer
Are you always running back and forth from the water fountain? Do you love really really cold water? Then this thing is for you!

It's seriously with me at all times. Drinking out of it without the straw lid can be awkward, especially when driving. Highly recommend getting the straw lid.
Sunn Kim
A Must Have
Familiarity:

I've put it through the wringer
Love this growler. Keeps water could for hours on end. Left this in my car on a 100 degree day for several hours, came back and there was still ice in the growler. Makes drinking water fun!
Courtney Scott
I love Hydro Flask gear. I purchased this rather large bottle for my son who was working construction in Southern Utah in 115 F heat over the summer. This kept his water cool all day. Really durable as it definitely took a beating and the color has not scratched at all. The loop handle makes it easy to carry around. It is too heavy for hiking but great to keep around camp or in your car for after activities.
Lisa Edlund
Vacuum Tight!
Familiarity:

I've used it several times
With a vacuum tight seal this will keep liquids good for far longer than a normal container. It also keeps colds cold and hots hot, regardless of the temperature outside. Great container for any and all liquids!
Jorgen St. John