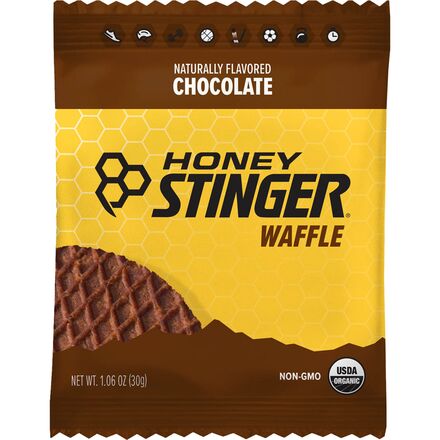 Colors

Detail Images

Videos

Community Images
Get buzzed.
Everybody loves waffles, but Honey Stinger's 16-Pack of Stinger Waffles might elevate your love to the next level. Not only are they delicious (with flavors running the gamut from lemon to vanilla to chocolate to strawberry), but they pack a natural nutrition punch that's tastier than lab-developed frankenbars. Most of the energy comes from honey, which is easy to digest so you never feel like you just ate a brick. The chewy texture of the waffle is just right—not too hard, not too soft—and they're so tasty that you'll probably find yourself snacking on them even when you're off the bike or trail. Each box comes with 16 individually wrapped waffles that are easy to stash away in a pocket. Heads up—Honey Stinger waffles contain wheat, soy, and eggs, so they're not for folks with allergies.
16 individually wrapped waffles
160 calories per waffle
Contains wheat, soy, and eggs
Moe Lauchert
If you haven't tried these...
Familiarity:

I've put it through the wringer
Do yourself a favor and pick some up. They are crazy delicious. My wife and I love them, we make sure we always have a handful in each of our packs when we're backpacking. And we may or may not keep a stash of them in our pantry at home just because.
Tyson Purkey
I take these everywhere - backpacking, camping, hiking, skiing, road trips, etc. They're made with all natural ingredients and taste amazing. So far I've tried the honey and vanilla - both are great, but honey is my favorite among the two. These pair with an almond butter pack make for a really great snack for an energy boost. They're soft and chewy with a slightly crispy shell, just like a true thin waffle. My only complaint is that they may be slightly overpriced for what you get. I wish two waffles came in one package for an almond butter waffle sandwich. But all in all, these rock. I'll be buying more soon.
Brandi Barker
I love taking my Honey Stinger Waffles to all of my rides.
They are so delicious!!!

Manuela
Tasty snack
Familiarity:

I've put it through the wringer
Can't go wrong with honey stinger, and these waffles are no exception! Be it a long day in the saddle, hiking the backcountry, or shredding the slopes I always make sure I've got one(or several) of these with me. Plus, backcountry always has great deals and customer service so I always have them shipped straight to my front door in bulk 👍
Sterling Watson
These are great during rides or just snacking. Always have some on hand.
Eric White
Amazing
Familiarity:

I've put it through the wringer
Great to have while on the go, period. Ski touring, hiking, biking, fishing, traveling, etc.
Grant Kates
Charles Denney
Delicious
Familiarity:

I've put it through the wringer
These are a great snack to bring with you on a ride. All of the flavors are good. definitely worth trying.
Travis McGrew
I bring these along with Justin's packets and make PB sandwiches with them. Mmmmmmm
CaseyBurrows
Waffles
Familiarity:

I've used it several times
I really enjoy as a side to breakfast. Also as a mid day snack I added peanut butter with it to get a few more calories. What is more enjoyable honey and peanut butter.
Mack
Quick Fix
Familiarity:

I've used it several times
These waffles are great for those adventure goers that don't like spending too much time in 1 spot eating. They are a quick grab and go fix. They have different flavors, I would recommend the chocolate. This was initially a recommendation I received from a customer who eats them with his coffee at work each morning. Since Im not a big breakfast guy, I tried the same routine and I love them. Took 2 boxes to CO with me and they made great "tie-over" snacks at the cabin as well as out on the trail. They are small and you can pack lots of them for your hiking buddies because they won't like what they have once they try these.
Connor Gross
Delicious
Familiarity:

I've put it through the wringer
These taste great and are a nice change from performance bars during your workout
Ben Melini
So Good!
Familiarity:

I've used it several times
These are just about the most delicious way to get energy before, during, or after a run/workout. My biggest issue is the overwhelming desire to just snack on them during my downtime.
Brandon Madsen
I love the waffles. They are great. Honey Stinger makes the best waffles. Everyone else is jealous. But seriously, these are a good mid ride energy boost. They are tasty, and easy to digest. They do tend to crumble though, so keep them in a spot with less movement.
Braydn Tanner
Waffles for the Win
Familiarity:

I've put it through the wringer
These are the perfect size snack for bike ride or a ski tour. The size fits nicely into a pocket therefore making them easy to access on the go. They offer the perfect amount of sweet and give energy to power through the rest of the adventure.
Pierre Lemire
great tasting energy
Familiarity:

I've used it several times
these pack great and are perfect for that boost of energy you need to make it to camp or back to the trailhead. I always have some waffles in my pack.
Ryan
Great on the go snack. Provides fuel while tasting yummy.
Taylor
Brutally Delicious
Familiarity:

I've put it through the wringer
Cant stop eating these things. One of few "trail snacks" that taste as good on the trail or sitting on your butt on the couch.
Craig L
These are so good I eat them when I'm biking, running, hiking, camping, etc. they are defenetly delicious they are not heavy on the stomach and ones you eat one you will justify eating them as snacks too.
Bryce Galloway