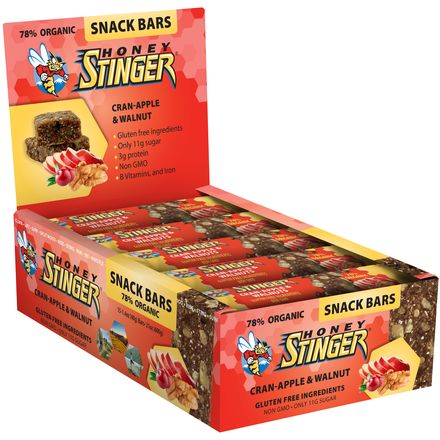 Beat hanger.
Finding a new pre-workout fuel source that isn't loaded with sugar and has clean ingredients you can trust is a pretty exciting thing. Sure, we know we're just talking about a nutrition bar here, but Honey Stinger's Snack Bar comes in four creative flavors, is made with non-GMO and gluten-free ingredients that are high in protein and "good" fats, and has a touch of sweetness courtesy of honey rather than high fructose corn syrup or other processed sugars. The 4p.m. crash towards the end of the workday is especially hard to deal with when you're planning on driving straight to the trails to log a few miles before dinner, and having something like Honey Stinger's Snack Bar to reach for can save your run from becoming a miserable, cramp-filled slog. The bar's low sugar content will help you avoid the dreaded spike-then-crash halfway through your workout, and you'll be able to take advantage of sustained energy from the high-fat nuts and grains. You can thank us later as you check out your mile splits with pleasant surprise over a giant bowl of pasta.
Peanut Butter and Jelly
Familiarity:

I've used it several times
I don't know if I got a bad batch but these bars don't have the great flavor I am used to from Honey Stinger. I love their waffles and gels. Underwhelmed with this bar as it has no flavor whatsover. I'll need to try one of the other flavors. It's nice they have some protein for recovery but they need to work on the flavor.
Jason True