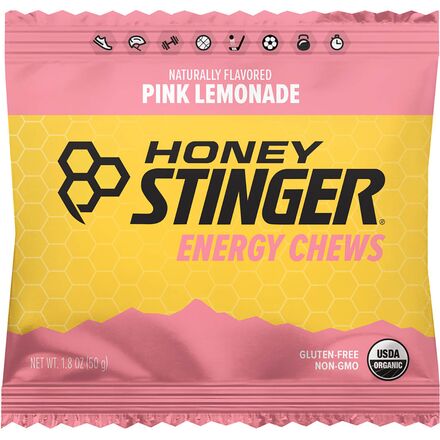 Colors

Detail Images
Eat and run.
There's no shortage of energy foods on the market, but its much preferred that snack consumption entails eating as much "real" food as one can get in a reasonably sized package, and that's where Honey Stinger's Organic Energy Chews come in. Based primarily on honey, this pint-sized package contains a hefty handful of pint-sized poppers that deliver 160 calories per package of easy-to-digest carbohydrates, along with a little bit of electrolyte. The Lime-Ade and Coca-Cola flavors even throw in a little caffeine for extra kick when you're really hitting bonk town.
Keep your energy levels high with this chewy treat
160 calories per package
Small size conveniently stows in vest pocket
Ingredients do contain pectin
Sold in packs of 12
Keeping On Truckin'
Familiarity:

I've put it through the wringer
I love snacking on these for any activity, whether it be a ski tour, bike ride, or a run. All of the flavors are super good, and they are really easy to eat and digest while doing high-intensity activities.
Porter Trapp
Always carrying
Familiarity:

I've put it through the wringer
I love the Honey Stinger Energy Chews, especially Cherry Cola and Grapefruit flavors. Whatever the outdoor activity, I always keep a bag with me.

I usually eat 2-3 chews when I start to get hungry on long runs. Gives a burst of energy, quells hunger, and leaves plenty leftover if I need more.
sydlynch
Great flavor and energy...
Highly recommend these for your hiking,cycling and running.... gives you that burst of energy when you need it.
Debra H.
I use these cycling and hiking the trails. A great energy burst when I need it. Tastes great and gives me that burst of energy.
Debra H.
Great snack during long runs
Familiarity:

I've used it several times
I purchased these to bring with me one longer runs and hikes. I love the pink lemonade flavor as it makes these very easy to eat. My only problem is that there are a lot of chews in each package which means they take a while to eat if you are in a rush.
Casey
I'm a big fan of Honey Stinger Products . . . I generally love the taste of their products but Limeade and Pink Lemonade need some work. Very Bland. My favorite is Pomegranate Passion Fruit!
Marc W.
Sugary nitrous for the trails. All the flavors are great. More addictive than crack. Open a bag and you'll neck them all.
Mark Simon
These energy chews are up there on the list of food I like to eat when exercising. They taste pretty good and seem to do their job pretty well. Everything you would expect from Honey Stinger
Sam Broome
Cherry cola!
Familiarity:

I've put it through the wringer
after running out of my initial box of the limeaid flavor that i loved, i decided to try a new flavor and went with the cherry cola this time. Same great energy (both have caffeine) and an awesome taste. Great as a mid day pick me up or some easy to eat quick energy during a long run, ski day, bike ride, etc.
Drew R
Quick energy that tastes good
Familiarity:

I've used it several times
These are the best tasting chews I have tried, and they are easy to digest on long runs. I prefer the cola flavor, but the pink lemonade tastes really good too.
Brandon Madsen
Staple in my active life
Familiarity:

I've put it through the wringer
Biking, backpacking, hiking.. you name it and these are in my pack. Easy to carry and eat with a lot of good flavors!
matt
Adult Fruit Snacks -Caffinated!
Familiarity:

I've put it through the wringer
These are great adult fruit snacks for all your adult situations! Whether you're hiking through urban European cities or domestic forest trails, pre-gaming for your Krav Maga or Muay Thai class, or simply running errands on the weekend after your kid's gymnastics class and won't have lunch until 3:00 pm again, Honey Stinger Energy Chews are your go-to snack!

They have the consistency of Annie's fruit snacks, but the pieces are huge by comparison and unfortunately aren't as taste gratifying.

The cherry cola & lime flavors have the added benefit of 32 mg of caffeine! Great for staving off caffeine withdrawal headaches when you cannot get your espresso fix. The other flavors are caffeine-free. All are organic, gluten-free, & lactose-free! There's even 100% of the daily value of vitamin C & 40 mg of potassium.

They are also a great snack while reading online product reviews!
Philip Cantore
PEDs
Familiarity:

I've put it through the wringer
The legal and delicious version of PEDs. Whether it is biking, hiking, running, or even to stay alert at work, these PEDs will keep you ahead of the game and ahead of your opponents. Who doesn't love some PEDs?
Christopher Siepmann
YUMMM
Familiarity:

I've put it through the wringer
Honey Stinger is making the tastiest trail treats. They are delicious and nutritious. Yes, the Honey Stinger Organic Energy Chews are like eating candy. However, I feel the energy boost. When my stomach is growling for calories, but the high aerobic activity will not afford me the time to eat a sandwich, smashing a few of these chews is the perfect option. I notice the satisfaction of eating a snack. I also love that there are no artificial sweeteners because they use honey!
Patrick Law
Tasty Treats!
Familiarity:

I've used it several times
These things are awesome! I got the limeade flavor and they are seriously like candy. I used them to fuel during a half marathon and they were great. Will definitely use for my next one. Easy to open and eat on the run. No stomach issues, great source of quick energy and the little caffeine hit helps give that extra boost. Can't wait to try the rest of the flavors.
Drew R
I really enjoyed the flavor of the grapefuit chews. They gave me the energy needed for my backpacking trip and tasted great as well. My go to gummies.
Sully
great tasting
Familiarity:

I've used it several times
about as good as energy chews can taste. keep them in an inside pocket or they get pretty chewy
James Bleuer
Fantastic flavors
Familiarity:

I've put it through the wringer
Excited to try out the Fruit Smoothie, a blend of three different chews in the package, but I love the Cherry Cola and the Limeade!
Perry Hall
I Dream Of Cherry Cola Chews
Familiarity:

I've put it through the wringer
SO DAMN GOOD. I can't stop eating them. Seriously, help. They make me stoked to get on the skintrack and singletrack. Other flavors are good, but not salivate while writing this review good. These are easy to digest and can keep the bonk from hitting.

Not much to add to a 5 star review for 168 reviews, but wanted to express my love of the Cherry Cola.
Connor Johnson
Love the cola flavor, haven't tried the others yet. Great ingredients to keep you going throughout the day.
Jason True