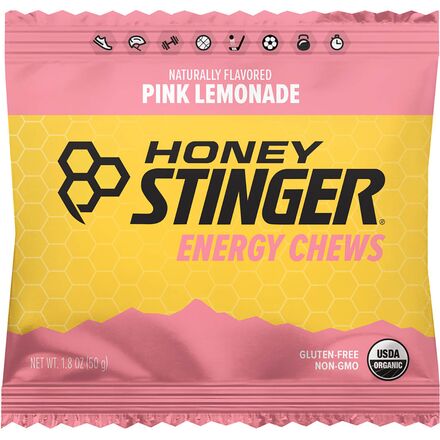 Colors

Detail Images
Eat and run.
There's no shortage of energy foods on the market, but its much preferred that snack consumption entails eating as much "real" food as one can get in a reasonably sized package, and that's where Honey Stinger's Organic Energy Chews come in. Based primarily on honey, this pint-sized package contains a hefty handful of pint-sized poppers that deliver 160 calories per package of easy-to-digest carbohydrates, along with a little bit of electrolyte. The Lime-Ade and Coca-Cola flavors even throw in a little caffeine for extra kick when you're really hitting bonk town.
Keep your energy levels high with this chewy treat
160 calories per package
Small size conveniently stows in vest pocket
Ingredients do contain pectin
Sold in packs of 12
Pack a punch
Familiarity:

I've used it several times
These are really chewy, yummy energy chews. They can be a little sticky depending on the flavor as others have said. There are also a lot of chews in each pack, which can be good or bad. Sometimes it's almost too much, but I'm sure I'll be grateful during ski season when I have these on the mountain.
Brandi Barker
These are my go-to pre or mid ride snack. My favorite flavors are the cherry Cola or the Pink Lemonade. About to order another box right now! Let me know if you have questions on any other Stinger products.
Austin DeSilvia
Love these!
Familiarity:

I've used it several times
These chews are great! I initially used them for running but switched to gels as there are a lot of chews in each pack and they do take a little while to eat. I now use these for hiking and climbing and they work and taste great!
Casey
I love getting packs of these and just scattering them around. I break one open when I feel my blood sugar getting low, i'm just tired, or my friends need a pick-me-up. I have so far tried the lime and grapefruit flavors and like them both a lot. Some flavors are caffeinated and some are not so watch out for that. The only reason why i selected 4 stars instead of five is that the gummy's can be a little sticky so they can be hard to eat on the go, but i have only had that issue with the grapefruit, the lime flavor seemed to be drier on the outside.
Nicholas Dey
The Best
Familiarity:

I've put it through the wringer
From running to hiking to biking, these honey stingers are my go source of energy out there. They really do give you that extra boost that you need, and work fairly quickly as well. The orange and pomegranate are my two favorite flavors, but you really cannot go wrong with any of them. Quick energy with a great taste!
Caleb Lecker
Stingers
Familiarity:

I've put it through the wringer
Love the flavor, we use them all the time while biking and they give us plenty of energy to keep going through the whole ride.
Leigh Stokes
Great tasting energy
Familiarity:

I've put it through the wringer
I pretty much use only honey stinger products when training and racing on my road bike. I like these chews because it's a change up from jels. The best part about these are that they don't give you that nasty "gut" feeling I've gotten when eating multiple chews during a long hard ride. I gave them four stars only because they can be difficult to eat while on the bike...but I usually open the package in my jersey pocket before starting my ride and this works fairly well. Overall, fantastic tasty product for any endurance sport!
Sterling Watson
These are my all-time favorite chew. They are easy to eat on the go and are really satisfying. Only bummer is I have to share them and one pack is never enough!
Eric White
Energy Candy
Familiarity:

I've used it once or twice and have initial impressions
Beware - these are pretty tasty and you may be surprised how quickly they're gone. Took them on a backpacking trip - nice little pick-me-up, and easy to digest. I'm usually not too fond of the taste of energy gels and chews, but the pink lemonade chews were pretty frickin yummy. I'll definitely try some other flavors!
Laura Mascari
Eating One as we speak
Familiarity:

I've used it once or twice and have initial impressions
Pretty delicious. Will report back on energy levels.
Sam Hurst
Tasty
Familiarity:

I've used it several times
I was surprised how good the pomegranate passion fruit tasted. The passion fruit is weak but the fruit chews still taste great and don't leave a bad after taste in your mouth. I throw one in my golf bag for a little pick me up during a tournament for practice round.
Nelson
Height:
5'9"
Weight:
160lbs
Great for any activity!
Familiarity:

I've put it through the wringer
These energy chews are the perfect snack for a bike ride, run, or anything else that gets you outside. I've tried 5 of the flavors and they are all really good! Throw them in your pack for a tasty snack at the summit.
Jeff Collier
Keeping On Truckin'
Familiarity:

I've put it through the wringer
I love snacking on these for any activity, whether it be a ski tour, bike ride, or a run. All of the flavors are super good, and they are really easy to eat and digest while doing high-intensity activities.
Porter Trapp
Always carrying
Familiarity:

I've put it through the wringer
I love the Honey Stinger Energy Chews, especially Cherry Cola and Grapefruit flavors. Whatever the outdoor activity, I always keep a bag with me.

I usually eat 2-3 chews when I start to get hungry on long runs. Gives a burst of energy, quells hunger, and leaves plenty leftover if I need more.
sydlynch
Great flavor and energy...
Highly recommend these for your hiking,cycling and running.... gives you that burst of energy when you need it.
Debra H.
I use these cycling and hiking the trails. A great energy burst when I need it. Tastes great and gives me that burst of energy.
Debra H.
Great snack during long runs
Familiarity:

I've used it several times
I purchased these to bring with me one longer runs and hikes. I love the pink lemonade flavor as it makes these very easy to eat. My only problem is that there are a lot of chews in each package which means they take a while to eat if you are in a rush.
Casey
I'm a big fan of Honey Stinger Products . . . I generally love the taste of their products but Limeade and Pink Lemonade need some work. Very Bland. My favorite is Pomegranate Passion Fruit!
Marc W.
Sugary nitrous for the trails. All the flavors are great. More addictive than crack. Open a bag and you'll neck them all.
Mark Simon
These energy chews are up there on the list of food I like to eat when exercising. They taste pretty good and seem to do their job pretty well. Everything you would expect from Honey Stinger
Sam Broome