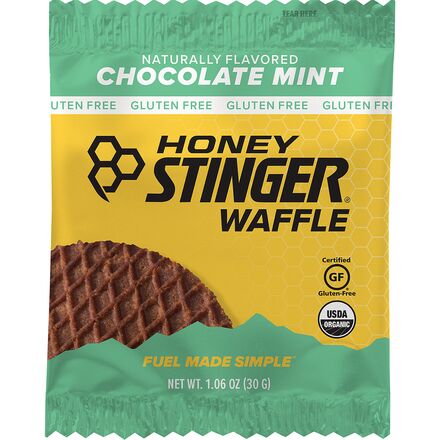 Colors

Detail Images
It's okay to Forget the Syrup.
Honey Stinger Gluten Free Waffles are packed with energy for any exercise and make the perfect alternative to the world of lab-grown gels and bars. These tasty circles of grid lines are made with easily digested, natural Ingredients, and you can feel the fast and reliable energy soon after consuming them. Stow these organic honey waffle treats in your hiking pack, vest, or cycling pocket and power your gluten-free adventures with the now-classic crunchy yet chewy texture.
Maintain your energy with this gluten-free waffle
Crafted with a blend of gluten-free ingredients
Organic honey provides quick and easy energy
Single serving package stows away in multiple pockets
So good!
Familiarity:

I've used it several times
You would never know these are GF, they are delicious and my favorite trail snack!
Perry Hall
Great product. I'm celiac so I was bummed when diagnosed, but so happy to find these for trail snacks.
Jason True
The best trail snack
Familiarity:

I've put it through the wringer
I always have a few of these tucked in my pockets when I go ski touring. They're super tasty and always hit the spot no matter what I'm doing.
Lily Krass
Dangerously Good!
Familiarity:

I've used it several times
I bought these to keep as an emergency reserve for pre-gym in case I forgot a snack and they didn't last long in my trunk because they are super duper tasty. They are very tasty!
Natalie Ramon
Casey Jorgensen
Too Good
Familiarity:

I've used it several times
I've purchased these waffles a few times and the box rarely lasts more than 10 days. Typically I don't have a compulsive eating issue, but these are the exception.
Reed Debus
Quick and Easy Snack
Familiarity:

I've put it through the wringer
Easy to pack and very filling for long rides. Great replacement for a bar on a long ride.
Joshua Stark
The best trail snack.
Familiarity:

I've put it through the wringer
I live on these in the winter. They are so much tastier than gels or chews, and they're small and easy to keep in a pocket. It's the perfect amount of food for a quick energy boost on the skin track or before a run.
Lily Krass
Best Snack in a Pinch
Familiarity:

I've put it through the wringer
These + a maple syrup packet = pure heaven on the trail.
Andrew N.
Delicious Trail Cookies
Familiarity:

I've put it through the wringer
Honey Stinger is making the tastiest trail treats. They are delicious and nutritious. Yes, the Honey Stinger Gluten free Waffles are like eating cookies. However, I feel the energy boost. When my stomach is growling for calories, but the high aerobic activity will not afford me the time to eat a sandwich, smashing one of these waffles is the perfect option. I notice the satisfaction of eating a snack. I also love that there are no artificial sweeteners because they use honey! The only problem is that I have a hard time not eating these Honey Waffles for desert at home.
Patrick Law
I'm a big Honey Stinger fan, saw these on the site, and decided to give them a try in Salted Caramel. The gluten free angle is cool but I thought they taste kind of bland. I'll probably buy the normal waffles in vanilla again next time.
Than Volk
I loved the salted carmel flavor. Gave me the energy I needed but I also sometime just eat as a tasty snack.
Sully
Bought these for my ball and chain and ended up eating most of them before I could give them to her. ;)
johngchrist
Salted Caramel flavor is SUPER sweet
I'm a huge fan of honey stinger products and especially these waffles but the salted caramel flavor is WAY too sweet for me. Literally tastes like you're eating a See's Candy caramel lollipop. Which isn't necessarily a bad thing but just not what I am looking for mid bike ride. I will say, my boyfriend loves the caramel ones so they're definitely tasty to some people, just not my cup of tea.
Sarah Edwards
Keep these on hand for ski tours, delicious!
Jason True
gimme dat waffle!
Familiarity:

I've put it through the wringer
Honey stinger is my go-to producer for on bike snacks and these waffles are my pride and joy. I honestly always have one in my jersey pocket for rides and have some in my car, backpacks, purses for emergency bonk situations. Seriously tasty stuff and easy on the stomach to digest. I like the cinnamon flavor, it tastes a little less sugary than the caramel to me and when I put it in my jersey pocket it gets all warm and gooey. YUM
Sarah Edwards
Brutally Delicious
Familiarity:

I've put it through the wringer
Cant stop eating these things. One of few "trail snacks" that taste as good on the trail or sitting on your butt on the couch. Truth be told I think the caramel flavor of these is better than the normal gluten ones. Definitely less crumbly on ski tours.
Craig L
As my review title might indicate, I literally eat one to two of these every day.

After I get off work, I generally lack motivation to hit the gym, and I'm tired and hungry. To try and cope with these third world issues, I began telling myself that every day after work, I could eat a delicious waffle treat on my way to the gym. (Maybe it's like candy at the doctor's office. I don't know why it works, partially because I'm a child, partially because these are the most delicious things on the planet).

Well, now I don't miss a gym day.

If gym = waffles, count me in. It's just simple math.
Mackenzie Martin
I've purchased these multiple times and never been let down, they are just tasty. Throw a honey stinger gel in the middle for a nice treat in the middle of any adventure.
Jason True
Great source of nutrition!
Familiarity:

I've put it through the wringer
Calorie intake is a big part of a successful triathlon nutrition plan and gels dominate most conversations. While gels serve their purpose, its always nice to consume something solid. I started using Stinger Waffles during training rides a couple years ago and have maintained a constant supply ever since. They are now my go-to for transition nutrition. I typically keep one or two at transition for all my races. While there may be quicker ways to take in calories, it's always nice to eat something solid and feel comfortable knowing it wont cause distress down the road.
James Griffin