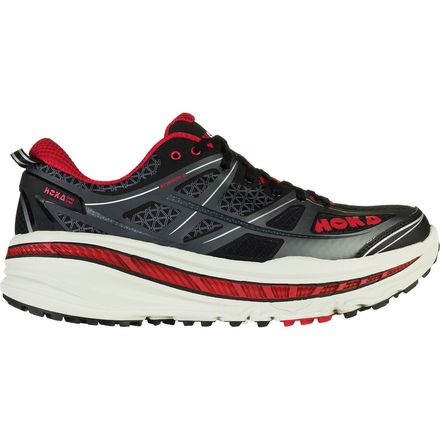 Colors

Detail Images
Trails, you've been warned.
Trails don't stand a chance when you're wearing the Hoka One One Men's Stinson 3 ATR Running Shoes. The no-sew SpeedFrame upper eliminates unnecessary weight to help you nimbly hop over fallen trees, while ComfortFrame at the heel and midfoot improves your fit to help prevent anything coming loose when crushing rocky terrain. Late stage meta-rocker geometry and an external heel counter enhance your gait cycle and soften the strike of your foot to give you a supremely comfortable foot roll. The compression-molded EVA midsole eats up the impact found on varying terrain and the durable, high-abrasion rubber outsole stands up to the test of running trail after trail. Equipped with 3mm ATR traction lugs and longitudinal flex grooves, the Stinson 3 ATR will have you bouncing from rock to root in pure comfort.
No-sew SpeedFrame upper
ComfortFrame at heel and midfoot
Compression-molded EVA
Late stage meta-rocker geometry
External heel counter
High-abrasion rubber outsole with 3mm ATR traction lugs
Longitudinal flex grooves
good shoes
Familiarity:

I've used it several times

Fit:

True to size

Size Bought:

10.5
These are good shoes. For some reason the quality does not seem as good as on my last pair of hoka stinsons. I'm older and a little overweight. Cushioning is a premium for me. The cushioning on these is better than my other non-stinson hoka's.
Kevin C.
Height:
5'8"
Weight:
180lbs
Please go back to the old version
Familiarity:

I've put it through the wringer

Fit:

Runs small
I've been running in the Stinson for years (this is probably my 12th pair) and it has been my best friend for long runs over 6mi. This latest iteration I find to be terrible; I've held out writing this hoping that after putting some serious miles on them it'd get better. I'm just very disappointed that such a great shoe has been ruined.

My main gripes with new Stinson 3 are:
- The uppers are now bulky, which don't breath well
- The treads wear super fast
- The sole isn't as stable over varying terrain
- I now get weird rub on the inside side of the sole (really weird)
- They don't come with speed laces
- The tongue is bulky and moves around

Is there talk about moving back to the older design? Or overhauling this current version? Is this terrible new version a result of being bought by Deckers?

I know I'm not the only one... what have most people switched over to? Altra?

NJ2CA
Great shoes
Familiarity:

I've used it several times

Fit:

Runs small

Size Bought:

9.5
Buy a half size up...they run small. I run in these shoes (road to trail/grass) a couple of times a week to supplement MTB riding on days when I can't ride/have other obligations. Very low miles/week. These are very comfortable right out of the box, no break in period.
Mike Newberry
Height:
5'7"
Weight:
150lbs
Great for sore knees
Familiarity:

I've used it several times

Fit:

True to size
Bought these shoes in order to train for a race. Haven't run much in last 10 years because of shin splints and sore knees and thought the extra cushioning might help. Sure enough running is no longer as rough as before and these shoes are like running on pillows. I have taken them on both road and trail runs and they excel at both. I'm a big fan!
Tom S.
Love my Hokas!
Familiarity:

I've used it several times

Fit:

Runs small

Size Bought:

10
This is my 5th or 6th pair of Hokas, and I think my 3rd of the Stinsons, although model has been updated a bit. Order about 1/2 size up from your normal size and you'll be good.

I'm not a heavy runner, but got this for a 10k that our family is running. After a while, they will migrate to being my everyday shoes. I also use them at trade shows. Perfect for being on your feet all day on concrete floors.
Mike Horn
Height:
5'11"
Weight:
190lbs
too narrow
Familiarity:

I've used it once or twice and have initial impressions

Fit:

Runs small
too narrow on the right foot, unlike previous models.

would cause blisters if i ran in the shoes
spencer Y.
Brad ,the truth
Familiarity:

I've used it several times

Fit:

Runs small

Size Bought:

11
I discovered Hoka One One while searching for a shoe that would give me maximum cushioning and a degree of stability. Last year I went through treatment for 4th stage Non Hodgkin's lymphoma and was in an accident where I broke five bones in my left foot and was not a candidate for surgery. This left me with arthritis and chronic plantar fasciaitis and Achilles's tendonitis. I could barely work, much less train. Since I began to wear Hoka I am up to 12 to 15 thousand steps a day. That translates to 5 1/2 to 6 1/2 miles a day. I may be only walking today but compared to being in chemotherapy treatment and wearing a walking boot (6mos) this time last year. Many people around me describe me as a walking miracle. I'll take that but add that my Hoka One One's have been a big part in His plan. I own 4 pair; Constant (used for every day work), Bondi4 & Stinson3ATR(serious walking and exercise) and an orange pair of Conquest 2(knocking around). I never put anything else own. I do encourage you to not only call Back country.com, but Hoka as well. They all have a different fit and feel. The Stinson 3 is highly cushioned and well designed for the trail. But runs very small. I already wear a half size bigger in Hoka than New B or Asics but needed to go up a full size in the Stinson.

The bottom line is, I love Hoka. I would recommend them to anyone.
Bradford Plumley
Height:
6'1"
Weight:
218lbs
I bought 3 pair...
Familiarity:

I've used it several times

Fit:

True to size

Size Bought:

11.5
I've liked Hoka Shoes, but my only complaint is the forefoot area is a little small in some shoes. This model was great for me. Same great cushioning and the right fit. That's why I bought2 more.

Matthew A.
Height:
6'0"
Weight:
230lbs
I was hoping these bad boys were going to work. I wear a size 12.5 in running shoes and have a wide foot with a high arch. These guys were very narrow. I was hoping since they were high cushion that they would run wide but I was wrong. :(
Vaughn Harward
Excellent shoe
Familiarity:

I've used it several times

Fit:

True to size

Size Bought:

10.5
I have been running races (from 5ks to half marathons plus
Sprint Triathlons) for 40 years. My knees and calves have been beaten up a lot over that time span. I am 6 feet tall and 225# so I need a shoe that can support me. This shoe is by far, are the most comfortable I have ever worn. I almost gave up running until I bought my first pair of Hoka shoes last year. They help me get through my run without the knee pain that I normally would have. I just ordered a second pair of this model today.
Chris I.
Height:
6'0"
Weight:
225lbs
So far so good
Familiarity:

I've put it through the wringer

Fit:

True to size

Size Bought:

11.5
I'm 6' tall and weigh 250lbs. These shoes make running enjoyable. As a bigger fella it's hard to find shoes that are comfortable when running the longer runs. I just finished my first ultra race 3 weeks ago in these shoes and I'm sure I didn't have these shoes the success would have not happened. It takes time to get used to the higher shoe, but well worth the learning curve. Highly recommend the shoes to anyone.
Joe R.
Height:
6'0"
Weight:
250lbs
Bad fit for me
Familiarity:

I returned this product before using it

Size Bought:

12
I used to run in the Stinson Tarmac which was a great fit for my foot. Then I switched to Altras because the wide toe box is just what I need. The Altras are not as well cushioned as the Hokas, so I thought I'd try the ATR. Unfortunately, the toe box is
narrower than the Tarmac and the heel is so wide that my foot slipped up and down in the shoe with every step just walking in my house. Other than the fit they seem like a good shoe.
max2mac2273486
Height:
6'0"
Weight:
195lbs
Saved my knees
Familiarity:

I've put it through the wringer

Fit:

True to size
Got these shoes over the summer...I had dialed back my running because I was having some pretty serious knee pain.

These shoes have saved me! I seriously love them. I can run pain free and the "bounce" of the cushioning has helped me to land on my forefoot where I know we're supposed to land to run ergonomically.

I do think they are a bit silly looking for wearing around after a run (doing errands, etc.) but honestly they've helped me out so much I don't care. The soles have held up well on a mix of trail and road and the overall quality is top notch
Cole
disappointed :(
Familiarity:

I've put it through the wringer

Fit:

True to size

Size Bought:

10
i was in love with the Hoka Stinson before they came out with the ATR. i had 600 miles on my old ones and decided it was time to get a new pair. naturally i went with the ATR. The sole feels stiffer than the old stinson and the uppers cut into my ankle bones.
because of my stubbornness and brand loyalty to Hoka i stuck with the shoe for 300 miles. they got a little better over time but on long runs with a lot of up and down my ankle bones get rubbed raw.
plz go back to the old stinson Hoka!!!
Paul Taylor
Height:
5'11"
Weight:
170lbs
not the same
Familiarity:

I've put it through the wringer

Fit:

True to size
been buying the Hoka for a long while and they say they upgraded there shoes but to me they down graded them...this shoe is not as comfortable as it once was and its deeper and cuts into my ankle bone..I originally bought the hoka because I had so many foot issues that I couldnt walk without daily foot pain and these shoes saved my life and I was now able to walk as long as I liked for miles daily or twice daily , run, hike whatever ..my feet stopped hurting just doing normal walking during the day and now they have done something to these shoes that they arent as thick or comfortable as they once were and my feet are again hurting me,,I can feel the ground again like all the other shoes out there.....causing pain..I used to purchase the stinson which is now stinson lite and the atr which was called something else and the boni ....I have just ordered the new stinson lite hoping that one is still the same ..if its not ,,I will again have to live with foot pain...why is it when a business gets big they start to make cheap.. .....sad
MARC G.