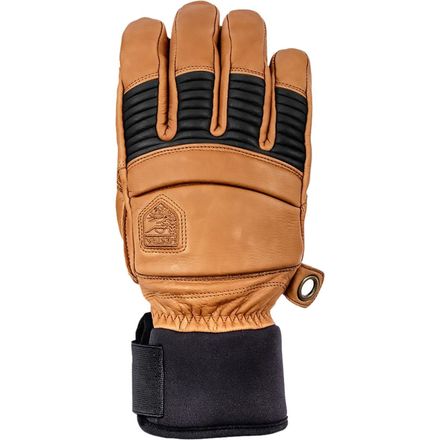 Colors

Detail Images

Community Images
You saw it here first, and you won't see it anywhere else.
Designed and tested by top freeskiers like Henrik Windstedt, the Hestra Backcountry.com Exclusive Fall Line Glove gives you performance, warmth, weather resistance, and you-can't-get-it-anywhere-else exclusivity. This colorway separates the Backcountry.com Fall Line glove from all the other gloves on the mountain, even other Fall Line gloves that you may encounter, and we pity the fool who tries to make off with yours!
Hestra's smart design and details ensure you won't have to buy a new pair of gloves next season. Back-of-the-glove Cordura stretches for ease of movement but retains the durability you depend on for season after season of use. The short neoprene cuff protects from snow without adding extra fabric where it's not needed. Hestra eliminated seams in areas that wear out most quickly, so holes aren't an issue, and durable cowhide leather palms won't get shredded when you're feeling lazy and take the tow-rope.
Exclusive Backcountry.com colorway
Durable leather shell
Synthetic insulation
Moisture-wicking Bemberg polyester lining
Neoprene cuff with hook-an-loop closure
Best gloves I have ever owned
Familiarity:

I've put it through the wringer
There is not much to say about these other than buy them if you are looking for a great glove to ride in.

They do take a little more care to maintain the waterprofness of the outter layer than some options especially in full synthetic, but the extra care is WELL worth it.

I ONLY buy Hestra gloves for riding in general and these are the favorites that I own.
Stephen McSweeney
Great Gloves
Familiarity:

I've put it through the wringer
These have been my everyday ski gloves for the past 5 seasons. They're still going strong but I liked this style so much that I decided to buy a pair for whenever the current ones wear out. They're comfortable, warm, durable and provide great dexterity though the price can be hard to swallow. On the coldest days, I opt for something warmer. They're also not the greatest in wet conditions though waterproofing helps and it's not much of an issue for me here in Utah.
Than Volk
Great all around ski glove
Familiarity:

I've used it several times
The fit was excellent, lots of dexterity! Hands stayed warmed as well during most days skiing.
Patrick M.
Game Changer!
Familiarity:

I've put it through the wringer
The Fall Line Glove is hands down one of the best gloves out there. The dexterity is incredible and they're super warm. I got the cork/black colorway, which is exclusive to Backcountry.com, and get compliments on them all the time on the chairlift. The Fall Line's will hold up after years of abuse, so it's definitely worth spending a few extra bucks on gloves that get the job done and will last several seasons!
Nolan Paini
Hestra gloves for the win!
Familiarity:

I gave it as a gift but have feedback to share
Bought these gloves for my dad for his cold weather and snow activities and he is obsessed with them. The gloves are remarkably warm without being overly bulky and the leather is very soft and smooth to the touch. He wears them for everything from shoveling snow to hiking to working in the yard. Overall a very durable and cozy glove!

Dad has fairly large hands and a size 10 fits well. Definitely worth checking out the Hestra size chat, because their glove sizing can be a little funky. Overall, seriously recommend these gloves to anyone who loves being outside and hates cold hands.
Sarah Edwards
Great except for a few little things
Familiarity:

I've put it through the wringer
Ive worn these gloves for about 3 years and am finally retiring them.

Pros:
- Great fit/comfort,
- Bombproof leather
- Low profile, easy to use cuffs and wrist straps
-Great dexterity,
- The mini beiner and loops make it easy to clip to the pants.

Cons:
- The insulation material immediately starts to compress, losing a lot of the insulation (especially the finger tips). Understandably, its not a super cold weather glove but I expected the insulation to last a bit longer. I definitely recommend buying on the large side in order to prevent the compression.
- The waterproofing started to fade after a few uses. The wax worked at first but by the end of the second season, I had to reapply every powder day to prevent the leather from soaking. They rarely soak through to make my hands wet, but the soaked leather would often freeze, making the palm slick and very hard to hold ski poles.

Garrett
AMAZING!
Familiarity:

I've used it several times
These gloves fit like a dream! Hestra knows what they are doing when they made these gloves. Great quality and will last a long time. Very warm but still functional.
MacKenzie C
Love these gloves!
Familiarity:

I've used it once or twice and have initial impressions
Of all the gloves I have purchased, these have to be my favorite. The craftsmanship is top shelf. I love the look of the tan leather with the black accents. They are quite warm (though I wouldn't rate them the warmest I've ever had) but extremely comfortable. If I had to pick one con, they do seem to run a little on the small side. However, I figured with the leather shell they are apt to stretch out and ultimately (hopefully) result in a perfect fit, especially since the next size up (10) would have been too long for my fat fingers. Even at $150 bucks, these gloves are worth every penny.
Daniel Y.
Comfortable and Warm!
Familiarity:

I've used it several times
Great glove. Warm and comfortable while still being very functional. I got the leather ones since im in drier conditions. If I were somewhere where conditions tend to be more wet id go with goretex glove. I usually wear a L-XL glove and the size 10 fits perfect for me.
Matthew Lundberg
Do you expect to have any other sizes in stock soon?
Drew Outdoors
Hey Drew - We have additional sizes of the Fall Line Gloves coming from Hestra over the next 2-3 weeks. What size are you looking for? Feel free to contact me directly with any additional questions.

- Kyle L. - Expert Gearhead
Kyle Livingston
Warm and Cozy
Familiarity:

I've used it once or twice and have initial impressions
First of all, I love the color combination of this Backcountry.com exclusive. They are unique, so no one is going to mistake these for their gloves! They are also very warm and comfy without sacrificing dexterity in the fingers. They also look a bit like workman's gloves, but I didn't choose them for their appearance alone. I prefer technical fabrics and a more modern appearance, but function over form, right? I ordered a size 8 and they are perfectly snug on my hand. I normally wear a Large to Extra Large in women's gloves and these 8's fit like a, well, glove. :) In regards to sizing, choose a glove you already own that fits you well, and compare it to the Hestra sizing. Chances are, the fit will be about the same. I look forward to many years with these.
Andrea B.
Good glove, could be better.
Familiarity:

I've used it several times
This is a very comfortable glove that looks really cool. The leather will probably last a very long time if taken care of. I do not know if the neoprene wrist clasp will last.

Throw the included carabiner away as soon as possible. The first day I had these gloves, the spring in the carabiner clasp broke while I was a walking around Vail trying to buy some sunscreen and one of the gloves dropped off the broken carabiner attached to my jacket. A $150 loss if a good samaritan had not picked it up and called my cell phone written on the inside. Second moral of the story: write your phone number on the inside.

Also, I wish Hestra would include the wrist strap lanyards that normally come on their gloves. I walked all over the town of Breckenridge looking for these straps. Not a single store had them. Mostly because these stores are more interested in selling clothing that makes it LOOK like you are a skier than selling clothing that will ACTUALLY help you ski. I finally found the lanyards at the grocery store the following day. Just include them, please.

Finally, the wrist clasp needs more than one velcro point. I have a size 7 glove which fits my hand very well. The wrist clasp is loose because there is only one setting based on a single thin piece of velcro which sets the wrist diameter.

I give this glove 4 stars based on the rating system set by backcountry.com, which is 'Pretty cool'. With the added wrist lanyards and a carabiner that doesn't instantaneously break, I would rate it as 'Love It'.
michael J.
Pretty good gloves
Familiarity:

I've put it through the wringer
This is a warm glove if it doesn't get wet. The initial fit is a bit small, but it stretches nicely after a few wearings.
The neoprene cuffs are great and fit nicely under jacket cuffs. The leather is supple and feels thin, but not in a bad way. The gloves are warm for me to 0 degrees, but I've been lucky to have hands that don't really get cold easily.
It's a great looking glove, but if you're going to use it in the snow a lot you need to find a good sealant or waterproofing wax. The waterproofing goop that comes with the gloves is essentially worthless. Snow melts and soaks into the gloves pretty easily, and even though the gloves are warm, the water eventually gets to your fingers and things go south from there. When it's really cold, the snow melt isn't as big a problem and the gloves stay mostly dry and warm; but when temps are around or just below freezing, these gloves don't perform well. I've had success with Sno-Seal as a way to keep these gloves water resistant and dry; apply early and often to warmed gloves.
If you really want bomber gloves that keep your hands warm and dry in cold and snowy conditions, these are fine if you pay attention to waterproofing; otherwise, find some with Gore-Tex.

UPDATE: So, after two seasons with these gloves, the stitching has come out of one fingers, making a nickel sized hole where the seam between the leather pieces has come apart. Not sure what their warranty policy is, or if my experience is typical, but if you are looking at these just know that they may begin to fall apart in the latter part of the second season. Also, per Karim's comment below: of course all leather gloves soak up water. My comment is about the waterproof wax that comes with the gloves--it is worthless. Find some Sno-seal to use instead.
Duckberry
Awesome!
Familiarity:

I've put it through the wringer
Awesome gloves, very comfortable and keep my hands warm even on very cold days when I wear them with my ibex merino liners, when the temperature gets really nasty and windy then these are not the gloves I use (anything single digits or less) I love the carabiner with the loops to keep your gloves together. The velcro wrist strap is also comfortable for a wide range of wrist sizes.
David Ronnow
Perfect fit and temperature.
Familiarity:

I've used it several times
Love everything about these.
Collin J.
How would you expect these to hold up to the abuse of a part time skier, part time knuckle dragger? I'm looking for a replacement for the Backcountry Inbounds Gloves I've finally worn out (that BC doesn't sell anymore? wtf?). As nice as Haestra's leather is, I'm a little worried about how it will take the abuse of edge grabs, hand plants, and general lay back hand dragging. Thanks
mandudebro
Hey mandudebro,



These will hold up great! They've held up a little over 2 seasons for me with only minor wear and tear.
Adam Saucedo
Great dexterity!
Familiarity:

I've put it through the wringer
Seriously some of the best out there! My hands don't usually get too cold but in temps around 10 to -10 these puppies have worked like a charm! Bought a size up just because I like a little extra room but they seem to run a tad small. They do break in after awhile so now they fit perfect. If you like a more snug fit maybe go for the size on the chart and let them break in over time.
Tim H
Nice feeling and looking gloves
Familiarity:

I've used it once or twice and have initial impressions
These fit great and feel bomber. Look awesome once you treat the leather. The printed out chart put me at a 9 maybe 10. the tens fit better so err on the size of slightly larger. Can't wait to try these out on the slopes tomorrow.
Collin J.
Good for Most Days
Familiarity:

I returned this product before using it
The Fall Line Glove is warm enough for most days on the slopes but it's not quite as warm as the Heli glove, which is the warmest in Hestra's line.

As a woman trying to wear men's gloves I found the dexterity to be lacking, but I returned these and purchased the women's version so hopefully the more narrow finger gates will prove to be more nimble. Overall I was impressed with the build quality of the gloves and I will definitely suggest them to my friends.

The rule of thumb with Hestra gloves is to size them to your feet. I wear a 7.5 in women's shoes and a 7 is exactly what fit me. However, I suggest you consult the size chart for the best fit.
Reed Debus
how do these compare warmth wise to the...
how do these compare warmth wise to the Hestra ski cross gloves?
Chris P.
Best Answer
They are going to be identical when it comes to the warmth they provide. They are a bit more expensive than the Ski Cross cause of the way they get stitched. The stitching on these and the Fall Line provide better dexterity.
Bill Porreca