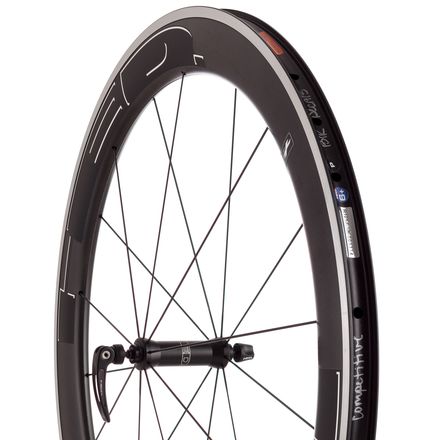 Colors

Detail Images
Ruling the flats and the climbs
Wheels of the deep-dish — greater than 50mm — variety excel on flat courses, but very often we find ourselves on courses riddled with hills. Now, if they were just long drawn out grades, then any deep-dish would do. But all too often, they are of the brutal switchback variety where drafting is quickly negated. The HED Jet 6 Plus Clincher is a wheelset for the switchbacks. It's a dangerous cliche to say that the Jet 6 is a 'one-quiver' wheel, but that's exactly how HED designed it. It's heavier than a traditional climbing wheelset, but for most moderate hills, it's still more efficient and inherently faster.
Over the past 26 years of engineering wheels, Steve Hed's end goal remains the same: simply make them as fast as possible. So, it's almost a given that HED aerodynamics are superb. However, what you might not know is that these wheels' aerodynamics are equally matched by their low rolling resistance. We have HED's C2 rim concept concept to thank for this. Essentially, C2 is about reduction of the two C's — less Cda (aerodynamic drag) and less Crr (rolling resistance). Accordingly, a 25mm rim width makes this possible, and is mainly responsible for the wider-is-better campaign that's been replicated throughout the market. But, you're certainly wondering, why wider? Well, the width provides what can be described as an 'aero shroud' for the rest of the wheel. This also changes the nature of the tire's contact patch with the road.
However, HED also knows that faster speeds require a heightened sense of control. This becomes evident through HED testing, as it found that rim depths which cross the forty or fifty-millimeter threshold grow increasingly more difficult to handle in crosswinds. So, HED engineered a solution that it calls Stability Control Technology, or SCT. In regards to the wheel shape, at 0-15 degree yaw angles, SCT reduces the force put on the wheels by side winds. This makes the Jet 6's 60mm depth handle more like a 30 or 40mm deep wheel in crosswinds.
HED laces the rims to its Sonic hubs, which feature silky ABEC5 bearings on oversized axles — 12mm in front and 15mm in rear. Oversized axles flex less, resulting in smoother bearing loads and less mechanical drag. And its not only the axle that received a bigger-is-better treatment, as the hub flanges are spaced as wide apart as possible in order to create a stronger bracing angle. And again, this results in increased lateral stiffness.
Easing the maintenance to the rear hub, HED included a grease port and carbon port cap. True, it's a subtle convenience, but rejoice that this capped port ensures that you'll no longer need to rebuild your rear hub after repeated washings.
As we mentioned, the fairing is bonded to the rim, which means that the spokes engage at the rim rather than at the end of the fairing. The result is not only an increase to aerodynamics, as there are no exposed nipples, but also to an increase in lateral strength. However, like all wheels, there are nipples, and for them, HED used Sapim hex-headed aluminum nipples. These are treated with a light thread-locking compound and are accessed from inside the rim. They anchor the venerable Sapim CX-Ray spokes. The 18 front spokes are straight-pull, while the 24 rear spokes are J-bend for both sides.
At the rear, you'll notice a two-cross lacing pattern on both sides. HED did this for a simple reason — with ever-stiffer frames, the force of stomping on the pedals was increasing force on the wheels, which has in turn reduced mechanical efficiency. To counteract these forces, HED stiffened up the rear wheel so that no power would be lost to wheel flexing, thus putting more power into driving the bike forward.
The HED Jet 6 Clincher Wheelset is available with either a Campagnolo or Shimano compatible freehub body. Please note that both freehub bodies accept 11-speed cassettes, and that they're easily swapped out with two 5mm hex keys. The wheels come with HED steel-shafted skewers, valve extenders, and rim strips. Also worth mention is that HED does NOT recommend these wheels for riders exceeding 190lbs.
A deep section wheel for speed that doesn't sacrifice braking
Aluminum braking surface handles the heat and rain better
Generous internal width improves traction and comfort
A dedicated carbon fairing boosts aerodynamics
Clincher profile for racing and training needs
HED continues to advance the development of aerodynamic wheelsets
Great wheels for the money
Familiarity:

I've put it through the wringer
If you are looking for any affordable aero wheelset that wont completely break the bank, I would strongly recommend the Hed Jet 6 Plus. The aluminum brake track does not compromise braking performance like you get with some carbon wheels. The 60mm depth cuts thru the wind like a champ and the weight penalty for the aluminum rim in minimal. I run these on my tri bike with 25mm contis and have been extremely satisfied.
James Griffin
aero and stiff with dependable braking
Familiarity:

I've used it once or twice and have initial impressions
I got a couple rides in on a demo set of these wheels and have initial impressions to share.

This is an aluminum rim with a thin fairing over the structural portion of the rim. You can squeeze the fairing with your hand because of how thin it is. I mention this because some customers have called in, surprised about it.

The wheel itself is stiffer than I'd anticipated, and the aero benefits are noticeable. As is always the case with HED, the quality and construction are solid. Considering the depth and the benefit of aluminum braking, as opposed to a carbon brake track that you'd typically find on a wheel of this depth, the claimed weight of 1,760 grams is reasonable. I would recommend this wheelset to anyone looking for a superbly dependable, aero, stiff wheelset that comes with the safety and dependability of an aluminum braking track.
Zach B
Unanswered Question
are these compatible with a 2012 BMC TimeMachine TM02? Thanks!
Gavin H.
Is this compatible with a Cervelo P2?
yvette cabrera
Hi Yvette - that wheel will definitely work in that bike. Great deep dish wheel especially if you got some hills. I cant find any info from Cervelo about max tire clearance - but these wheels would run best with a 25-28 tire to make sure the profile was optimized.

Nate (natsimpson@competitivecyclist.com)
Nathan Simpson
They are compatible with my P3, though you need to run 23mm tires (I run Continentals). I would suspect the clearance on your P2 is similar. They will not work with 25mm tires due to tire radius not width. Hope this helps! - John
John D
I have these on my 2013 P2 but use 23mm tires. Had to tweak the brake pad mounts a bit. Took out the stock washers and fashioned thinner ones to allow clearance.
Johnny M.
Will this fit for 2014 madone 5.9 If I use 25mm contidental 4000s' tires?
Tharathorn chatratanawut
Hey Tharathorn!



These should work just fine on your '14 Madone with 25c tires! I probably wouldn't recommend going up to a 28 on that frame, but a 25 shouldn't give you any trouble at all.



Be sure to reach out to me directly if you have any more questions!
Joe Draper
Will this fit my 2016 Bianchi Oltre Xr2?
dav108057697
Hi Dave --



This wheelset will certainly work on your Bianchi Oltre XR2, but will really be right on the edge. This rim is 25mm wide, which is ideally suited for tires from 25-28mm wide; however, per Bianchi the maximum tire clearance on the XR2 is 25mm. If that's the tire size you're planning on using, then go for it, but you may have trouble fitting wider tires if that's the ultimate plan.




Steven Sheffield
How long of a stem do I need on my tubes with this wheel.
Also, if I'm running these wheels can I transport the bike on my kuat nv2 rack using the latchet for the rear wheel?
lewvsal
Russ,

I would recommend an 80mm stem for adequate length and you should have no problem using the ratchet strap on your Kuat. The only thing I would recommend is using a towel as a buffer between the carbon and strap.
Josh McAlister
Fantastic
Familiarity:

I've used it once or twice and have initial impressions
Coming from only using stock wheels, these are an incredible upgrade. My first ride out I was floored as to how smooth and effortless they function compared to the stock wheels that came on my bike. So far I only have 70 miles on them as spring riding here in northern Minnesota is spotty. The miles I have put on have included some moderate cross winds and the wheels handled just fine, no noticeable push on the wheels. Breaking is fine, better than my stock wheels. I have had them up to 38 mph and they handle perfectly, no issues with vibration, again something my stock wheels couldn't handle.



On them I mounted conti tubes and conti GP 4000 S II. Getting the tires/tubes on requires tire levers, but no real struggle.



One more thin, I did when these wheels arrived was to weigh them. They came in at 1715g, so not too far off the published value.
Jeff D.
Are these wheels able to run tubeless?
Bret S.
These wheels are not tubeless-compatible, but Hed's newer wheelsets are. This is the main reason why we are closing these out at such a deep discount.
Steven Sheffield
Unanswered Question
Hi,
Do you have these available with Campy free hub body (11sp)?
Brendon R.
HED Jet 6+
Familiarity:

I've put it through the wringer
* 3/9/18 Update *

A quick update - I've raced on these, crits, hilly road races, ridden them in the rain, group rides, hills, and they have been excellent!

Cross winds have not been an issue unless it's really bad out! Normal windy day is not a problem, gale force winds and you are on your own.

-- Original review --
I picked up a set at the beginning of the month. Thus far, I am really happy with the wheels. They look great, hold their speed very nicely, are much stiffer than my Dura-Ace C24s for off the saddle efforts and they make a nice woosh sound ;-)

One note. I have an 2012 Wilier with SRAM Rival and had to get creative to make the rear brake caliper fit on these wheels. So beware if you have older brake calipers. The front brake had no issues.
Francisco
Unanswered Question
Will these rims fit a bmc team machine slr02 2015?. Been a hed fan for years and would love a set of these. I have st swiss r23's with 25mm vittoria and it appears there is very little clearance for more. Perhaps the hed wheels with 23's?
MG
Is it 650c or 700c? Doesn't state...
joseph
Hey Joseph, they are 700c
Braydn Tanner
Incredible value
Familiarity:

I've used it once or twice and have initial impressions
I got a set of HED Jet 6 Plus wheels about a week ago, I've put about 200 miles on them. My initial thoughts are that these wheels are absolutely incredible. The aerodynamic advantages are really noticeable, the wheels are so stiff they encourage you to really put power through the pedals, and the value is unbeatable. I got these on sale at Backcountry for $1099 (they took another $150 off the sale price the day mine arrived, guess I should have waited another week :) ). When you compare them to their closest competition in terms of rim depth and weight (looking at Mavic, Zipp, Bontrager, Roval), the HEDs come in consistently several hundred dollars cheaper. Now having experienced them firsthand, combined with the fact that they're consistently well-reviewed by magazines and testers, this is the best deal for a mid-depth aero wheelset out there in my opinion.
Alden H.
Excellent Value, Great in Cross Winds.
Familiarity:

I've used it once or twice and have initial impressions
Four stars, because 5 stars in my world means off the charts. I will upgrade to a 5 star if they stand the test of time. I weight #170 and purchased these as a back up set of wheels when my ENVE 4.5s broke a spoke. I road them yesterday for 112 miles with 4000 feet of climb, lots of wind, and lots of motorhomes (its Alaska's tourist season). My concern with the deeper wheel was the wind. I get blown around a fair amount on the 4.5s, especially on cross winds and by large vehicles. That was markedly reduced with the Jet 6's. In fact, it was almost absent. I kept waiting for the Truck Suck, and it didn't happen. There were also considerable gusts- similarly, no problem. With a headwind coming in at an acute (maybe 20 degrees) angle, there was a little more catch with the Jet 6's, but very manageable, and just had to get used to it. The braking is excellent with standard Shimano pads. The hubs are super smooth and very fast. Also, the beefier skewers provided a lot of stability. There was no high speed wobble at 44.3 mph coasting down a big hill. I just started braking because I don't like going that fast. Twenty five millimeter Continental 4000s tires offered a plush ride, even over areas with a lot of gravel on the shoulder.

They are a bit heavy, but despite that, I plan on using them as my primary wheel unless something comes up.

Pros: Inexpensive, fast, great hubs, comfortable ride, good braking, great in crosswinds, fat skewers.

Cons: A bit heavy.

I would recommend these to a friend, especially one on a budget, without hesitation.
Jeff M.
I have A Sram Red 10 speed cassette. Will this work with the HED 6's? Will I need to purchase a spacer?
Patrick S.
My Hed Jet 6+ wheels came with spacers for SRAM/Shimano 10s cassettes. I am also running 10s on these wheels, no problem.
Jon H.
Brian A.
The wheelset should come with the necessary spacer to run a 10-speed cassette.
Steven Sheffield
Will these wheels accommodate 28mm tires? Thanks!
Jeff M.
Jon H.
Unanswered Question
Will the 25 mm rims be too wide for a look 595 frame?
brian gaskey
Hi, will the Jet 6 Plus fit a 2011 Pinarello Paris? thanks

Quad de la Paz
Hey Quad, with a 25c tire or smaller, these wheels should work really well with your bike. Let me know if you have any further questions.
Aaron Raines