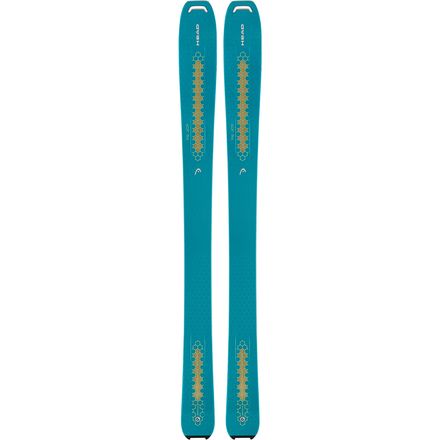 Colors
Sometimes light is right.
There are two ways to make a ski light: you can either cut corners to cut weight, or you can incorporate new technologies and careful designs to shave ounces while actually enhancing the ski's performance at the same time. Head opted for option number two when it made the Big Joy Women's Ski, resulting in a big-time powder ski for gals who might not weigh enough to drive a stiff plank designed for dudes. Don't think the Big Joy's is some kind of wimp; it sports an aggressive Allride Rocker (traditional camber with a rockered tip) so you can crush hardpack in addition to float over powder, and it has a superlite sandwich cap construction that combines the weight-saving benefits of a cap with the power and torsional rigidity of sidewalls.
Since it was designed for lighter riders, the Big Joy's camber profile has been mellowed out, making it easier to use every millimeter of camber without getting bounced around by too much rebound. Head tailored the rocker, rebound, and turn radius to work in concert with what it calls it ERA 3.0 technology for a smooth, powerful, and predictable ride. The lively wood core is laminated with Graphene, a carbon laminate that's just one atom thick and 100 times stronger than steel, to provide an unbeatable combination of strength and lightness. Add in a tough and speedy UHM C base, and you'll be hard-pressed to wipe that goofy grin off your face after a long day of crushing big lines and deep pow.
Allride Rocker profile (rocker tip, camber underfoot)
Superlite Sandwich Cap construction (half-cap)
Wood core
Graphene laminate
110mm waist width
Unanswered Question
Any weight specs on these?
Erik S.
Poppy, Light, Stable at High Speeds
You wouldn't think that a ski whose waist is 110 would be fun on groomers or chunder, but this one is. They pop out of tight carves, and are light and energetic enough to make hop turns down steep chutes without a second thought. These skis are SO fun at high speeds, no chatter at all.

I'm 5'4'', 130 and ski the 178 and love it! Can't wait for more snow this season to really see what they can do!
Emery Gaylord
For mounting bindings, there are a series of lines on the side of the ski. I am assuming that the dark line corresponds to where the boot centerline should be, but wanted to confirm this. Also, What are the other, lighter lines forward of the dark line for?
ragdoll
Hey ragdoll,

The darkest line corresponds with the factory recommended mounting position (where the center of the boot should be). The other lines are 1 cm increments away from the recommended centerline for the binding mount. Feel free to contact me directly with any additional questions.

Kyle L. - Expert Gearhead
Kyle Livingston
Unanswered Question
How much rocker does it have? 5'6" expert skiier in CO. Don't do much backcountry but rip it up in back bowls, trees, powder, etc. With the rocker, 168s seem kind of short. Thinking about 178cm. Would those be too big?

Bridgette C.