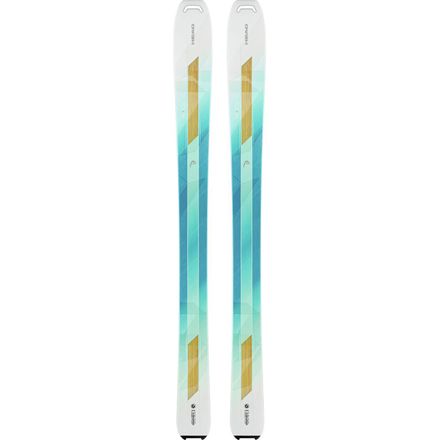 Colors
Sometimes light is right.
There are two ways to make a ski light: you can either cut corners to cut weight, or you can incorporate new technologies and careful designs to shave ounces while actually enhancing the ski's performance at the same time. Head opted for option number two when it made the Big Joy Women's Ski, resulting in a big-time powder ski for gals who might not weigh enough to drive a stiff plank designed for dudes. Don't think the Big Joy's is some kind of wimp; it sports an aggressive Allride Rocker (traditional camber with a rockered tip) so you can crush hardpack in addition to float over powder, and it has a superlite sandwich cap construction that combines the weight-saving benefits of a cap construction with the power and torsional rigidity of sidewalls.
Since it was designed for lighter riders, the Big Joy's camber profile has been mellowed out, making it easier to use every millimeter of camber without getting bounced around by too much rebound. Head tailored the rocker, rebound, and turn radius to work in concert with what it calls it ERA 3.0 technology for a smooth, powerful, and predictable ride. The lively wood core is laminated with Graphene, a carbon laminate that's just one atom thick and 100 times stronger than steel, to provide an unbeatable combination of strength and lightness. Add in a tough and speedy UHM C base, and you'll be hard-pressed to wipe that goofy grin off your face after a long day of crushing big lines and deep pow.
A deep snow ski designed specifically for powder-loving ladies
110mm waist width is wide enough for the deep deep
Allride Rocker includes an early tip rise for easy turn initiation
Light wood core with strong Graphene laminate
Superlite Sandwich Cap construction is light and playful