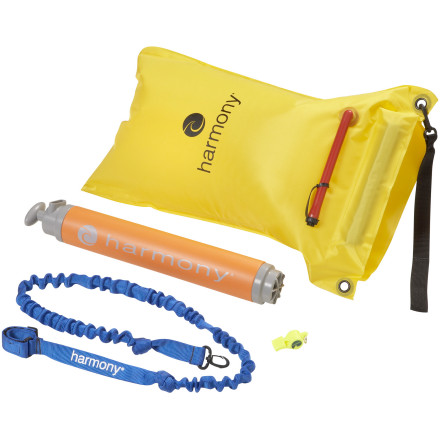 Colors
It's all those important things your mom is going to ask if you have when you go paddling.
Make sure you are prepared for your next boating expedition or day trip with the Harmony Safety Kit. If you should capsize your boat, keep your paddle nearby with the paddle leash, inflate the Blade Aide paddle float, get yourself back in the boat, paddle to shore, use your high volume bilge pump to clear out the hold, and blow your Fox 40 safety whistle for joy at having just rescued yourself.
If you want to master self-rescue, this is a kit to have to do so. The flotation bag is easy to inflate with a clever one-way channel. Any paddle/style will fit into the bag's sleeve. The pump is also very quick but keep in mind, as far as pumps go, you'll still take awhile. But the pump is pretty quick compared to other ones. The pump is covered in a foam-neoprene-like sleeve that feels great and of quality.



I highly recommend this for all kayakers to keep even if you go in groups. Self-rescue is an essential skill for confident paddling.
BzBrian