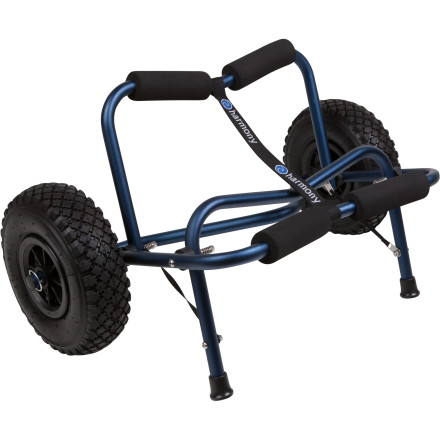 Colors
No-brainer.
If you've ever had to call off a day on the water because you strained you back getting your kayak from the car to the water, or find that you spend an inordinate amount of time and effort shuttling the boat and all your gear back and forth, you'll appreciate the beauty of the Harmony Boat Cart. Simply pull this folding aluminum carrier from the car, set up the kickstand for easy loading, and strap your boat on to the padded frame (straps included). Then you're on your way over sand, mud, or rough trails, easily pulling your boat—and your gear for the day—behind you. Got that picture in mind? Now imagine your usual drill. Case closed.
Unanswered Question
Just purchased this item and would like to know what is the best way to attach the straps?
Steven
Very helpful when you need to lug around a 13' kayak by yourself. Straps get kind of annoying at first but once you get the kayak in place, it wheels around great.
Joseph S.
Unanswered Question
Good morning. What size are the tires and...
Good morning. What size are the tires and how long (in feet) are the tie-down straps? Thank you.


Ursula