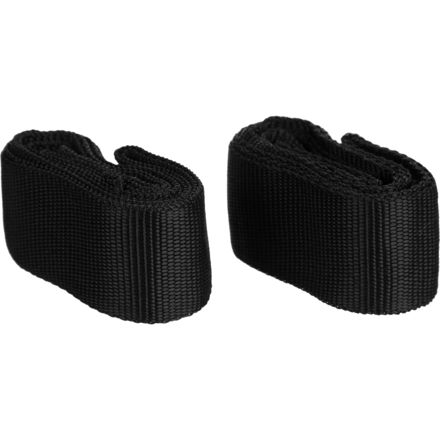 Colors

Detail Images

Community Images
Make setup easier with the Hammock Bliss Tree Straps.
String your hammock up with the bark friendly Hammock Bliss Tree Straps. These 65-inch long pieces of nylon webbing help you hang your hammock from trees up to 20 feet apart. The 1.5-inch wide Tree Straps evenly distribute your weight so that you don't damage the trees in your backyard. The adjustable straps make setup and take down a snap, and they fold into a 3x5 inch travel case for easy storage.
Great at a Great price
Familiarity:

I've used it several times
Very well made Hammock straps,I had the option to chose more expensive ones but did not. these are lightweight and compact as well as durable. Great buy!
Jason Gardner
Gets the job done
Familiarity:

I've put it through the wringer
Easy to set up, small to pack along in a backpack, durable and not hard on the tree. These straps are rad, have been used to hold a hammock with two people (around 300lbs total) and held up great. Nice and tree friendly as well and don't rip off the bark which is great for all of us tree huggers. A must have for anyone with a hammock.
Sarah Edwards
sabrina roark
Tree straps
Familiarity:

I've put it through the wringer
this is the most basic set up for hanging hammock very easy to use and effective
shane teano
Exactly what you'd want from tree straps
Familiarity:

I've used it several times
Honestly, these things are solid. It is going to be exactly what you expect from tree straps, just a piece of nylon webbing to help string up your hammock! It is just that nylon webbing, with a loop on each end to attach your hammock straps. I recently tied it up onto a wooden awning, and it worked perfectly. It comes in a nice little carrying bag too, so that is nice!
Zak Ricklefs
Tree Strap
Familiarity:

I've put it through the wringer
So easy to use. It is also easy to store with the hammock. It was pleasantly easy to understand and versatile. I will be buying these as presents.
Constance K.
Easy as pie
Familiarity:

I've put it through the wringer
Setting up my hammock with these is ridiculously easy. I was lounging for 15 minutes at least while my friends were struggling to put up their hammocks with cord and rope.

Update: While setup is still simple, I have found the straps to stretch, especially if the weather is damp (full disclosure, I weigh over 200lbs, perhaps a smaller person wouldn't have this issue). I still like this product though, I haven't been driven to try another brand yet!
Julie
Good for me and good for the trees
Familiarity:

I've used it several times
These straps are very easy to use, makes setting up my hammock very easy. They don't slip on the tree and when I pack up the tree is just as it was when I arrived. They have ample length and are very versatile. They pack up small so I can stick them in the hammock's bag.
Amanda R.
Almost a necessity.
Familiarity:

I've used it several times
You definitely don't need these to set up your hammock but you should. They are super light, don't take up any room, and make setting up your hammock a breeze. They will prolong the life of the rope that runs through your hammock as well as the trees that you are hanging from. At the price I really see no reason not to pick up a pair of these if you have a hammock.
Matthew Pizza
7 years
Familiarity:

I've put it through the wringer
One of my straps finally broke after 7 years of hard use -- to be more correct, it actually was sliced (by the sharp edge of a 4x4). I've used these to hang from street signs poles, columns, my car, countless trees, and tons of other vaguely cylindrical objects; these are wide enough to comfortably grip anything. These come in a teeny tiny stuff sack and pack down equally teeny tiny -- I ended up forgoing the stuff sack and stuffing them into my hammock's stuff sack.



Love, love, love these.
Kelly
Lightwieght option
Familiarity:

I've put it through the wringer
I had the eno slapstrap pro, then I got these. They are awesome! They are MUCH lighter, and surprisingly easy to use. They can be adjusted to almost any length you need, and are so light you can throw in some paracord as an extension. I have used them all over the place, and they have held up well. These are the lightweight option. The only downside is the price.
David Dombrowski
Good for a few more feet.
I took these out camping this past week, and I was pleased with the product. When I first looked at two trees, I thought to myself, this is probably about as far as the trees can be appart (maybe 18 foot spread), so I took these straps out to their furthest length. Much to my surprise, they had to be adjusted in, and I probably had another 3 feet to go. Obviously, the distance you can go will depend on your setup, but I would have had to cut some more rope and make knots to accommodate what these straps took care of easily.



My only drawback after receiving these, and seeing them, is that I believe I could have made some similar straps for much cheaper. Don't get me wrong, they are of a good quality, and like I said, they come in handy... but $15 for $2 worth of nylon sewed together at the ends.... well, I guess it just depends on how lazy you are feeling. In hindsight, I wish I would have tried to make them myself.



4 stars because they work well and are convenient.
carbonatedcoffee
Perfect for my HAMMOCK
Familiarity:

I've used it once or twice and have initial impressions
These straps are well made and perfect for what I need...
Will Mashbhurn
Meets expectations
Familiarity:

I've used it several times
I use these with my eno double nest and they work great. They are quite durable and haven't ripped or torn at all, even with two people sitting in the hammock. If you want more versatility as far as distance goes, you'll definitely want the longer ones. The small carrying pouch is handy.
John H.
Does what they're supposed to...
Yes, you could make your own for cheaper and just to clarify on a previous review, carabiners don't come with these straps (at least mine didn't).

They work well for me and work on trees with under a 22 inch diameter.
Eric
Added versatility and LNT
These straps are great, they work well and will not slip no matter what the configuration. I really like them because they add another 3-4 feet of length for your set up configuration, which always is a plus.
Alexander S
How To Use Your Hammock Bliss Tree Strap
Great Instructional Video on Using your Tree Straps
dov frazer