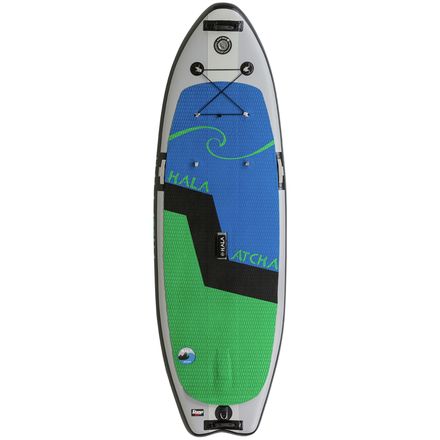 Colors
Right back Atcha.
Whether you're diving gracefully from plank into downward dog or headed straight for some seriously chossy looking rapids, the Hala Atcha Stand-Up Paddleboard charges forward with ease and regal diligence. Built specifically for stability, the Atcha sets itself apart from the rest of the pack with its responsive, almost intuitive maneuverability, so whatever the obstacle (be it mental or physical), the Atcha responds with a spirited, sporty, and ardent attitude.
Equipped with a rugged PVC drop-stitch construction, a pointed nose that's tailored specifically for whitewater navigation, and a host of reinforced D-rings, the Atcha is furnished with a full-length traction pad that keeps you on your feet while the extra girthy platform ensures maximum stability without compromising performance. In addition to its innate strength and support, the Atcha is built to adapt to your every adventure with its Performance Shape Inflatable composition, which offers a precise rocker and a playful mood.
The Atcha comes complete with a gummy fin, side click fins, a board bag-pack, a repair kit, a car pump, and a gauged, dual-action hand pump.
PVC drop-stitch
Pointed nose
Raised stomp pad
Full-length traction pad
Performance Shape Inflatable
Reinforced D-rings
Clickfin box
Boardbag
12V Car pump
Dual-action hand pump
Gummy fin
Side click fins
Nimble, yet stable!
Familiarity:

I've put it through the wringer
The Atcha is a great board for downriver and river surfing! Its been perfect for exploring whitewater in the PNW! I can catch waves on the fly or paddle fast to get away from a nasty river feature. Its nimble, yet stable and my go to board every time I get on the river! Love this board! I've even taken it out on the ocean and caught a few waist high waves with it. The stomp-box retractable fin, the rocker, the toughness, and rigidity make it the best board I've owned.
Gnardia
Our Favorite Travel Board
Familiarity:

I've put it through the wringer
This is by far our favorite board. It is lightweight yet strong. It is stable enough to withstand class 3 waters, practice handstands, yoga, and acrobatics. My girlfriend and I have paddled to glaciers in Alaska, to the bioluminescent bay in Vieques, down rivers in New Zealand, and on expeditions in Hong Kong. Hala Atcha can easy carry two people with two butterknife paddles, basically transforming it into an adventure boat.



We also own a Atcha 9'6 and an Asana. But this is the one that usually makes it to most of our trips. Small and stable. Easy pack and carry.


Sam Salwei
A Great All Around Board For 1-2 people
The extra foot in length on this board is a valuable asset for anyone looking for a super durable all arounder board that could comfortably float 2 people and a dog in flat water. If you have the space to store the extra foot of board (in comparison to it's smaller version the 8'6") you will be psyched on the 9'6 as one of your main go to boards for any sort of paddling adventure.


adi
Best Technical Whitewater Board, Period.
Familiarity:

I've put it through the wringer
i've been riding the ATCHA since some of the first models, but this version has has completely blown my mind. the shape of it is to WW, as what fat skis are to powder. it want to pop outta holes more than the paddler does. the WW aspect is a given, but this board is also crazy adaptable to changing conditions. the stompbox center with 4 clickfins provides a bunch of setups depending on water level, obstacles, and rider style. my personal fav is 4 lowpros. in tricky and/or high flows, i'll even race SUPcross events on it! add crazy durability and a 3yr warranty and you have the best WW board out there!
Andy O.
Hala Atcha "Right board for the job!"
Familiarity:

I've put it through the wringer
If your looking for a SUP built and designed for the river this is your board! The Atcha 9'6" provides stability, performance, and durability. 36" wide gives you confidence in whitewater to stay on your feet. The "Stomp Box" helps reduce the chance of clipping your fins on rocks giving paddlers a piece of mind when navigating in rocky stretches of river. Overall this board just gets the job done!
Luke
Whitewater SUP gamechanger
Familiarity:

I've put it through the wringer
For years this board has been the standard for whitewater SUP. At 36" wide, this stable platform gives beginners the confidence to get out and paddle class II and lets experts confidently charge III-IV. The Atcha has great shape that allows for great maneuverability heading down river but lets you play in any wave on the way down. I would recommend this board to anyone, 1st time river runners to seasoned experts
Ben
HALA Atcha 9-6 Rocks!
Familiarity:

I've put it through the wringer
I truly LOVE this board!
I recommend the Atcha 9-6 to anyone interested in SUPing on whitewater. The construction is burly and allows the board to match the tough environment found on the river. At a weight of 30 lbs portages, approaches, and sessioning rapids is super easy. The aggressive rocker is key for punching through holes and surfing river waves. The design and shape provide max stability without sacrificing maneuverability. The paddler can easily negotiate big water as well as technical river features. The retractable center fin is clutch in low water situations. 4 additional removable side fins allow for customization based on conditions and desired feel. The board packs down to a very manageable size, and the roller bag/backpack convertible make traveling very smooth. If river adventuring is in your future, don't hesitate to pull the trigger on this fantastic board!

yourDisplayName
My Play Board of Choice!
Familiarity:

I've put it through the wringer
This board makes everything more fun. It is stable enough for yoga, drops, surfing holes, whitewater and anything you throw at it. As a woman, this board is easy to maneuver to the point where I get on other boards and wish they would be as easy to turn. It lets you get away with many mistakes while learning with plenty of room to catch yourself. There really is nothing not to love. I have dragged it over rocks to portage and take it in crazy low water with the Stompbox. The packability and durability make it an easy choice. It has removable fins so you can paddle year-round.

Never Change Hala Atcha!
Trinity W.
Solid Whitewater Tool
Familiarity:

I've put it through the wringer
I love the Attcha. I have ridden the entire line starting from the prototype to the recent release. The model continues to expand the boundaries of white water. The biggest improvement for me was the rocker improvement. Floating vs punching through a C3 hole is much better now. Maneuverability from the tail is improved as well. Well done.
Lance Piatt
The SUP that changed my mind about SUPs
Familiarity:

I've put it through the wringer
This board changed my mind about SUPs. It was the first board I paddled which was a white water board design for rivers. Previous boards felt like they were adapted from ocean boards to be paddled on rivers where the Hala Atcha has river paddling at the roots.

The rocker makes the board easy to paddle down rapids as well as surf waves along the way. It is stable enough to run hard white water (low and bog volume) and responsive enough to surf.

I have done a couple of overnighters with the board as well and you can load it up and still manage to run technical rapids.

I also use it for flat water paddling (cruising around and some fishing) while my wife uses it for yoga.

I just really love this board.
philip
Best all around board
Familiarity:

I've put it through the wringer
Absolutely my favorite all around board to have, the Hala Atcha series is great for any type of water you might want to get on. With durability for whitewater and rocks as well as solid dimensions for flat water and yoga this board handles ANYTHING! And my dog loves it too
adi
Inscrutable whitewater pedigree!
Familiarity:

I've put it through the wringer
Before it was cool to have a whitewater specific board at 9'6"x36" there was the Hala Atcha. Whether the industry can admit it or not, this was the platform from which whitewater SUP launched out of an obscure sport for a few crazies, into a popular pastime for anyone who loves the river. The Atcha has come a long way, and it's latest iteration satisfies all the paddlers who have a desire to experience river paddling. A total beginner will find themselves at home on a stable and user friendly board that allows them to focus beyond just staying on the board and into the beauty and the mystery of river paddling. Experts will find that there is no upper limit to what can be done with such a stable and responsive platform. A true renaissance board of whitewater SUP.
Matthew B.
Go-to board for big whitewater.
Familiarity:

I've used it several times
I've spent a couple years on another company's 9'6" x 36" whitewater board and I finally decided to replace it with the atcha 96 after falling in love with my smaller atcha 86. The rocker on Hala's boards is just dialed in better for river surfing/downriver combo than anything else I've tried (quite a bit). The 86 surfs small holes and waves better than the 96, but the 96 is more stable through big rapids so you can stay on your feet, and it surfs way better than the other 9'6" whitewater board it replaced. Keep in mind that this board is made for whitewater. If that's what your going to do, it can't be beat. It's not going to be all that fast if you're just going to paddle it on a lake, though I've found that speed doesn't really matter unless you're with someone on a faster board.

Oh yeah - the quality is top notch, it's super stiff, And the stomp box retractable fin is a pretty cool feature.
Alan P.
I'm married to my Atcha
Familiarity:

I've put it through the wringer
I can take my Atcha out on the rapids or play with it in the pool. I've literally had so many different individuals at all fitness levels on my board. Instructing people in SUP fitness is my passion, and the Hala Atcha means I can do it with confidence. I love Hala for the many brilliant, top of the line boards and SUP products they have available. Thank you Hala for the great work you do and the commitment to excellence you offer your customers.
Fadia Bascom
Best board out there for whitewater fun
Familiarity:

I've put it through the wringer
Playful, easy to maneuver, and incredibly versatile, this is the board for you if you want to play on the river. I love the 6 inch deck for incredible buoyancy and wave-absorption. It is super responsive and it makes catching waves or messing around eddys and boulders super easy. It's also really stable. We always bring our beginner friends out on the Atcha 86 or the classic Atcha. This board makes SUP on the river way more fun.
Ashley B.
Unanswered Question
Is this the 2017 model?
MountaiNerd
Big water dominator
Familiarity:

I've put it through the wringer
I live on the Zambezi river......SUP used to be a foreign concept here...thought to be impossible here.......until now. This board dominates on big water. The rocker gets it up over the big stuff....the stability keeps you on board......and besides...just look at it..........It's beautiful
Paul Teasdale
The Atcha crushes whitewater!
Familiarity:

I've put it through the wringer
The Atcha is an incredibly stable whitewater board that is still nimble and responsive. The rocker in the nose and tail allow the board to rise up and over waves like no other board I have paddled. The super burly construction combined with the 3 year warranty is an unbeatable value. The roller bag is tough and spacious enough to accommodate the board and plenty of gear.


Alex
My favorite river SUP/beginner board
Familiarity:

I've put it through the wringer
I use my Atcha when I want to clean whitewater rapids. I've done up to class IV rapids on my Atcha, and I have no complaints on its performance! This board is also my go-to board when I take friends who are new to SUP, because it is VERY stable and the length allows ease when turning.
Cami Swan
Hala Atcha
Familiarity:

I've put it through the wringer
There is nothing this board cant handle. I can white water clean lines that a narrower board never. The rocker profile and nose shape let this board cut through everything the river throws at you. The stability is next level, and the length make it extremely maneuverable. The raised deck pad make pivot turns easy and smooth. Even though its a white water board it is great in mellower and even flat water, just tweak your fin setup and you are ready to tour.
Jordan C.