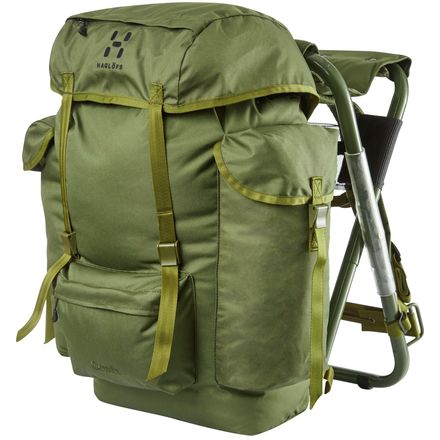 Colors
Forget about looking for that perfect stump to sit on.
You can always find a comfy place to sit when you hunt, hike, or camp with the Haglöf's Combi Backpack. The integrated thermal insulated folding chair gives your tush some cush as well as warmth while you patiently wait for game or take a break from the trail. The chair doubles as the pack's stable and rattle-proof support system, and the padded shoulder straps adjust for a secure fit.
The Combi Backpack is a traditional top-loader with a capacity to carry a day's worth of hunting and hiking gear or enough clothes for a fiveday car camping getaway. Haglöfs added a front pocket for ammunition, and the two side pockets are perfect for large water bottles.
Integrated thermal insulated folding chair
Chair doubles as support system
Padded and adjustable shoulder straps
Top lid access
Front ammunition pocket
Two large side pockets
You had me at attached chair.
Familiarity:

I've used it once or twice and have initial impressions
I had a backpack in highschool that had a chair attached and a cooler pocket that held a 12 pack. It was the best backpack ever made, so great in fact that someone stole it. I have felt a void in my life since then. That void has been filled.
I am one of those wierdos that prefers an external frame. I grew up on them, used them in the scouts, and honestly feel that the cooling factor and greater attachment versatility outways the mobility of internals. This backpack has that external frame, and it just happens to turn into an insulated chair.
If your an ultralighter you won't want this, it's on the heavy side. It's not a weeklong pack either, unless like me you walk the fence between ultralight and light weight. I prefer a slightly heavier pack that can carry more, while using lightweight exterior gear to shave weight.
I have not as yet made it out to adventure with this as it's still snowy, but I will update when I do.
The fit is on point with other external frame packs, dial it in and it can fit almost anyone.
I am also a large fan of the simplicity. I organize my gear in separate bags anyway, I don't need a million pockets, but three on the outside for stuff like maps, gps, and snacks are necessary.
4 stars for ingenuity. Will update with test.

Update: After using this to make an emergency trip to Idaho, I would highly recommend it for urban adventures. It's a great size to throw everything you need for 1-3 days. The buckles are different than any I have used. You basically pull the strap through and cinch it. I like them, but others may not like the slightly more time it takes to strap back together.
There is no hip belt. I generally don't bother with hip belts when it's under 30-35 pounds, and I doubt you're going to want to throw more than that in here. But if you really need that belt, look elsewhere, or like I have done, buy a luggage strap and jimmy rig it. I don't plan on using the "belt" unless I'm going on extended trips, but I have it none the less.
All in all still an awesome pack but with some caveats.
Sam Hansen