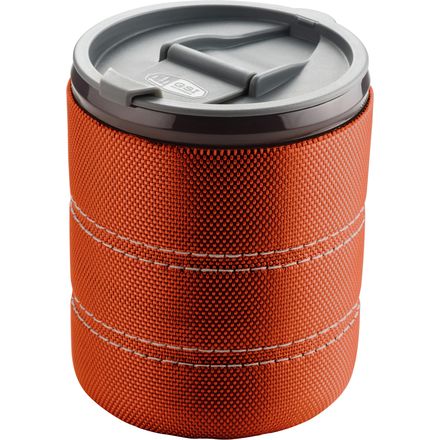 Colors
Coffee forever.
Watching the sun rise over a sky-piercing chain of mountains just isn't the same without a cup of hot coffee in your hand, and the GSI Outdoor Infinity Backpacker Mug is just what you need for easy insulated sipping. The Sip-It Lid seals when shut to prevent spills and hold in heat while the collapsible webbing handle provides a comfy grip.
Clear polypropylene
Insulated cozy
Sealable Sip-it lid
Collapsible handle
I recently bought this for a tea mug while backpacking and it is great. It insulated very well and seems sturdy enough. It's also light enough to make it worth taking into the backcountry
ZACHARY ENSIGN GARDNER
Keeps the coffee hot
Familiarity:

I've used it several times
I bought this for my girlfriend and she is so happy with the product. On previous trips she would use an old cup that was not insulated and had no lid. She says it makes such a difference to have a cup that keeps the coffee hot on cold mornings for the amount of time it takes to get packed up and ready to hit the trail. Plus it is very lightweight.
Kevin Quinn
Way Better than that Tin Cup
Familiarity:

I've used it several times
Yes, the tin mug dangle is hip, it's small, etc. BUT they never keep coffee that hot, right?

The GSI Infinity Backpacker Mug insulated magnificently, keeping your covfefe hot without burning your already kind of tired hands. The lid fit snugly and while definitely not water tight, does keep spillage to a minimum.
My one negative to this mug is that the GSI Java Drip (my MVP in the backcountry...or front country for that matter) doesn't quite fit without dinging into the coozy on the mug. A small thing, but I reckon overtime it will wear away at that fabric.
The mug is light, easy to pack, and you can still have that cool kid mug dangle with the attached handle
Hannah Dhonau
This is a great mug to have with you backpacking and camping! Never be without your coffee in the morning :)
Emery Gaylord
This is a great little mug, its light, easy to wash with the removable cover. It has marks inside to measure out cups. The sipper is perfect for drinking you hot coffee in the morning!
Dean Raynes
A good mug
Familiarity:

I've used it several times
This mug is nice and light and the insulating sleeve works better than I expected.
Chelsea L.
Little mug with a little style
Familiarity:

I've used it several times
Simple mug with a simple job that is does well. Keeps your drink hot and your hands cool. The stitched cover adds a little style to the mug and sets it apart from other plane Jane mugs.
Greg E.
Money
Familiarity:

I've put it through the wringer
Excellent outdoor mug. Very light, insulates well enough for the time it takes to drink a warm drink, functional, robust.
Robert N.
Great for the gear kitchen
Familiarity:

I've used it once or twice and have initial impressions
Great for coffee. Easy to hold. Good quality- GSI is great. Like the colors, I got them in red and blue. The red one is a bit lighter in color them I expected.
Becks Robison
Had to get one for BF to quit using mine
Familiarity:

I've put it through the wringer
Got this version for my bf so that I wouldn't have to share my cup of coffee (mine's the previous mug model). It doesn't weigh anything, keeps your drink hot, and the lid cover does a great job. I wouldn't throw it in a backpack on purpose, but with the lid cover engaged, I've had this fly off the top of my car (retrieved unscathed), roll around in a backpack and found upside down in the floorboards of my car, panicked, only to find that it hadn't leaked everywhere. My only gripe is that I can't attach it to my backpack while backpacking because the cup will slide out of the insulated sleeve if you carabiner the webbing handle to a gear loop on your backpack and then takes up valuable real estate in the pack.

It also is great for oatmeal and instant foods, as well as measuring if you're not hot on eye-balling measurements while camping.
Kristen
Holds a nice cup of joe
Familiarity:

I've put it through the wringer
I could drink coffee out of this bad boy every morning. Doesn't leak, doesn't talk back, does absolutely nothing to harsh my morning mellow. The color is tits-larue.
Dustin Warr
Unanswered Question
Is the mug BPA free?
Cranston S
hot! diggity!
Familiarity:

I've put it through the wringer
having purchased this mug as an ahem....luxury item...for my fastpack of VT's Long Trail, I've since found this mug has become my premiere frontcountry go-to that I stash in my truck glove compartment. Be it hot chai, pudding on- the- fly, or a sampling of hot soup at the farmers market', this gem effectively retains the heat for as long as I need it to sans adding bulk or weight to my excursion needs. Don't be fooled by what appears to be a chinsy handle, because it's quite resilient. I appreciate how the insulated cover smoothly slides off for times when I prefer a better grip. My sole reservation is the leashless design of the cover-to-mug, but a 'lil ingenuity in this regard gets the job done! All in all, well worth my hard-earned dime & a serendipitous new fave!
sum gal
Great UL Mug!
Familiarity:

I've put it through the wringer
My favorite insulated mug to take with me for my backpacking and car camping trips. Not do I only use for coffee, I use oatmeal and soup. Very easy to clean. I l like the hand strap to secure the mug. Just slide the sleeve off and wash off the mug. Can't beat 3.5 oz with insulated mug with the sleeve and lid. I'm too happy with my mug. I highly recommend it. I just strap my mug to my backpack loop.
Joe P.