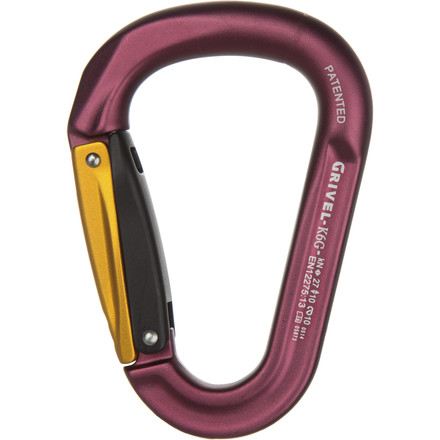 Colors
From bolts to belays.
Although it looks like a non-clipper, Grivel's Mega K6G Carabiner has a unique Twin Gate locking device suitable for belays and anchors. Twin Gate prevents the Mega from accidentally unclipping mid-belay, and it adds a surprising strength rating for reliable durability. The Mega has a sleek, streamlined design that works for the bolt-end of quickdraws, and you can easily tie Munter hitches once you get to the anchor.
Unique Twin Gate carabiner
Awesome autolocking biner
Familiarity:

I've put it through the wringer
I love this design. This is by far my favorite auto-locker and potentially even my favorite locker overall. It takes a little getting used to, but once you have used it a number of times you become incredibly fast with it. Faster than any other locking biner in my opinion.

I always use this as my locking biner for belaying/rappelling, so long as I have it available to me.

For an auto-locker, I think the price is fantastic. Cheaper than most all of the competition.

As much as I love this biner, I wish it was a little on the lighter side. I know auto-lockers tend to be heavier, but when comparing it to other HMS locking biners, I find it falls towards the middle of the pack in terms of weight. Biners like the Petzl Attache make for a very nice HMS locking biner that is also light.
Mike Cochran
Cool biner, but not versatile
Familiarity:

I've put it through the wringer
I got this 'biner more as an experiment than anything else. I like it a lot, but its limited versatility and the confusion it inspires in my partners means that it doesn't get off the ground much.

I'd say it's worth getting for a specific purpose---like a belay/rappel biner---but that if this is one of your first lockers, get more versatile "normal" lockers.

Pros:
- It's lighter than most other HMS lockers
- Bomber, elegant twingate mechanism is pretty much impossible to accidentally open
- Nice rounded stock shape is great for rappeling and belaying
- Super duper strong 'biner!
- With a little practice, clipping/unclipping from ropes/other round cord is a cinch and one of the easiest/fastest locking mechanisms out there

Cons:
- Even with practice, clipping/unclipping from webbing is annoying (webbing doesn't press the other gate open very far and tends to snag)
- Sometimes awkward to use because it takes a little more of a controlled motion to clip/unclip--e.g. if it's already clipped to something (like the anchor) and you want to clip another thing to it (like the pack)


Maia B.
Awesome 'biner
Familiarity:

I've put it through the wringer
These carabiners are great. I wasn't super sure about them when I first saw the videos but I figured I'd give it a go and I'm so glad I did. These are stronger and so much faster than your average screwlock or even a twistlock.
Josh Breitbach
Favorite Locking Carabiner By Far
I gave this carabiner as a gift and here is the review:



"I can't say enough good things about this carabiner. For starters, the color of the carabiner is AWESOME. The only curious thing about the carabiner can be seen in the picture below. I ordered two of the exact same carabiner and one was a matte finish on the color, whereas the other one had a glossier finish. Not sure why that happened and it doesn't seem like I had any control over what the finish was. The twin gates are so cool and I feel like the provide more safety than a screwgate or slidelock.
Jennifer Thornburgh
The Twin Gate Biner in Action!
Stevie Haston - the man himself - showing how quick, simple, safe and effective the double gate biner can be!



Here's a link that describes the biner even more! http://everythingfortheoutdoors.blogspot.com/2015/06/grivel-twin-gate-carabiners-making.html


Alex Quitiquit
Pass through the eye of the beholder!
Familiarity:

I've put it through the wringer
This thing is sweeeeeet!

It can pass through the eye hole on a guide mode belay device, or through most chain links at anchors/belays.

It takes a little getting used to opening it with one hand but when it all comes together these things are pretty nice to have. No twisting or turning to lock and open -

Deflategate?

No.
Doublegate!
Alex Quitiquit
My New Favorite Locker
Familiarity:

I've used it several times
When I saw this carabiner, I knew I had to try it myself. At first it appears to be difficult to maneuver with just one hand, but with a little practice it is actually quite simple through some real forward thinking design. This will definitely help avoid issues that people have had in the past with sticky or frozen screw gates on lockers while providing a similar "auto-lock" design that many other carabiners have without running into the same closing issues that others have. All of that plus the hulk like strength of the carabiner overall (27kN major axis strength) makes this my new favorite anchor/belay piece. This piece is definitely worth the price and should be included on any climber's gear rack!
Daniel Goodman