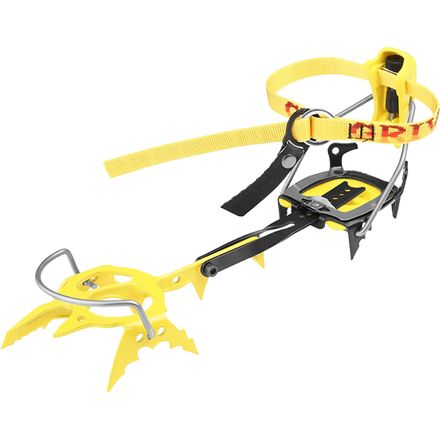 Colors
The next step on technical ice.
The Grivel G20 Crampons use a minimal yet aggressive design to give you an edge on steep ice and mixed terrain. The third points point backward to help you hook pillars and keep you locked in on overhanging rock. Grivel went with a full step-in design for speed and security.
The G20s are hot-drop-forged for incredible toughness and durability
Compact design weighs in at just 794 grams per pair for easy storage and transport
Inverted points help grip on different terrain and features
Tool-free adjustment
THE technical crampon for a TLT!
The current G20 is literally THE crampon for anyone using the TLT ski boots to climb in. The crampon has been upgraded several times from my first pair a few years ago and is now more reliable and it climbs better. I love this crampon on technical ground! Jared's picture pretty much tells it all.
Dane
stainless? Sorry, no way.
Who wrote this product description? Grivel doesn't make a stainless crampon.
Dane
Many of the advantages of the Dart but doesn't collapse for packing and the toe bails don't fit as many boots and the Petzl originals. They climb very well just as the Dart does.
Dane