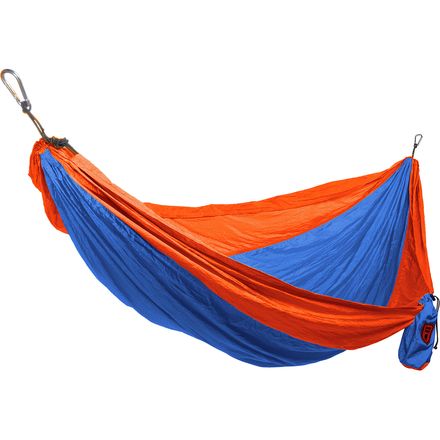 Colors

Detail Images
Relaxation station.
Whether you string it up in the backyard or between two palm trees along the beach, the Grand Trunk Double Parachute Hammock is surely the most spacious, lightweight hammock you've encountered. At just over a pound, this nylon dream machine packs into its attached stuff sack when you're on the move, and the included hanging hardware makes for easy set up when it's time to relax. High-strength parachute fabric and triple stitching give this Grand Trunk a weight capacity of up to 400 pounds—just right for two.
Double-wide hammock gives you room to stretch our and relax
Included mounting hardware allows for quick and easy set ups
High-strength parachute fabric boasts a 400-pound weight rating
Bought this for my dad for Christmas. I currently own the regular size but he's a big guy so I figured the larger size will be more comfortable. Great colors and durability. They come with hanging straps but if your trees are far apart you might need to get longer straps.
Jared G
Roomy hammock
Familiarity:

I've used it several times
I gave this as a gift and they loved it! It is super big and can definitely fit 2 people comfortably. It comes with hooks and rope on there to hang it up! Awesome quality!
Morgan Ellison
Love this hammock!!!
Familiarity:

I've put it through the wringer
Whether in the forest or on my back porch, this is my go to hammock. Easy to stuff into the day pack, easy to set up, and cool and comfortable to boot, this hammock is my ticket to lazy afternoons going forward.
James Martinelli
First thing in the daypack
Familiarity:

I've put it through the wringer
Bought one for everyone in the family (my wife and I share). Compact, durable, comfortable. The dog loves jumping up and taking a nap with my wife. When we're not out in the mountains, the hammock is up in our backyard, which is where I usually find my wife when I get home from work during the summer. Buy the hammock.
John Judd
If you're down to hang
Familiarity:

I've put it through the wringer
Hands down the best hammock out there, and it comes with straps. It packs down super small and offers a ton of space for hanging, great for hammock camping. I haven't used it with 2 people yet but there's tons of space for myself. I would recommend using a sleeping pad or hammock quilt with this for camping since there is no insulator included. I'm 5'8 and can comfortably wrap myself inside. Overall, probably the best hammock you can get.
Colby Sherbafi
Best Hammock!
Familiarity:

I've put it through the wringer
I love this hammock. I use it all the time and it is super quick to set up. I'm a taller guy so the double is perfect for me. I would recommend to anyone looking for a comfortable hammock not looking to spend an insane amount of money.
Depending on the situation you might want to consider longer straps with tree protectors.
Joshua Moore
Just Buy It!
Familiarity:

I've put it through the wringer
All hammocks are good, and this one is simply great! It packs down super small (roughly the size of a Nalgene) super spacious and it comes with straps!!
Luke
solid hammock
Familiarity:

I've put it through the wringer
This hammock is perfect for anything and everything, packs super small and sets up super fast. The only think I would recommend is getting longer straps for it since the ones provided are a bit short. I paired mine up with the Grand Trunk TreeSling Adjustable Hanging Kit with Tree Protectors and it worked out perfect!
James Farnan
GT's Adventure Anywhere Collection
A quick introduction to Grand Trunk's Adventure Anywhere Collection which includes the Double Parachute Hammock!
Morgan Griffith
LOVE IT!
Familiarity:

I've used it several times
I have a single Hammock and I wanted to buy a second one so that I could have a friend come with me to hammock and I decided to go with the double. I love it! It has so much more room than the single. I would suggest this one to anyone that was looking to buy one.
Brayden C.
What a great Hammock!
Familiarity:

I've used it several times
Got this hammock as a gift for a friend. I have had one for a while it is so nice to have a place to relax when you are on a hike or on a bike ride. Grand Trunk has done such a great job at making hammocks. I got the Turquoise/Khaki color and it looks so amazing. It reminds me of caribbean ocean water next to a sandy beach. It comes with strings to help it suspend on trees etc. We have even used it between our 2 SUVs in the parking lot and it is great. Everyone should get one of these.
Cheryl K.
Take it anywhere there are two trees!!
Familiarity:

I've used it once or twice and have initial impressions
This hammock is the best! I was a bit worried about it being able to actually hold 2 people. I know it says double, but double is relative. It was awesome and no trouble at all. I did use the extra straps for security and recommend buying those with any hammock. So fun and great to have in the car for spontaneous adventures! I love it!
Amy Browning
Snuggle worthy!
Familiarity:

I've used it several times
This hammock is great! Fits two people very comfortably. The Grand Trunk straps sold separately makes hanging the hammock an easy task. Can be used for one person, larger humans might appreciate the extra room all to themselves. As for two people, Jim Gaffigan says it best "if you want to get in a hammock with someone, you better be datin em." ;) Cozy.
Trish Nichols
This hammock is great highly recommend
Greg M.
Awesome hammock
Familiarity:

I've used it several times
Super easy to pack takes up no space and is up in minutes. Heavy duty carabiners and paracord will hold two persons with ease.
Paul Sheehan
Great Hammock
Familiarity:

I've used it once or twice and have initial impressions
great hammock, is easy to put up almost anywhere and sneak a nap in.
Leigh Stokes
Lounge ready
Familiarity:

I've used it several times
I can't go camping without a hammock now. Nothing is better for lounging around camp and reading a good book or taking an afternoon snooze. This seems very durable and is very comfortable. I love trying to find interesting places to set this up and can't wait for the next adventure!
Clint Arnett
Suspended Body Sack
Familiarity:

I've put it through the wringer
You really can't go wrong with most hammocks these days as they're all essentially made of similar materials. This hammock does what it's designed to do.
Moe Lauchert
I love hammocking, and these are great hammocks. More area than any other hammock in the double size, and they come with ropes and biners as well. Awesome!
Braydn Tanner
Gave as a gift
Familiarity:

I gave it as a gift but have feedback to share
I got 2 in different colors as a gift for a friend and her boyfriend and they seemed pretty sturdy. I only take off a star because I compared it to my ENO doublenest. This Grand Trunk is bigger and heavier. I'm all for the smaller size so it takes less room in my pack when out on hikes or climbing, but I know to some people that isn't important. Otherwise I think the ENO and Grand Trunk are comparable in quality so you can't go wrong with either brand!



Goat sticker in picture for scale to show size difference with the ENO DoubleNest :) Also it won't let me add a second picture but the width from the top view is the same in these two hammocks.
Katy Seeberger